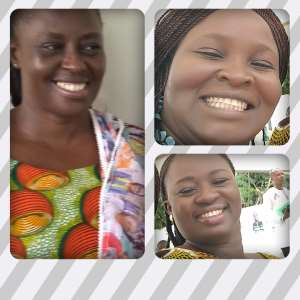 Good day to you all,fellow comrades of the great National Democratic Congress (NDC)
As the Holy Bible says, "there is time for everything" against that background, when it comes to issues of politics and leadership there is time to compete and time to cooperate.
The time for cooperation has come since the competition is all over.
We want to use this opportune moment to thank the Lord Almighty for His guidance and protection for our delegates and aspirants throughout the just ended regional contest to elect new crop of leaders to steer the affairs of the party.
We say congratulations to all the winners including ourselves and wish them well in their efforts to put their lives and time into productive measures in rebranding the party in the region.
We are very confident and hopeful that, you will all work assiduously to justify the huge confidence reposed in us all.
To the losers especially those who contested regarding the Women's Wing, we say, it is a clear indication that, you have all done your best and need not be discouraged about losing as an individual at all, because after it all Volta NDC has won and will become stronger and stronger for the task head of us come election 2020.
We urge you all to be willing and ready to put the past behind us in unity so as to begin anew by proceeding to prosecute the main agenda of winning power in 2020 with the understanding and positive mindset that, we need everybody on board to contribute in diverse ways in order to make our victory a reality.
As people poised for action, we would in the coming days make it a point for the Constituency Women Organizers across the region to submit two branch members each for skill training as we promised them during the period of campaigning.
Also, we would be visiting Market Queens in the various markets across the region to have talks with them concerning the welfare of our market women.
In addition, we would put measures in place for training work shops on issues of 21st century politics for all branch women organizers through their respective constituency women organizers.
We wish to thank you all once again very much for your support in all the events which culminated in electing us.
We are overwhelmed by your show of love, affection, dedicated support and most especially the confidence reposed in us.
We pledge to maintain this cordial relations from this day forward by working with you all to change the fortunes of our party in our region and nationally, especially on issues of developing our people and region.
It is our fervent prayer and hope that, the good Lord will guide us all with great and innovative ideas in order to champion the course of the party in the coming days.
Long Live Ghana Long Live NDC Long Long Volta NDC Signed Hon Fafa Agbai (Regional Women's Organizer) 0244710308 Mrs Marian J.A. Adzroe (Deputy Regional Women's Organizer) 0208830016 Madam Paulina Magyam Deputy Regional Women's Organizer 0243453333