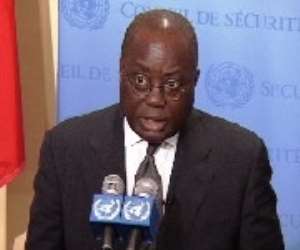 "The Ministry of Finance and the economists in Ghana are looking at floating a $50 billion Century Bond. This will provide us with the resources to finance our infrastructural and industrial development.
"We are hoping that, at some stage, China will interest itself, and take a part of it as China's contribution to Ghana's development," he told Chinese President, Xi Jinping on Saturday." (See http://www.peacefmonline.com/pages/business/economy/201809/361935.php).
A $50 billion Century Bond? What is that, folks?
I am tempted to believe that this government of empty braggarts doesn't know what it is about. Why is it so fixated on floating bonds here and there as its trump-card for funds? Kenbond and its murkiness on my mind here.
Again, a $50 billion Century Bond? Let someone explain the dire implications to me. Is this how to pursue the vacuous "Ghana Beyond Aid" dream? By pushing the country further into the abyss of indebtedness?
And to imagine that this lame-duck government has already announced taking Ghana out of the armpit of the IMF by the end of this year without having laid any solid foundation for managing and growing the economy makes the matter all the more disturbing.
If floating bonds of this sort were so profitable, why aren't other countries doing so? Only under Akufo-Addo has this approach to economic (mis)management been rampant (The Mahama government too did something of the sort, but to a limited extent).
Is that all the Bawumias and Co. claiming to be economics gurus can offer Ghana? I hope not.
Akufo-Addo and his NPP are behaving as if they have no specific agenda for consistent, persistent, and efficacious governance based on well-thought-out and time-tested policies. They just have positioned themselves to grab anything in sight and go with it only to knocked down by reality to abandon it midstream.
So, which policy at all has this Akufo-Addo government successfully enunciated and implemented thus far? In almost every sector of national life, it has introduced one policy or the other to create the impression that it has something up its sleeves to change the paradigm.
Unfortunately, most of those policies have fallen flat on their faces immediately announced and implemented. Even in telling us about such policies, discordant voices clash. While one government official says one thing, another counteracts it to create a nasty impression of a scatter-brained team.
Take the free SHS, for instance, and how Ken Ofori-Atta (Minister of Finance) boldly came out to damn the current approach (somehow agreeing with opponents), only to be torn apart by Mustapha Hamid (former Minister of Information); and many more. They can't speak with one smooth voice!!
Several other policies have fallen flat just because they have no foundation in reality or facts. Whether they are policies geared at overturning existing ones or not, they aren't making any difference.
Take the much-hyped "Planting for Food and Jobs" policy, for instance, where input (such as fertilizer) meant for end-users is diverted and smuggled to neighbouring countries. Stealing is rampant. Nothing good about the other policies.
In effect, the old order still persists, even as Akufo-Addo's government puts own veneer of lies on it. Nothing significant has changed under Akufo-Addo. We don't see the CHANGE (for the better) that the voters put Akufo-Addo in office to effect.
The government is just running ahead of itself, heavily invested in the trial-and-error approach that isn't helping it outdo its predecessors. It is behaving recklessly and looking around for any straw coming its way to hang on to. All happening in less than 2 years in its term.
If it can't stand out to formulate and implement productive policies now, when again will it do so to assuage doubts, and fears?
It is more than bewildering that having spent 40 years seeking political power and getting it, Akufo-Addo can't prove to Ghanaians that he has a better agenda for solving Ghana's problems than those he has led the NPP to discredit.
He is either borrowing from those predecessors or stealing their policies and programmes, plastering them with his brand and offering nothing new. Which policy has Akufo-Addo successfully implemented thus far? I don't see any. It's just a matter of talk---talk---talk and more talk!!
Hungry for power, being given that power only to mess around? As is said in the maxim of our wise elders, "a hungry man who does not take care will eat poison". I end here, but will return…
By Dr. Michael J.K. Bokor
(E-mail: [email protected] )
Monday, September 3, 2018