Revised Seven Years Of Oil Production In Ghana -An Independent Report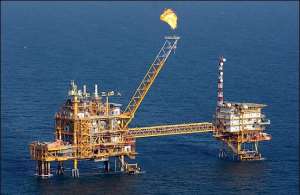 Seven years of oil production in Ghana has successfully come to an end and Ghanaians, as Sovereign owners of the oil resources, have every democratic rights to know what has truly transpired over the period.
The Centre for Natural Resources and Environmental Management (CNREM), in conjunction with the Ghana Institute of Governance and Security (GIGS), has the pleasure to present their Revised Independent operational results of the commercial oil production in Ghana over the past seven years.This is necessitated by new data released by the Public Interest and Accountability Committee (PIAC).
The initial Independent Report was based on an analysis of amounts as reported in the Petroleum Receipts and Distribution Reports released quarterly by the Ministry of Finance from 2011-2017, which gave cumulative production figure of 239,738,762, as against the cumulative crude oil production figure of 253,085,873 barrels released by PIAC on the 8th August, 2018 at Fiesta Royal Hotel to NGOs and CSOs.
The report is limited to operational results of the core product, the volume of oil extracted and shared between Ghana and the Contractor Parties, and Corporate Taxes paid so far by the Contractor Parties. Other incomes such as surface rentals in the reports have not been taken into account because they are totally insignificant to our debate. Also, proceeds from gas are scanty in the Quarterly Reports, therefore, we are unable to make an adequate assessment on the gas produced. This simply highlights the lack of information to the public and transparency in the sector.
Below are Summary of Tables of our findings.
Table A. Volume of Oil Extracted: 2010-2017
| | | | |
| --- | --- | --- | --- |
| | Barrels | Moving Average Prices US$ | Value US$ |
| Jubilee Field | 221,860,786 | 83.4109 | 18,505,607,834 |
| TEN | 25,769,575 | 58.8998 | 1,517,822,813 |
| Sankofa | 5,455,512 | 45.5729 | 248,623,502 |
| TOTAL | 253,085,873 | | 20,272,054,149 |
Table B. Allocation to Ghana
| | | |
| --- | --- | --- |
| | Barrels | US$ |
| Jubilee | 39,624,879 | 3,305,150,782 |
| TEN | 4,027,452 | 198,666,094 |
| Sankofa | N/A | N/A |
| Sub-Total | 43,652,331 | 3,503,816,876 |
| Taxes & Royalties paid | | 523,304,893 |
| Total Paid to Date to Ghana | | 4,027,121,769 |
Table C. Earnings by Contractors
| | | |
| --- | --- | --- |
| | Barrels | US$ |
| Contractor Parties Earnings | 209,433,542 | 16,244,932,380 |
Table A shows that a total of 253,085,873 barrels of oil worth US$20,272,054,149 were extracted and exported by 31st December, 2017 from the three fields currently in operations.
Table B shows the total allocation to Ghanaians, the sovereign owners, was 43,652,331 barrels of oil worth US$3,503,816,876 representing 17.24%of the total production revenue. However, if Corporate taxes and royalties paid by the Contractor Parties per our findings were added, Ghana earned US$ 4,027,121,769, representing 19.86% of total production revenue from crude oil.
The Contractor Parties earned 209,433,542 barrels worth US$16,244,932,380, representing 80.14% of total production revenue from crude oil. Earnings from gas by Contractor Parties are difficult to come by.
However, gas proceeds earned by Ghana were reported in the 4th Quarter of 2015 and 1st Quarter of 2016 Reports totaling US$9,856,621. If added to the revenue from the crude oil, taxes and royalties, Ghana earned a total of US$4,036,978,390 per our findings from both crude oil and gas. However, PIAC reported US$4.009 billion was earned over the period.
If Ghana had consolidated and adopted the Production Sharing Agreement (PSA) system, currently the world standard for equitable and fair fiscal regime which PNDC Law 84 introduced, Ghana would have lifted 151,851,523 barrels worth US$12,163,232,489 at little or no cost to Ghana, as Ghana DOES NOT NECESSARILY NEED TO INVEST IN EXPLORATION AND PRODUCTION, just as all the other African countries adopting PSA and getting at least 60% share of the output.
For not adopting Production Sharing Agreement, Ghana lost 108,199,192 barrels of oil worth US$8,136,110,720.
In the meantime, the Contractor Parties (KOSMOS, Tullow, Andarko and Petro SA), we have found and estimated, under-paid Ghana between US$800 million and US$902 million in Royalties and Corporate Taxes over the last six years under the Royalty Tax/Hybrid System which is acclaimed to be better and superior to Production Sharing Agreement, as unassuming Ghanaians have been made to believe. We think otherwise and are yet to be proven wrong.
These under-payments have been reported to the Council of State (CoS), the Ghana Revenue Authority (GRA) Board, and the Commission on Human Rights and Administrative Justice (CHRAJ).
Ghanaians must now wait to see how these authorities, in their individual and collective capacities, deal with these important national issues which border on our economic survival and stability. The details of this new development shall become public in due course.
By Solomon Kwawukume
Executive Director
CNREM
Snr. Researcher on Oil and Gas (GIGS)
www.cnrem.org
18 Aug. 2018