Leaders, Plan For University As Well!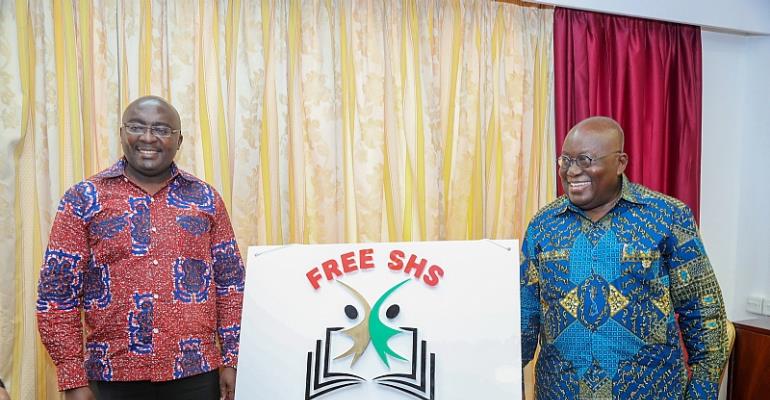 "Education is the key to development" is a very common quote you are likely to find every Ghanaian rattle. Undeniably, this quote is indeed a true statement. More so the development of every country rests on the presence of an effective educational structure. Let's now turn our attention to education in Ghana especially SHS education. Free senior high school education is a blessing to the country most especially for those who never dreamt of pursuing SHS education. This initiative saw many brilliant but needy JHS levers continuing their education, a dream fulfilled. Most Ghanaians and parents have praised the government for this bold and costly initiative. However, in as much as government is paying attention to Secondary Education, I think it is time for attention to be geared towards university education and adequate plans initiated to absorb these students.
As expected from our "able politicians" numerous plans are made during electioneering period with little or none of them rolled out. They boast of numerous promises just to suit their whims and caprices. But what exactly could amount to this rather disturbing culture? If readers may recall the New Patriotic Party (when in opposition) during the 2016 general election made numerous promises to Ghanaian among which was the popular Free SHS Education. Some critics with majority of them being from or belonging to the NDC belittled this initiative claiming it was a mere talk to wield political power.
Against all these backlash, Ghanaians in December 2016 voted massively for the NPP thus granting its flagbearer Nana Addo the ticket to the Flagstaff house. It was obvious that this initiative of the NPP seemed not to be one of the usual rhetoric but was implemented during the first year of the Akufo Addo's government. In September 2017, the president of Ghana launched the Free Senior high school education in West African Secondary School (WASS) aimed at ensuring that all qualified persons had access to SHS education without brooding over financial burdens.
This project was successful as it saw about 90,000 students entering the various secondary institutions. Strict measures were initiated to sanction any Head teacher guilty of charging parents with fees. As part of the policy, parents were asked not to pay tuition fees, accommodation fees, Laboratory fees, feeding among others. Additionally, parents were relieved from buying books for their wards and other several payments that came with paying school fees. In summary, parents paid nothing in enrolling their wards in school except of course items which they ought to acquire in order to let their wards enrol in school. One cannot deny the challenges that the implementation has suffered. Indeed, it is not new to any social institution as every new policy when implemented faces some difficulties. Challenges of congestion and pressure cannot be left out.
Coming September, the intake into the senior high schools will double as compared to last year. Last year, the number was 90,000 and currently 180,000 students are expected to enter secondary school this year. Can you envisage the number that will be going to school next academic year? In a bid to solve the congestion issue, the government has developed a system to deal with this issue termed The Double Track System. This system has received various criticism with others saying it is a form of shift system. The first batch of students are expected to spend 40 days in school while the second batch will do same when the first badge is on vacation. As to how this solution will work we don't know yet. We leave it to time.
The double track and its complication aside, little or no concentration is given to available Universities in the country. In as much as we are trying to solve the challenges we have in the secondary schools, it is crucial for government and other stakeholders to pay attention to the universities in the country.
I can't agree less with the eminent chief of the Asante Kingdom Otumfo Osei Tutu 2 and I quote "This is a reality we cannot pretend to be unaware of".
The potential increase in enrolment at the tertiary level will require a correspondent increase in resources, both financial and human, in order to address the great number. "The time to act is now," "In all respects, the free SHS is a laudable policy and when properly executed, we as a nation will applaud it," he made this statement during the 52nd congregation of Kwame Nkrumah University of Science and Technology (KNUST).
This is an intelligence advise and I sincerely believe that if implemented will yield huge results for the country. Going into the future, with the everyday increasing student number government ought to quickly role out an initiate to address this future challenge that before the country.
Going forward, the pressure on tertiary institutions in the country will be intense. The various halls of residence and hostels available will not be able to contain the large number of students who will graduate from senior high schools. A great burden will befall lectures halls and the university's available infrastructure. In effect, this congestion might affect the performances of students. Let us be proactive and think about the future. Let us not be myopic in our reasoning.
Let us put aside all our parochial desires and confront issues as they are. Ghana must work again. Ghana will work again. YOUNG POSITIVIST a concerned citizen of Ghana.
Writer: Boamah Sampson ( [email protected] /0548690091)