Why Waste Taxpayers Money On A National Cathedral?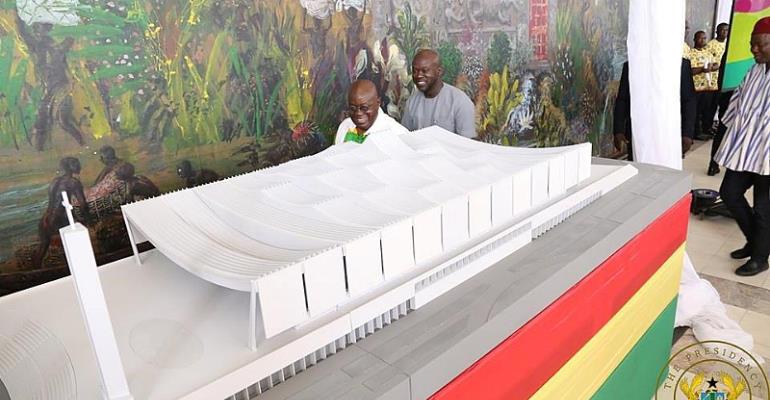 Majority of Ghanaians believe in God and strongly uphold their biblical teachings but this in any way does not suggest Ghana is a religious biased country because several other religious sects are also present here. Additionally, all these religious sects play a vital role in a bid to sustain the peace we enjoy as Ghanaians. So the question is why construct a national cathedral for Christians only? What about our Muslim brothers and sisters? What about the traditionalists? Do we really need this? Is it a well thought move? Is it of priority or a move just to win the joy of the masses?
On 6th March, 2017, the then newly sworn in President of Ghana, His Excellency Nana Addo Dankwah Akufo Addo announced that there was going to a construction of a 5000-seater national cathedral and situated at Ridge in Accra. This news was met with several criticism from some section of the public. 5000-seater cathedral? The president upon coming to the Black Star Square, had visited the site for the cutting of sword to commence the construction of the project. He was accompanied by a lot of men of God as he headed for the venue and then revealed the initiative to undertake the construction of the project while delivering his speech at the Independence Square.
Although others thought this was unreal it indeed happened. In fact, millions of questions ought to be fired and answers demanded. Is the State or the churches going to fund the 5000-seater cathedral project? The answer is very clear that indeed the Government of Ghana is going to be responsible for its construction.
I must emphatically state that Ghana cannot deny the important roles that these churches undertake and continually do so. It is noteworthy to know that some churches have established schools and hospitals not forgetting the numerous developmental projects they undertake. They ought to be applauded. However, we cannot base on these benevolent activities to undermine the fact that the interest of the country should be prime.
Another big challenge characterized in the enrollment of this project is the order requiring inhabitants of Ridge to vacate their premises. President Akufo Addo ordered the then Minister for Lands and Natural resources, Mr. John Pete Amewu to get the passport office at Ridge and nine bungalows of some appeal court judges to vacate their homes and place of work in order to see to its construction and completion. Are we really serious as a country? To exchange the resident of Ghanaian citizens for a large building which will satisfy a little few?
Others have criticized the location of the cathedral claiming it is misplaced but I beg to differ because I see the entire project as a misplaced priority. Do we at all need this as a country right now? Do we stand to gain any benefit?
There are a lot of issues that needs attention in the country. The issue of unemployment, no bed syndrome that rocked the country about two months ago among others. Why then do we think of this initiative when several other problems stare us in the face?
The question then again is are we also set to build cathedrals for the other Religious sects in the country save Christianity? Let's think right as Ghanaians with the interest of the country at heart.
The rational for wanting to erect this giant edifice is not justifiable. Is God a cathedral worshipping God. Is this where Christianity has gotten to?
We live harmoniously in a country without any division caused by Religion. Let us not call for it. God is unhappy with the constructing of this Cathedral I must quickly point out. How can you inflict pains on your very own and claim you know and worship God? God is wise and his ways are perfect.
Several befitting venues could equally host Christians who seek to worship together. The likes of the national sports stadia, the Independence Square among others. We cannot dedicate our limited resources to projects that yield no returns. No, not at all. The tax payer's money cannot be misused.
This writing is aimed at challenging the Akufo Addo's government in an effort to halt this project. They claim they are a listening government thus should heed to the call of Ghanaians.
Let us rise and say no to the construction of a national cathedral. We cannot continue to waste money. It is rather unfortunate we fail to plan as a country. The rhetoric supersedes the actions. I am no devil but a concerned citizen of Ghana who strongly assert to Jesus Christ being the Son of God. As I earlier indicated God is unhappy about this so are we.
The construction of the National Cathedral should and must not succeed in this country. We are willing to sacrifice our lives for this project so it does not thrive. Ghana must work again. Ghana will work again. YOUNG POSITIVIST a concerned citizen of Ghana
Writer: BoamahSampson ( [email protected] /0548690091)