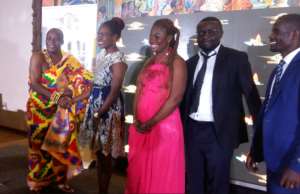 Gehab Events Management had over the weekend organised it's second annual West African Clinical Alliance Awards (WACAA ) to recognise deserving health care professionals and institutions.
The event which was a collaboration with the Corporate Health Ghana Limited, a presidential award winning start up business entity , was held under the theme : the role of modern information technology in health promotion ".
In his address , Lawyer John Kumah, the CEO for the National Entrepreneurship and Innovation Plan lauded the platform created by the event organisers and urged the awardees not to relent on this recognition but strive hard for more laurels.
This award should motivate you to give your best in the health care delivery to save mankind and be recognised greatly.
He also called on entrepreneurs in the health sector to take advantage of modern technology in the discharge of their duties.
Mr. John Kumah further encouraged them to engage more into research in order to come out with solutions to challenges bedevilling the health sector.
"We also need to go back to the olden traditional ways of health care as practised by our grand parents. He recalled that our grand parents have been treating ailments for a very long time and also living longer lives than we are today".
To that end he calls for the blending of the traditional and modern technological ways of health care delivery in the country.
On his part Mr. Abdul Salaam Mohammed, the founder of Corporate Health Ghana Limited, said he is always happy when the health sector is bedevilled with challenges.
According to him problems of the sector challenges him to come out with solutions to the troubles as an entrepreneur.
I always take advantage of such challenges to come out with lasting solutions to the sector to help make health care delivery easy and accessible for all persons .
In all seventeen different health personnel and institutions were awarded in eight categories.
Dr. Warigbani Peterson, a general surgical specialist chief resident , plastic surgery of the National Reconstructive Plastic Surgery and Burns Center , was crowned the overall award winner of the night.
The event that was graced by medical and health professionals , chiefs ,queenmothers as well as diplomats was also used to officially launched the Corporate Health Ghana Limited health technologies.