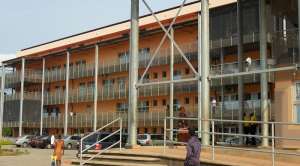 Mr. Mustapha Sanah, Executive Director of Northern Ghana Aid (NOGAID), has described as unfortunate the attack on Dr. David Kolbila, Chief Executive Officer (CEO) of the Tamale Teaching Hospital (TTH) on Monday by a youth group alleged to be affiliated to NPP.
He called on the security agencies to as a matter of urgency arrest all the perpetrators for justice to be served.
"NOGAID visited the TTH to ascertain the reality of the attack and were sad to notice the level of lawlessness going on."
A statement signed by Mr. Sanah on Monday reminded the youth group to desist from undermining the mandate of President Akuffo-Addo since the good people of Ghana voted for him.
"Ordinary citizens don't take the law into their hands with impunity and granted that David Kolbila's administration is corrupt, the youth cannot do that. We live in a democracy, and we must all respect institutions of the state".
The statement said: "If the youth think that Tamale is not part of President Akufo-Addo's mandate conferred on him in the December 7 election in 2016 by the people of Ghana, then the president is the one they are challenging, but not the people of Tamale.
Mr. Sanah advised politicians not to rely on foot-soldiers in party activities as that leads to complacency among some of the youth.
He called for swift action to end the attacks on CEOs of the hospitals starting from Dr. Prosper Akambong, the former CEO who was removed by the same youth group in the same style and ushered in Dr. Kolbila.
The statement also challenged the health ministry to overhaul the entire hospital, "to bring in efficiency and professionalism in the running of the institution."
According to NOGAID, the current state of the hospital is appalling and thus urged the government to as a matter of urgency get the right people to tackle the challenges of corruption, poor standard of services, over politicking and inefficiency.
It said: "NOGAID has worked with the TTH for many years ranging from essential medical equipment supplies to postings of medical doctors from house men to senior consultants of varied backgrounds. We did our best for TTH, but the facility is in a sorry state and needs emergency surgery to save the institution."