Hajia Damata Recognised For Humanism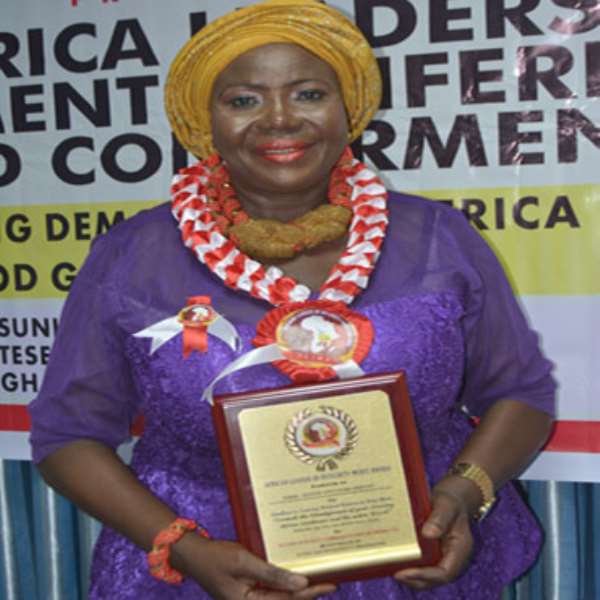 Hajia Damata Sulemana displays her award
A renowned female health worker and politician at Nima, Hajia Damata Sulemana, has been recognized and awarded for her commitment to assisting the needy and downtrodden in society.
A ceremony for the bestowal of the award was held last Saturday at the Sundown Hotel in Accra which was attended by many people.
Hajia Damata was bestowed with the Integrity Merit Award by the award organizing committee of the African Integrity Magazine, a continental publication with offices in both Nigeria and Ghana.
Hajia Damata's humanitarian service to the community is household knowledge.
She uses her many years of experience in the field of midwifery and nursing to provide health service to the people of Nima and Mamobi in Accra on terms very affordable to her clients.
In his remarks, the President of the magazine, Onwordi Onichabor, said that their commitment to the popularization of the value system, as he put it, informed the conception of Integrity Merit Award.
Hajia Damata is one of the few persons to be recognized for humanitarian services to society.
She retired recently from public service and is currently running her own clinic 'The Hajia Damata Maternity & Clinic.'
As a former Assemblywoman for her area, she understands her people very well and has tailored her services to meet their peculiar demands.
Her working experiences span several locations; some of them being the Ashaiman Health Post, Tema General Hospital, Ridge Hospital, Ussher Clinic, James Town Polyclinic and finally the Adabraka Polyclinic.
She is the Vice Chairperson of the Greater Accra Registered Midwives Association.
Her clinic, which is embedded in Mamobi, serves as a referral institution to midwives and nursing students.
Her circumcision feats have also endeared her to many people in the area, something which has provided her with the impetus for her political career.
Hajia Damata was the only Muslim woman among the delegation from Ghana to the Beijing Conference on Women and Development in 1995.
She had earlier won the Most Influential Woman by the Nima Excellence Awards committee.
She continues to serve as a role model to many females in the Zongo communities.
Wearing two hats- a politician and a professional nurse/midwife- makes her special in her electoral area and beyond.