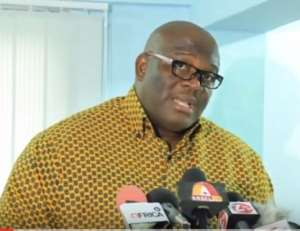 Mr Henry Quartey, Deputy Minister of the Interior has charged the National Disaster Management Organisation (NADMO) to finalise and share the National Contingency Plan on flood response with all the relevant agencies.
He also directed that periodic exercises and drills be conducted to test and harmonise operations of identified agencies.
Mr Quartey gave the directive at the opening of a two-day validation workshop held in Accra on Monday. The two-day workshop seeks to review and adopt a National Contingency Plan to guide, coordinate the preparedness and responses to floods.
The workshop brought together representatives of the Ghana Metrological Agency, Ministry of Sanitation and Water Resources, Ghana National Fire Service, Ghana National Coalition of NGO's in Health, Ghana Health Service and Security Agencies.
The Minister noted that there was no plan which identified hazards in Ghana as well as provides general framework for the management of phases of disasters, adding that there was the need to adopt standard operating procedures for emergency response.
According to him there was the need to review the existing plans and consolidate them into a National Contingency Plan to tackle floods, which would require coordination by the various agencies responses.
'Such a plan requires regular review and revision to take into account changing trends and realities,' he added.
He noted that the UN system had one of the best practices in responding to humanitarian crises and under the system, Actors were grouped according to the sectors with specific roles and responsibilities.
Mr Quartey noted that the Contingency plan was very crucial to the response to emergencies and identification of resources to manage every aspect of a disaster.
He said the plan would assist government to dedicate and secure resources for emergency response and called for collaboration of development partners and the private sector.
He expressed his appreciation to the UN Country team for making available human, financial and other resources available to kick start the preparation of the National Contingency Plan.
The Minister said although Disaster management was a technical field, effective planning was essential, saying that, 'Good disaster management system involves preparedness, emergency response and recovery.'
Madam Christine Evance Clarke, UN Representative, noted that in all UN systems, countries were expected to incorporate disaster prevention and responsive preparedness by building up resilient psycho modules for disaster management.
Madam Clarke said although disaster occurs, countries were sometimes unable to detect its occurrence hence it was proper for NADMO to assess risks and to develop contingency plans and customise them into simulation exercises.
Mr Wise Ametepey, Chairman, Hydro-Net Technical Committee of NADMO, noted that, Ghana has not been spared of floods, draughts, bush fires and earthquakes, among others.
He attributed the causes of disasters to building in water ways, heavy rains, and poor sanitation, adding that, Ghana's Contingency plan would save lives, alleviate suffering, and improve access to basic service for all during floods.
Brigadier General (Retired) Kwame Oppong Kyekyeku, Deputy Director General, NADMO said disasters could sometimes not be anticipated unless they were detected scientifically.
He charged participants to look out for emergency situations and find solutions to them.