Hospitals Without Beds
...To improve hospital-based healthcare delivery, what we need isn't just John Mahama's magnificent hospital edifices, but innovative managers.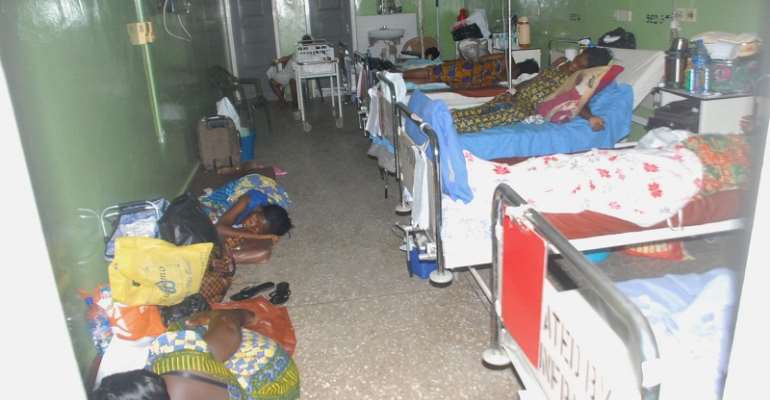 Several years ago, I observed multiple scenarios at the Surgical and Medical Emergency (SME) unit of the Korlebu Teaching Hospital (KBTH). Scores of clients were being turned away from the SME for either lack of referral notes from a gatekeeper facility or lack of beds at the SME. The KBTH is the premier health care facility in Ghana and the only tertiary hospital in the southern part of Ghana after a state of the art quaternary facility constructed by the Mahama administration is been left to waste.
The hospital is on a charming plot of land, and its infrastructure is welcoming and impressive. The administration block of the hospital is its most modern part situated in the most strategic location in the hospital facing the main road with the easiest of access. Every Ghanaian thought the administrative block would have been used as the SME given its strategic location and the deplorable state of the current one, but with exceptional wisdom, Prof. Frimpong Boateng decided that the block be used for administrative support, whilst the SME remain in a small cubicle of the hospital. In fact, by the kind courtesy of Prof. Frimpong Boateng, the office of the CEO is much more spacious than the present SME.
But while turning people away from the SME seems worrisome to the general population, it is not so to staff and management of the hospital. It was shocking to find so many patients in dire need of critical interventions being turned away for flimsy excuses of absence of beds or referral notes, given the sort of high-quality care that this hospital is expected to deliver.
I carried out my own investigations, and I came to the conclusion, that, staff, patients, and the community all point to the same cause: a malfeasant and incompetent hospital management. "People go to that hospital to die because the management doesn't care," the dominant view of the general public. Apparently, this attitude and style of management is such that it seeped into the rest of the staff. No one else cared either, even with state-of-the-art equipment and new facilities.
I wasn't fully convinced of how poisonous the culture had become until two incidents occurred. A Surgeon, who had worked for the hospital and trained several medical doctors in the country, died at the SME due to factors that can safely be attributed to the widespread culture of disregard for human life and incompetent management of the facility.
Few years after, I bumped into a colleague who narrated to me how an extremely empathic Hematology professor of ours had passed on, after several attempts to secure emergency treatment for him failed even though this professor had sacrificed his entire life training medical doctors and saving lives. When the time was up for him to receive care from those he had trained, no service was available. This again was attributable to obvious incompetent emergency medical service management.
Just about a week ago, a 70 year old man died after being refused admission into seven hospitals in Accra, even when some of the facilities know the contributions of the 70 year old man to their hospitals. This incident has since sparked national outrage and rekindled the debate on this vexed subject of hospitals without beds.
Certainly, performance and opinions will change rapidly in favor of the hospital if a new management style is adopted. This new management will have to clean up the hospital's accounting, query staff on major management and resource needs, fire incompetent and corrupt employees including doctors and nurses, and figure out how to respond in a timely, thoughtful manner to key challenges with special reference to bed management and emergency response challenges. In no time, there will be an improved value for human life and the syndrome of no beds will become history. Staff morale will improve dramatically.
The point? In health care, just as in any other collective endeavors, management matters. It seems like an obvious point, and yet at the heart of some of the world's worst public health crisis zones, it is one that has yet to sink in–with dire consequences for millions.
The history of healthcare delivery in the twentieth century can be characterized as a losing battle for resources against a rising tide of disease burden-communicable and non-communicable diseases as well as accident-related healthcare burdens. In spite of some breakthrough solutions to massive problems like loss of medical records, mis-identification of patients and the provision of huge infrastructure, the failure to construct viable health systems with innovative management in the country has helped create the conditions for the healthcare problems of today: Over the past two decades, these grim statistics have scarcely budged, and in many countries, they have worsened.
If hospital managers and/or planners were business people objectively examining the sector's progress today, the answer would clearly point to a change of strategy. Many high profile public hospitals are so poorly run – or at least achieve such poor results – that they resemble the management quality of a local "koko and koshei" stand rather than an Apple or Google.
One cannot conclude that health workers, including doctors and nurses don't have their hearts in their work. The issue is that the country's health workforce has long had to make do with small initiatives that were perpetually under-funded. However, we live in an age when immense public and private resources are suddenly available. The discovery of oil in commercial quantities, coupled with the establishment of numerous private sector Foundations such as MTN and Vodafone Foundations are some few areas where stakeholders can redirect the funding to produce the right results. The Mahama government had promised to utilize significant portions of the oil resources on healthcare. However, after failing to retain power, the NPP government has treated the health sector as a less priority sector by allocating less resources to it and failing to release none for sustained funding of the sector.
With so much money being committed to other matters such as the dubious kelni/GVG contracts and so many lives at stake, it is time to revolutionize hospital based health. We need less do-goodism, and more do-it-right; we need more managers, not more doctors. The billions of dollars in new funds must propel an infusion of new management talent and practices based on private sector experience. We must upgrade the entire health system in cities–and in poor communities with few doctors. That means taking medical doctors out of management positions and replacing them with professional managers. And it also means building new initiatives like we would a business, with rational accounting and delivery systems, while reforming existing efforts at the same time.
It's time to shake up the healthcare establishment and do nothing less than completely reinvent it.
Today there is, from my own perspective at least, a new willingness to consider merging private-sector thinking with public health priorities. But the shift is incomplete. For too long, doctors have run the public health establishment. Their exclusiveness and insularity has crowded out those with other, equally needed, skills. Doctors are taught a much different and more liberal way to think, but only by a matter of degrees. While doctors are vital to global public health efforts, what is missing is the sort of perspective economists, sociologists, management consultants, and even politicians can bring, a new and enlightened way of answering the question public health specialists and doctors ask: What do people die from? What is needed today is a spectrum of others with varied backgrounds in business, management, and public policy who can offer new, creative diagnoses that require far more complex approaches.
What would a new, management-oriented approach to developing world public health look like? Ask Jim Yong Kim, a co-founder of Partners in Health, a public health NGO, and a professor at both the Medical School and School of Public Health at Harvard University. Kim has long been a fervent advocate for applying business acumen to the public health sector and to teaching public health much the way business is taught today: by case studies. He recently asked, "What can we learn from business and communications experts that will help us better deliver healthcare? How can we ensure that the lifesaving products and technologies are as available in poor countries as imported soft drinks?"
The Rwandan Model
In recent years Rwanda–not Harvard–has been at the forefront of bringing management techniques to its public health system. In light of its history of genocide and war, Rwanda seems an unlikely candidate for a rapidly expanding professionalized health care system. However, during the decades prior to the genocide, hundreds of thousands of Rwandans spread across the world in a massive Diaspora. They were exposed to new approaches and developed new expectations about health care, all the while longing to return and rebuild the nation. Their return in the 1990s coincided with the rise in international interest and, eventually, funding for specific diseases, particularly AIDS. Furthermore, the relatively transparent government, combined with its can-do attitude, has made it a haven for donor dollars seeking speedy results.
Millions of health dollars–from governments, the Global Fund, NGOs, and family foundations–began flowing in 2003, but the limitations of the country's remote health centers often kept these resources from reaching a substantial portion of the country's population. While funds for international health issues increased, on-the-ground success lagged behind. In response, the Access Project, an initiative to deliver management talent to far-flung health centers, began working in health centers in Rwanda with business-style metrics and private-sector expectations of sustainability and scalability.
The Access Project is just one local initiative, and yet its success illustrates the possibility for similar efforts elsewhere. This is not a stand-alone effort, but one that complements existing programs. Financed by technology maven and businessman Rob Glaser, the CEO of Real Networks, it builds on the Global Fund's success by delivering on-the-ground assistance with its implementation. Blaise Karibushi–a medical doctor and MBA who currently directs the Access Project in Rwanda–insists that with proper guidance and systems, any health center can improve its operations to the point where it can sustainably deliver quality health care to the community. The interventions his team has implemented fall into ten categories of management, none of which sound as sexy as delivering AIDS drugs to desperately ill children, but all of which improve health–including management of data, planning and reporting, human resources management, and financial management, including local insurance schemes. This is the stuff that most donors want nothing to do with, but it is the stuff that the future of public health must be built on.
Unlike other organizations that immediately move into a health center and choose a specific need (X-ray machines, water, electricity, training), the Access Project begins by diagnosing the management needs of health centers. It has found centers where there are plenty of nurses, but because there is no proper scheduling, they are deployed inefficiently and as a result deliver terrible results. In other centers it has found that just three nurses are expected to manage the delivery of care to a population of 25,000, procure medicine, handle community insurance, and maintain the facility, all on a total budget of a few thousand dollars per year. The results are predictable: no health care delivered, low morale, and few patients. But with a proper management structure–merely by providing sufficient accounting systems, drug procurement guides, and basic management training–these centers have been able to get on their feet quickly. And while donors have proved hard to corral before Access Project begins work on a particular facility, once it has completed its overhaul, they tend to become suddenly interested in making investments. In one dramatic case, a health center that had been seeing five to 10 patients a day was seeing over 150 patients six months after management reforms were implemented, and as a result it qualified for other donor financing to offer expanded services.
BED MANAGEMENT POLICY.
A comprehensive bed management policy with a strategy to utilize all available beds including in patient and VIP beds can help in ensuring that this problem of emergency center without bed syndrome is resolved.
A cursory look at bed utilization data of the KBTH reveals an average bed utilizing rate of about 55% with about 137% and 145% utilization rates for the accident Centre and SME respectively. This implies that at all times beds are occupied at the SME and Accident centres, unoccupied beds are available at different departments of the hospital.
The following protocol provides a clear directive for bed/ flow managers, general managers and clinical teams for bed/ capacity management within a Hospital.
The principles which inform this guidance are:

Patients should be cared for in their own community, ensuring care is delivered by their own services, ensuring family involvement, continuity of care and within the least restrictive alternative.

To ensure the above happens, all patients referred for admission must be offered a gate keeping assessment by the Surgical and Emergency care Teams (SMECT)/ Accident Centre Rapid Response (ACRRT)

If Patients require admission then bed best placed to meet their needs should be accessed. However where this is not possible due to bed pressures, bed managers/ patient flow managers will collaborate and cooperate to ensure the patient receives their care in the best possible place to meet their needs. To enable this, the escalation process/ procedure will be enacted to ensure rapid solutions are found wherever possible within the hospital. This will ensure patients will not be referred to other GHS providers or the private sector when beds or alternative short term solutions are available within the hospital.

Where patients are placed within other GHS or the private sector beds this will be following a process of negotiation and co-operation between Business Development Units at the general manager level ensuring all options for hospital bed usage have been explored and exhausted

This protocol ensures that patient's safety and clinical needs are met in a responsive, safe and dignified way that meets quality and Care standards. An independent body will be needed to set the benchmark quality of care standards.

A key principle is that hospital bed capacity crises should be anticipated and managed. This should be within hours, supported by clear communication and cooperation between Business Delivery Unit's (BDU's). This means that beds should only be held for VIP admissions where it is clear that there is a bed required for patients currently under assessment within the gatekeeping assessment process.

When a bed capacity crisis occurs, consideration will be given to creating capacity within inpatient facilities alongside consideration of how demand may be reduced via gatekeeping processes. This reflects a principle of looking inward and outward when managing such crises.

Escalation

The Hospital, via individual BDUs, will operate an "early warning" system to alert General Managers regarding the lack of or low availability of beds in any of the respective BDU's. This will trigger timely communication (by 12 o'clock mid-day) between Bed Managers, Patient Flow Managers (or their equivalent), General Managers and Clinical Leads. Where escalation is identified as required this will trigger the formation of the inter-departmental management team.

The system will operate in line with REAP reporting:

Normal Level 1 – Green
Concern Level 2 – Yellow
Moderate Pressure Level 3 – Amber
Severe Pressure Level 4- Red
Critical Level 5 – Purple
Potential Service Failure Level 6 – Black

Each level will have a clear and concise escalation plan that will include the times that actions need implementing and who the current situation needs to be escalated to. This level of reporting and timings of progression will be mirrored across the BDUs although activity that sits underneath these parameters may vary from department to department to depending on service design.

Bed availability is always fluid and it is accepted that assessment of the situation will need to take place continuously throughout each shift. With a new crop of hospital managers, the syndrome of hospitals can effectively be dealt with. I will like to emphasize, therefore, that we require more than just the provision of impressive hospital infrastructure to address the no bed syndrome in our hospitals.

Dr. Mawia Zakaria
Executive Director
Institute of Social Research and Development