Rebekah Awuah Foundation Offers Dental Treatment To 300 Children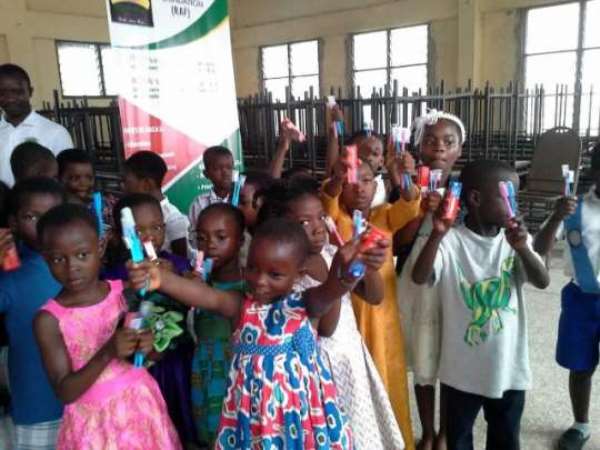 The Rebekah Awuah Foundation has provided free dental treatment with toothpastes and brushes to 300 children in Aburi in the Akuapim South Municipal Assembly of the Eastern Region.
The children also received free education on oral and dental hygiene.
'The objective of the Foundation is to ensure children are taking good care of their mouth, teeth and gums as it is a worthy goal in and of itself as good oral and dental hygiene can make one confident, help prevent bad breath, tooth decay and gum disease—and can help keep one's teeth strong as one gets older. '
Dr. Patrick Awuah, a renowned Dentist who attended to the over three hundred (300) children indicated, that the exercise was timely as researchers were also discovering new reasons to brush and floss.
A healthy mouth, he said helped in warding off medical disorders and an unhealthy mouth, especially gum disease could increase the risk of serious health problems such as heart attack, stroke, poorly controlled diabetes, respiratory issues and pre-term labour.
Dr Awuah added that, a research by the Academy of General Dentistry revealed that, more than 90 percent of all systemic diseases produced oral signs and symptoms.
'Your mouth is the window to your body and reveals much about your health'- Dr Awuah noted.
He said a look inside or a swab of saliva could tell doctors volumes about what was going inside their bodies.
According to Dr Awuah, diseased, crooked or missing teeth or a misshapen jaw could interfere with one's speech; make chewing difficult and painful; and lead to expensive corrective procedures and cautioned all to protect their teeth against harmful invaders as poor oral health could lead to much more severe problems if untreated.
Good dental health, he noted was a combination of proper daily maintenance thus brushing and flossing along with regular visits to a dental care professional to maintain healthy teeth, gums and mouth.
The Free Oral health and hygiene awareness with the provision of free tooth brushes and tooth paste was the first of its kind organised by the Rebekah Awuah Foundation.
President and Founder, Madam Rebekah Awuah, an award winning Journalist called for more support and collaboration from strategic partners to support her foundation.