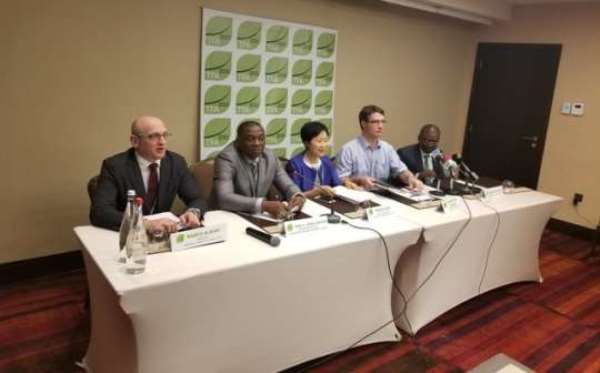 Governments and Private Forest Actors have established the necessity to integrate small holder farmers in protection and usage of forests to yield more productive merchandises and profits especially for the indigenous farmers.
The initiative was out-door by Representatives from Government Institutions, Private Forestry Advocate Institutions including Proforest, Tropical Forest Alliance 2020, Olam International, Global Environmental Facility, and Forest Development Authority, Liberia at a press briefing in Accra yesterday.
Mr Abraham Baffoe, Africa Regional Director, Proforest addressing the media on measures to develop or sustain the palm oil sector said it is necessary to align objectives, commitment of different stakeholder groups in 10 participating countries as actions are also needed to reduce deforestation.
He said eight out of the 10 countries have accepted and commended the principles and actions while the two other countries are studying to assess the initiative.
'We are making sure that private societies, civil sector and other stakeholders implement actions to reduce deforestation. Government seems to attach social dimensions to it in the sense that even though it is illegal to abuse forest reserves by small holder farmers, it has done nothing about it'.
Mr Baffoe noted that generally deforestation is about two to three per cent yearly in the West African Region and the important step to undertake is to work and protect what is left and reclaim what was lost.
He advised stakeholders to ensure that palm oil production is not extended to new frontiers, adding that cocoa production has drastically gone down due to deforestation, hence the need to increase carbon cover in cocoa farms.
The Regional Director stressed that there are a number of farmers in the Region who divert from production of cocoa to production of oil palm with the reason that cocoa yields profit for them a few months within a year while oil palm yields profit for them throughout the year, therefore it is a decision no one can stop them from making.
He said decisions to integrate small holder farmers would help communities to put in their best practices especially when they yield income together with large holder actors of forestry to improve their livelihoods.
Mr Christopher Stewart, Head of Corporate Responsibility and Sustainability, Olam International said small holder farmers are forced into working in forests to feed their families and therefore causing loss of many forests.
'We need to have a different approach on methods used especially in Central Africa to protect our environments particularly cocoa', he said.
Mr Stewart noted that governments and other forestry stakeholders should encourage small holder farmers to access certification label and partner with them to improve their livelihoods, explaining that when they are supported with finances and capacity building, they can increase their yields.
Mr C. Mike Doryen, Managing Director of Forest Development Authority, Liberia addressing the media also pointed out that commercial measures need to be established to monitor and ensure that responsible and legal activities are practiced for strict compliance.
'It is not good that a government's administration with good will carries out priority projects while a new administration overlooks that project', he said.
Mr Doryen said: 'Shifting cultivation in my view is causing more harm than good to forests than other practices. I've been skeptical because we have not taken substantive measures to address deforestation'.
He noted that it should be institutionalised in a way that even when government changes, operations still follows.
'Even though, together with governments we are including indigenous small holder farmers, we are also making sure they operate within better approaches that would not destroy our forest reserves'.
Madam Naoko Ishii, Chief Executive Officer of Global Environmental Facility speaking on ways forestry can be used to achieve the Sustainable Development Goals; said human activities, food production and land systems are activities that destroy forestry.
She noted that all actors including government, financiers and farmers should be brought together to make forests part of global environmental development.