Bangladesh Must End Injustice And Suppression Against Senior Journalist Choudhury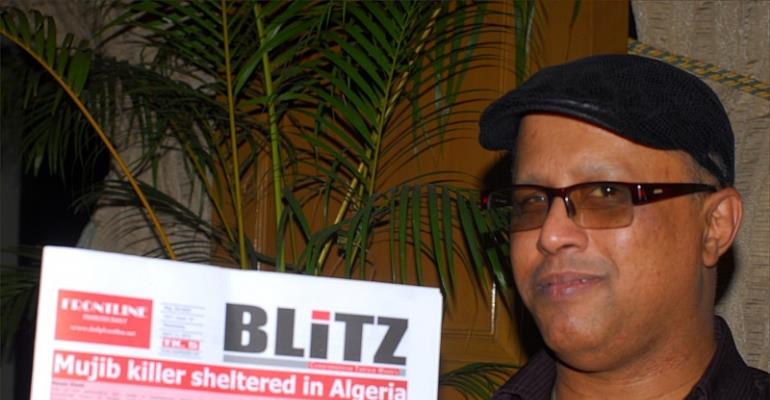 It is indeed very sad to see Journalists go through the highest level of unimaginable impetuosity when as a matter of fact, Journalists exist to make positive impact on people and the society at large.
Journalists all over the world have had the trouble to deal with all kinds of human rights abuses and it appears what Bangladeshi Journalist and Publisher of the Weekly Blitz, Salah Choudhury, is going through is no different and very scary.
Multi-award winning anti militancy journalist and newspaper editor, Salah Uddin Shoaib Choudhury was arrested on 29th November, 2003, from the Dhaka International Airport in Bangladesh on his way to Tel Aviv for attending an international peace conference organized by the Hebrew Writers' Association. Mr. Choudhury was amongst the list of key speakers in the conference.
As Bangladesh does not recognize Israel and considers it as an enemy, authorities in Bangladesh brought sedition, treason and blasphemy charges against Shoaib Choudhury by accusing him as an agent of Mossad.
Since 2002, Mr. Choudhury has been confronting religious extremism and radical Islam; denouncing antisemitism and holocaust denials; promoting interfaith harmony; and defending the Jewish State.
In 2005, at the intervention of US Congressman Mark Steven Kirk and rights activist Dr. Richard L Benkin, Shoaib Choudhury was released from the prison on bail.
In 2007, the United States Congress passed a bipartisan House Resolution HR-64/2007 by 406 votes in defence of Mr. Choudhury and called upon Bangladesh authorities to immediately drop the false charges brought against him. But, Bangladesh didn't pay any heed to it.
In 2012 (November 8th), Shoaib Choudhury was rearrested and sent to prison at the influence of Maj Gen (Retired) Tarique Ahmed Siddique, Security Advisor to Bangladeshi Prime Minister, for Mr. Choudhury's 'crime' of exposing corruption of a Bangladeshi company named Prochchaya Limited and UK company named Zumana Investment & Holdings, owned by the wife and daughter of Gen Siddique. It may be mentioned here that Maj Gen (Retired) Tarique Ahmed Siddique is the paternal uncle of British Labour Party's lawmaker Ms. Tulip Siddiq.
As the Security Advisor exerted his influence on the court, the Metropolitan Session Judge in Dhaka convicted Shoaib Choudhury in treason and blasphemy charges (in the case brought in 2003) and handed down seven year's rigorous imprisonment. Later in 2015, the Security Advisor also got Mr. Choudhury convicted in a false case lodged by Prochchaya Limited.
Although Mr. Choudhury's appeal against both the conviction are still pending, his conviction period ended on November 2, 2017. But, the Security Advisor, by exerting influence, has been keeping this journalist in prison this creating undue obstructions.
There is no freedom of speech, freedom of press, rule of law in today's Bangladesh. Situation in the country are no different than those of Fidel Castro's Cuba, Gaddafi's Libya or the rowdy clergymen in Iran. Participatory election in today's Bangladesh is a mission impossible.
In today's world, we find decent and concious people talking about freedom of press. Many of them also denounce antisemitism. Virtuous individuals like the US President Donald Trump, Secretary of State Mike Pompeo, National Security Advisor John Bolton as well as esteemed organizations like Committee to Protect Journalists, Reporters Sans Frontiers, Pen, American Jewish Committee, Gatestone Institute etc should look into the crucial case of Salah Uddin Shoaib Choudury and give a strong signal to Bangladesh - stop intimidating the anti Islamist pro West and pro Israel journalist Salah Uddin Shoaib Choudury!
He is owner of the most influential anti-Jihadist newspaper in Bangladesh, and editor-in-chief of vernacular weekly Jamjamat. He also is the editor of Daily Frontline.
Choudhury's articles appear in various international press on a regular basis. He also is considered to be an expert on topics such as Islamist militancy and extensively works on finding root cause of Jihad . He is also invited by many reputed institutions around the world as a Speaker to give lecture on such topics as Islamist militancy, jihad, and Hate Speech and Political Islam.
In 1989, Choudhury started his journalistic career as a correspondent for the Soviet Union's TASS news agency. In 1991, he was promoted to the rank of chief correspondent in Bangladesh. He left TASS in 1996; as, after the fall of the Soviet Union, the agency had to close down many of its world offices.
In 1996, he established the first private television channel in Bangladesh, named A-21 TV.
Choudhury has written a number of books in Bengali and English. His latest book, Injustice & Jihad, was published in October 2007. In May 2008, Italian publication house Neftasia published Choudhury's book titled Non Sono Colpevole in Italian. This was the first book by any contemporary Bangladeshi journalist translated into Italian.
Inside Madrassa was published in October 2009 in Bangladesh. In this book, Choudhury gave extensive information on madrassa education, including unknown facts, Jihadist orientation inside madrassa, hate speech and many other important thus interesting topics, mostly related to radical Islam.
Choudhury opened a branch of the Israel-based International Forum for Literature and Culture of Peace. He wrote about the rise of al-Qaeda in Bangladesh and has written articles critical of anti-Israeli and antisemitic attitudes in Muslim-majority countries.
Salah Uddin Shoaib Choudhury is the advisor of Bangladesh Minority Lawyer's Association since 2005.
In July 2006, a mob stormed the premises of Choudhury's tabloid and beat him, fracturing his ankle. In September, a judge ordered the case continued, in spite of the government's reluctance to prosecute, as Choudhury had "spoiled" the "image of Bangladesh" and "hurt the sentiments of Muslims" by lauding Jews, Hindus and Christians.
After the police detail that had been posted to Weekly Blitz's offices since the July bombing had vanished, the offices were ransacked and Choudhury was badly beaten by a mob. When he lodged a formal complaint with the police, an arrest warrant was issued for him. The US Embassy in Dhaka sent an observer to his trial.[9]
Later, Choudhury lodged a case in the Court of Metropolitan Magistrate against the attackers, mostly belonging to the Cultural Wing of the Bangladesh Nationalist Party (BNP). Wall Street Journal