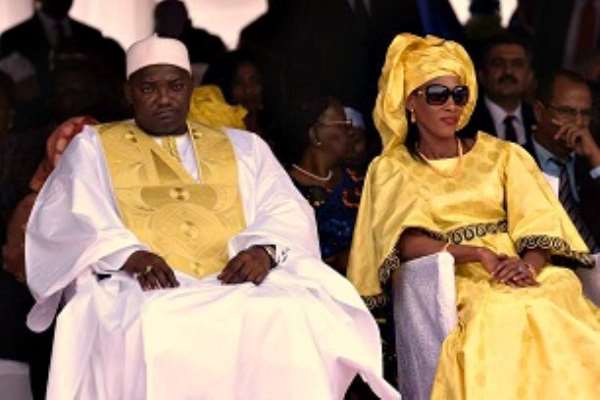 Adama Barrow and his wife Fatoumata-Bah-Barrow
Massive corruption within African politics reveals that African leaders enter into politics to enrich themselves. They are never inspired by the conditions of the poor people, therefore, how different is Adama Barrow, the new Gambian leader?
Hunger, poverty, and desperation, are some of the reasons that force poor African masses to seek for a new leader. It happens many times, especially when a president has been in power for decades without any significant change.
Years after the authoritarian former ruler of the Gambia, Yahya Jammeh, ruled the country in a palace of corruption and iron fist, frustrated Gambians, longing for a change of government jubilate and danced on the streets of the capital, Banjul when Adama Barrow, a former security guard in Britain was sworn in as the new Gambia leader.
Just a few months after becoming the new Gambian leader, it is now emerging that Barrow is denying his own promises and gradually drifting to the road of corruption. According to journalist Sam Phartey, Smbc News, in an article captioned:
Barrow sparks anger over new foundation
Gambia's President Adama Barrow has ignited outburst after it emerged a foundation has been set up in his name by his aides, notably an ambassador at large.
There has been an overwhelming call for Mr. Barrow not to proceed with having the so-called Adama Barrow Foundation for Inclusive Development launched.
Activists cited conflict of interest, accusing the country's leader of gently transforming into politicians will plan to entrench himself in power. They demand he steps down in five years as promised by the realtor turned head of state.
Fatou Ceesay, Barrow's Ambassador at Large caused the firestorm after posting a job opening for an administrative officer for the foundation on Facebook.
Barrow's political opponents say it is a reminder of former President Yahya Jammeh's foundation, which was a scheme to stash taxpayers money.
The foundation said it will build mosques all around the secular country, angering Christians, who were marginalized by Jammeh's regime that declared The Gambia an Islamic state.
Political opponents of Mr. Barrow said most of the foundation's objectives were part of the government's job description, which are also outlined in the Barrow administration's national development blueprint, citing potential conflict of interest.
They demand Mr. Barrow focus on the task of the presidency and not to be involved in running foundations and movements like his predecessor.
Barrow's wife, First Lady Fatoumatta Bah is already running a foundation. That, many including his supporters say is enough, unless Barrow is on a political gimmick to prolong his stay and seek a second mandate, opposed to his pledge of serving a single term.
Editorial
In Africa, many people want to be politicians not because they have the desire to help or serve the people but to get rich. This is one of the reasons the development of the continent has been very slow despite the vast mineral resources Africa has.
Until the Gambians will believe and trust in Adama Barrow, he must fully serve the people in the most honest way and improve the country's educational and health sectors.
Africa has a long way to go because for decades they depend on foreign aid which comes at a cost. If African leaders wouldn't let the country to be referred to as 'shithole nations,' then they must wake up. They have disappointed Africans for too long.