Ghana Institute Of Architects Urged Members To Uphold The Truth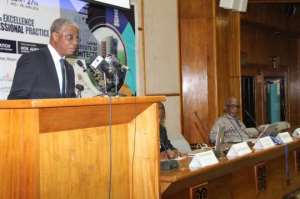 The Ghana Institute of Architects (GIA) has urged members to uphold truth as the corner stone of their profession.
Mr Joseph E. Hayford, outgoing President of GIA, reminded architects that they were called to be members of the GIA, an institute that upholds the truth at all times.
'Truth is at the heart of the endeavour of consulting or advisory service, without which it loses its 'raison d'etre' or its logos. Our profession cannot stand without truth at its heart. We cannot profess to advise when our advice is dimmed possibly inimical to the interests of our clients. If truth leaves us, we are redundant,' he said.
Mr Hayford said this at the opening of the 2018 Annual General Meeting of the GIA in Accra on Wednesday.
'The truth is reflexively practiced from the will and all human beings are endowed by their maker with a will to choose or reject the truth,' he added.
The two-day meeting is on the theme; 'Truth and Excellence in Professional Practice,' and marks the threshold of the departure of Mr Hayford's led-administration and the current Council.
The outgoing President urged the members to enact the theme for the 2018 AGM as a motto for the GIA.
Mr Hayford said: 'The world we live in itself is gripped with a high-minded obfuscation of truth born of relativism and our profession appears, in present times, to be suffering from this virus of a mindset. The symptoms are clearly discernible: Truth is lacking.'
'We find ourselves and our country in quite disconcerting times; times when the ethics of the consulting profession have been called into question over a number of unsavoury events that have caught the imagination of the public; events which have laid suspicion at the door of Consultants' in the Building Industry.'
He noted that as professionals, they were called to a moral obligation; and that 'this moral obligation is premised on truth. Let us, therefore, render the prefect service we are called to give to our clients.'
'Let our service be obedient to the tenets and ethics of our profession, always in obedience to the bye-laws of the Ghana Institute of Architects.'
Hajia Alima Mahama, the Minister of Local Government and Rural Development, in a speech read on her behalf, urged architects and other professionals to comply with the laws and regulations guiding their profession to ensure excellence and productivity for Ghana's socioeconomic development.
She said architects contributed immensely to the socioeconomic well-being of Ghanaians, because what they provide for governmental, private and business as well as residential facilities make all the difference.
Mr Julius Attor, a former President of GIA, delivering the AGM lecture on the topic; 'The Strategic Role of the Architect in a Troubled Construction Industry since Independence,' said abandoning of previous government's projects by succeeding governments was the bane of Ghana's development.
GNA
By Iddi Yire/William Fiabu, GNA