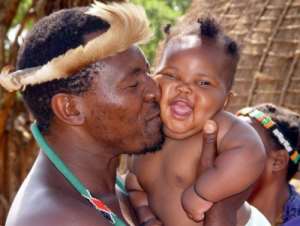 A happy father gives his child a kiss on the cheek [B]Just mention the name Africa in Europe; everyone thinks it's a continent with ethnic conflict, wars, civil unrest, slavery, and diseases.[/B]
Both the Western and American media portray Africa as a place where there is no hope with poor amenities, yet Africans are trying very hard in all the sectors despite the daily difficulties they encounter.
Just like how the continent smiles, displaying its beautiful culture, tradition, and rich natural resources, the same many are happy indeed.
In fact, there is love in Africa than Europe and America. Three decades ago when I arrived in Europe, I realized that Europeans don't love Africans like the way we love them.
Yet the attitudes of Africans never change, everyone is welcomed in Africa because they consider the love they give other people as a blessing.
With the love of our parents, through trials and tribulations, Africans are very happy and friendly people, the reason Ghana says "Akwaaba."