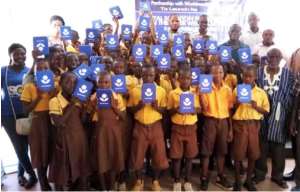 Accra, Ghana. 19th April, 2018 - QNET, a global e-commerce business and one of Asia's biggest direct-selling companies is helping address one of the fundamental challenges of education in Ghana: access to books to stimulate learning and reading among young people in the country.
Last year, QNET Ghana, through its Corporate Social Responsibility arm, RYTHM Foundation, provided 50 Kindle e-readers which were pre-loaded with 100 culturally-relevant books each for students in Nima, a large slum within the city of Accra, Ghana. It was a project in partnership with Worldreader, a global literacy non-profit organization and Achievers Ghana, an educational social enterprise. The objectives of the initiative are to improve educational outcomes and instil reading habits among young students through the use of digital content and technology.
Students and teachers that have benefitted from the initiative describe its successes and assert that it makes reading accessible, easy, and fun. According to Mastura, one of the students: "We are able to finish the books on the devices really quickly, because the e-readers make reading and learning easy and exciting."
Alexandra Bornhoft, Manager of Corporate Partnerships at Worldreader, said: "The reading sessions using the Worldreader e-readers is among the most popular of the programs offered by Achievers Ghana, and teachers at local schools have noted that attendees of these sessions have directly applied their improved literacy skills and enthusiasm around reading in the classroom, resulting in increased test scores and academic performance. Teachers have commended the e-readers for their simplicity and the ways in which it makes teaching and research more effective."
Trevor Kuna, QNET CEO reiterated the company's commitment in helping to build a more sustainable society. "QNET is a socially responsible global business and we are committed to ensuring that we positively impact lives everywhere we do business. The support we offered young students in Ghana through the e-reader sponsorship, is one of the numerous CSR initiatives we are implementing to benefit Ghanaians."
Recently, QNET Ghana organised its first-ever Absolute Living Expo at the Accra International Conference Centre and was attended by many stakeholders such as the Ministry of Business Development, Ministry of Trade & Industry, Association of Ghana Industries, other private sector business associations, the media and members of the general public. At the successful Expo, a wide range of QNET products was exhibited and the business module explained in details, opening up entrepreneurial opportunities for youths.
As a prominent Asian direct-selling company, QNET provides a wide range of life enhancing products that are offered through its proprietary e-commerce platform to customers and distributors in more than 100 countries. The company has over 25 offices and agencies worldwide, apart from localised operations or franchisees in a number of countries.
About QNET:
QNET is one of Asia's leading direct selling companies offering a wide range of health, wellness and lifestyle products that enable people to lead better lives. QNET's business model has helped empower millions of entrepreneurs in more than 100 countries worldwide.
QNET is headquartered in Hong Kong and has a presence in more than 25 countries around the world through subsidiaries, branch offices, agency partnerships, and franchisees. In the Sub Saharan Africa region, QNET is represented through local agencies in Ghana, Mali, Cote d'Ivoire, Togo, Benin and Guinea.
QNET is a member of the Direct Selling Association of Malaysia, Singapore, Philippines, Indonesia, and UAE, as well as the Hong Kong Health Food Association and the Health Supplements Industry Association of Singapore among others.
QNET is also active in sports sponsorships around the world. Some of the more prominent partnerships include being the Direct Selling Partner of Manchester City Football Club and the African Club League Championships of CAF.