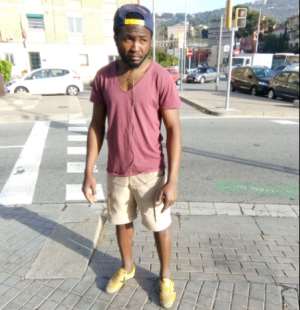 Yussif Chukeh Wajiwie seeks Asylum In Spain
A 27 year old Yussif Chukeh Wajiwie, a known gay in Ghana who fled the shores of Ghana some months ago after a multiple life threatening attacks on him, is allegedly seeking asylum in Spain.
This news comes to us after our reporter visited the family of Wajiwie at Santa Maria, a surburb in the Greater Accra region, since after the multiple attacks on him, nothing was heard from him again.
The mother of Wajiwie (name withheld) told the team he is in constant communication with his child who had to resort to escape from the life threatening attacks, travelled outside the country. She said, her son was currently in Spain, where he is inferring on the government of Spain to grant him an asylum to protect his life.
The report was also told that, Waiwie has started the due process towards obtaining an asylum from the Spain government.
The Ghanaian Constitution and the religious and cultural setting abhors homosexuality, and thereby putting the lives of the homosexuals life threatening when identified as one or caught in the act.
It can be recalled that, somewhere November, 2014, Wajiwie who was in his private room with his gay partner (name withheld) were attacked and beating mercilessly, but for the quick intervention of his mother and people would have been lynched to death.
As if that was not enough, some weeks later same year, the Accra Polytechnic graduate, Wajiwie was again attacked, beaten and dragged to the streets to be burn alive one night, But it took a taxi driver to save his life again.
He was accused of causing abomination in the society and therefore the attempt lynching of him to save the community from the abominable act of him.
Sensing that, his life was in danger, Wajiwie then lodged an official complaints with the police.
But since then there have been several verbal abuse and assault on him. These has to force him to flee the country.
Although, several civil society groups have come to the defense of the homosexuals, the Ghanaians are not in any time soon ready to accommodate homosexuals in the country.
But, we assure our readers with updates on Wajiwie's endeavors outside the country.