Rejoinder: Ursula Owusu Claims Muslims Are Intolerant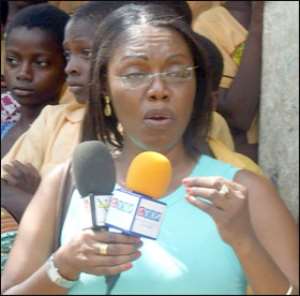 It has come to my attention that some unscrupulous beings of human semblance have reported that Honourable Ursula Owusu-Ekuful has defamed Muslims by calling them "Intolerable!"
I BEG TO DIFFER, URSULA OWUSU-EKUFUL WILL NEVER MAKE SUCH A STATEMENT!
It seems to me that after the disappointing submission on the Muslim Call for prayer by a rather confused academic, people of the NDC and paid bigots want to take this fiasco a step ahead by putting words into the mouths of NPP party faithfuls ostensibly to soil their hard earned reputation with the hope that it would have a diminishing effect on the fortunes of the party in 2020. They lie bad! And if they are fingered, would come hiding under the cover of "satire", claiming it was just a joke, by which time the damage would certainly have been done.
It is not Ursula Owusu, who would stoop that low to insult her own people. She has been at the forefront of human rights, campaigning for children and the disenfranchised. From her humble beginnings until she got to where she is today, it has not been easy at all. I wish that people would listen to the life stories of some of the government appointees to appreciate their background and how they had to take up responsibility at a tender age when the parents of these irresponsible journalists and bigots were busy drinking beer and sucking milk out of fleshy bazookas.
Let me tell you a bit about Ursula if you do not know. The plight of the Ghanaian has always been her worry. She has always thought about the girl child, and the disabled in society. I know because I have felt the tangibility of her love for Ghanaians of all tribes and religions. In fact, she grew up in a society of mixed religions and is very well accustomed to the various traditions of same, so an attempt to malign her will be a chore in futility. This woman has been relatively quiet, doing much better than some blabbermouth I-know-it-all academicians and politicians. Her contribution, thus far, in the nationalistic agenda of #MakingGhanaGreatAgain is enormous.
Some might argue that she is difficult to deal with. Well, she will not tolerate nonsense from people who think women are incapable! She will not tolerate bigotry! She will not tolerate to be treated like a woman in the kitchen when she in the office! She is a mother at all times, but when in the office, she is an Honourable Minister and member of parliament. Until it sinks into their minds, they will not be tolerated, whoever they are and however great their social status is.
Ursula Owusu-Ekuful is a woman worth her salt, and if she has guarded her tongue all these years in neutrality and love for all, how would anyone suppose she would begin running her mouth at this sensitive point in her career as a politician? Don't people have any sense of appreciation for good work and humility? If anyone should deem her arrogant, then on an individual basis, they should reflect in a solitary moment how they approach her. They should discern that a mole is insignificant at the foot of a mountain, and not until the mole decides to be humble the mountain will not bend to pick it up.
Like the old Arab adage goes, "If Mohammed does not go to the mountain, the mountain will go to Mohammed", and for those who are not discerning enough, it is a figure of speech, the meaning of which is just too obvious. She is ever willing to be a mother, sister, and a friend, and when you are humble enough, will reciprocate with humility and respect. Her idea of peaceful coexistence is, "de wo fie as3m"!
So Ursula Owusu-Ekuful will never insult Muslims who have been very meaningful in her life. She will never exhibit such crass bigotry against her own constituents, friends, and family. People should just be civilised and think #GhanaFirst.
I won't mince words; Saa na 3tie3!!!
By Fadi Dabbousi