Adjei-Darko Loses Heineken Futures Title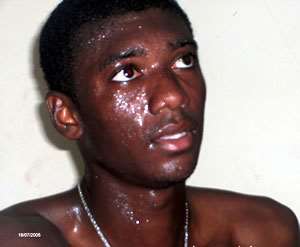 Ghanaian tennis player, Henry Adjei-Darko feels hard done by after his Heineken Futures final defeat to Ivorian, Valentin Sanon and insists he was the moral victor.
"I deserved to win because I gave my all in the match and I did play some fantastic tennis which I felt should have enabled me to win but with some twist of fate, I ended up losing what I thought was mine for the winning", said the tournament top seed.
He made this submission after his astonishing 6-7, 3-6 straight sets loss to the second seed, who was simply on top form , on a sun-lit Lord Rumens Centre Court of the Lagos Lawn Tennis Club.
"I came into this match with high belief that I would win and you all saw that I was in the mood for victory but something was just twisting me and at the end, handed the advantage to Sanon", said Darko, who conceded that his conqueror played good tennis.
"Without taking anything away from Sanon, he was on top form but I was equal to the task even though the outcome did not favour me. He was everywhere, returning every ball, serving some aces but I also did the same, only that I was unlucky at the end", he said.
He noted that Sanon gained the advantage after winning the tie-breaker in the first set, that easily could have gone anybody's way.
"When you look back at the match, you would discover that the first set was really the ice-breaker because, both of us held on to our serves till we got into the tie-break. I always felt that the winner of the first set would go on to win the match and that was how it turned out", said Darko.