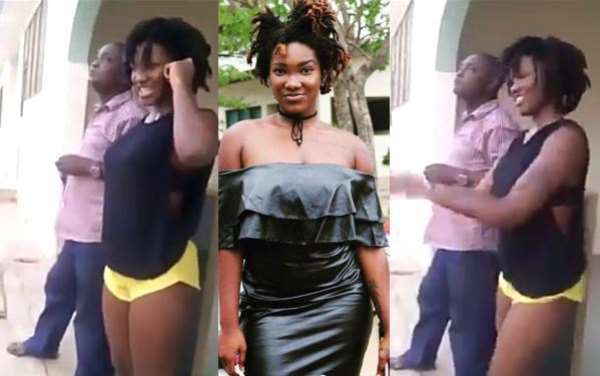 As I watched believers bastardised her for being secular instead of being a Christian-regular, tears filled my eyes. When I heard pastors called her names she can't even defend because of her absence from her body, I sighed as I recalled the sad news of how she died. My ears couldn't believe utterances like 'she is going to hell, she can't make it to heaven, all this misleading of the youth, God will send her straight to hell''. I asked myself is it the same God who said I don't delight in the death of a wicked man?
I still didn't have anything to say over the lifeless body of ebony. Why? Because the castigations, criticisms and aspersions came from people I least expected could have done that. Why? Because no matter how sinful a soul is you don't wish that soul ill, rather you pray for the soul. Mind you: it wasn't your blood that was shared for the soul in question it was the blood of Jesus.
At age, 20 she soared high as the skies, she had massive talents that only few Africans can match up to. Her own Rough and Smooth bosses says this talent has never risen in this country before to an extent that Akon from America has decided to come and sign her on the record label. How? Outstanding heights. Isn't it? What about being astute and unparallel among her peers until she became an envy on the stage of cheers. Some said she is a lesbian, that's fine. I am not here for that.
Others said she is a cultist. Like seriously? That's not my assignment today. Others said she should have learnt from her ancestors: Suzzy Williams and Terry Bonchaka who both died on Thursday in their prime. I was like really? Who learns from the dead. Anyway we are not here for that.Among all these brouhaha from both saints and sinners I never heard anyone, no single spectator or citizen mentioned that Ebony was a soul. Which was the most significant concern on earth because that was what Jesus came to die for. We have a generation of unbelieving believers who get excited at the death of an ''unrighteous person''.
She met Evangelist Lawrence Tetteh, fine. But did she meet God? She had an accident which reports she died on the spot, fine but did she have a little breathing space to say '' God forgive me and remember me like the thief on the cross at her last breadth? She was a sinner, fine but when she met Lawrence Tetteh did she receive Jesus as her Lord and personal saviour? She died in her prime, fine but what's her crime? Now since we don't have the answers to all these questions, I don't think any of us is qualified to judge and bastardised the departed soul. We have not even taking steps to wish the living siblings well and share our condolences with the families yet we attack a lifeless body with all alacrity as though we won't die someday.
Now, this is what I have to say, first to the prophet: a message to a person is not a message to the nation, anytime you have such messages from either an oracle at your backyard or God, walk to the person in question, staying on radio to claim popularity is not the mandate. Isaiah had a bad news for King Hezekiah he picked a car to the King's house and delivered the message and the king took it from there. Prophet Nathan had a word for David, he didn't go to sound the siren, he went to him straight and gave him the word and David repented. Only this generation seats on radio and abuse these holy callings in the name of ''God spoke to me''. If you need more members in your church step out into the great commission and stop putting fear in people on the radio for popularity. A message to a person is not a message to a nation. However, if God gives you the mandate to tell a nation, fine.
Now, to the remaining artists, you don't fight the prophets, rather you fight the prophecy. Isaiah spoke to Hezekiah that he will not recover from the sickness, he was going to die and it was true. The word spoken by Isaiah was overruled and God gave the king 15 years in addition, why? Hezekiah prayed. For fake prophets, God Himself will deal with them but their prophecies must be dealt with by you.
And finally to Ghanaians, unity is a function of maturity. Let's demonstrate it even as we journey to bury these great talents: Ebony, Franky Kuri and Soldier Vondee. However, the living must take caution: Death is sure and sin is the cause but remember eternity is surer. Let's be guided.We will also put in our maximum best to win at least, some.
Condolences to the families of the deceased. God keep you
R. Duafah
([email protected])