My Take On Baffour's After Midnight Musings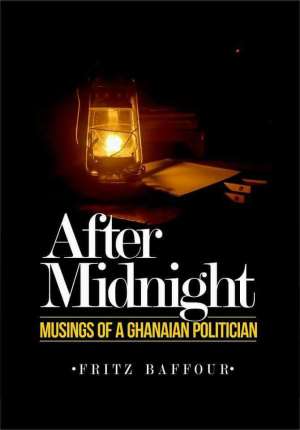 Frederic Fritz Baffour, a man of many talents has now achieved his lifelong ambition to become a writer.
'After Midnight – Musings of a Ghanaian Politician' is a 181 page light-hearted book written by the award winning Ghanaian broadcast journalist, television presenter and producer.
Baffour is a retired parliamentarian and a former minister of state. He served Ghana with pride until he exited Parliament on 7th January 2017.
Among other accolades, he was enstooled Noyaa Mantse of Akweiman in March 2017, with the stool name, Nii Ayeh-Boafo.
This is his first book, but he has the cherished hope of publishing more.
His inaugural book was published by Kwesi Amoak and printed by Daniel Kokroko. Editing was graciously undertaken by his older cousin, Prof Anthony Dadzie.
The book was launched at the Christ the King Parish Hall in Accra on Wednesday, 21st March, 2018, and is dedicated to the memory of his late parents Dr Robert Patrick Baffour and Mrs Evelyn Kailey Baffour, and his late siblings Gerald, Eric, Robert Jnr and Freda.
Beyond his family, the author dedicates the book to four mentors who have positively impacted his 66 years on this earth. His mentors are the late Abraham Sirton, Louis Caseley Hayford, Col (Rtd) Peter Mama Agbeko and Prof Robert Giddings, his English teacher.
A disclosure is required: The retired Colonel was my father.
Structure of the book
The book is divided into four parts that are interlinked either directly or remotely, with the writer being the common thread across.
It is a compilation of essays, posts and written opinions churned out by the author. The topics cover a rather wide range – From sports, politics, travels, current affairs, humour, tributes to both the living and the dead, and his memories of the years gone by.
The book is a collection of prose and captures just about any topic that intrigued him during his professional and personal life. It covers the period A.D. 2014 - A.D. 2017
Part 1 contains 21 items, Part II and III have 23 items each, while the concluding part IV consists of 11 items.
Review Approach
My approach will not necessarily be sequential. Just as is adopted by the author, I have selected some of the themes and will address them randomly. However, by the end of my review, I hope you will realise and appreciate my strategy.
Faith in the Ghanaian
A common thread that runs through the book is Baffour's faith in the abilities and potential of the Ghanaian.
He passionately believes that we are blessed and endowed. He is convinced that we have the wherewithal to be a great people and nation.
He begins the book with a short statement on the iconic Ghanaian Journalist, Komla Dumor. This sets the standard for the quality he expects from citizens of the motherland.
With respect to Dumor, he states: "He was one of the most exciting, graceful and professional broadcasters I have known. He was such a gentleman, ability and confidence oozed out of him in buckets".
Still highlighting our innate abilities in another chapter, he says: "On Wednesday, 8th March, 2017 I had the privilege of moderating two panels at the African Diaspora Homecoming Conference. I was totally gobsmacked at the brilliant contributions made by the participants and audience and the talent that abounded".
Baffour comes across as somebody with a strong, sense of nationalism. He makes the point that as a people we are short changing ourselves and not learning lessons from past mistakes.
One can sense his frustration, as he constantly laments about the deterioration of our sporting disciplines. In reference to the last Olympics, he notes: "This year should be one of rude awakening that we are fast dissipating what is left of our glorious past with selfishness, greed, short-sightedness and a wanton disregard of the attributes that make a great nation".
On the Black Star's abysmal showing at the Brazil World Cup, on and off the field, he notes, "We must make greater efforts at working together in harmony with our sights aimed at turning this nation in the right direction."
He expresses similar sentiments and nostalgia with athletics programs.
On boxing, he proudly reveals his antecedents and pedigree with the sport. He reveals the remarkable role played by his father, and goes on to establish his link with others directly connected with the sport. Names such as his uncle, Nii Cofie Adjenkwa AKA Lawyer John Allotei-Cofie, vice president of the WBC and erstwhile chairman of the GBA, and his late brother, Gerald Okai Baffour, an international boxing referee, are mentioned.
This personal connection explains his love for the sport, and by extension his frustration about the state of development of boxing programs in Ghana. In respect of a hyped fight between two local boxers, who he aptly describes as average, he says, "The fight itself was pitiful and lacked the finesse and class of the great old days of Ghanaian boxing.
He however has faith in Peter Zwennes, the current GBA President, to turn things around.
Reading other chapters the author's resilience and 'never say die' spirit is pretty obvious, despite his unquestionable commitment to the unpredictable, Accra Great Olympics Football Club, Agosu.
Social/Historical Context
The book also provides some relatively new information. For instance I am sure many are not aware that Baffour is a Chief of sorts. This whets your appetite, but ends just when the reader yearns to learn more.
If this is a strategy to keep readers' hooked then, I believe the author has succeeded, but at a cost. And what's that cost? Readers have earned the right to exert pressure on him for the sequel.
Included in the book are items on Anas and the Judges, Donald Trump, Montie Three Saga, Guantanamo Duo, Proud of our Soldiers, and the role of the First Ladies, among others.
Baffour makes good use of his considerable knowledge of the country's history and political landscape, and also relies on his deep and extensive personal ties to enrich the narrative.
His passion for excellence is perhaps the main motivation for writing this book.
Appreciation, and love for Nation
One theme that runs through the book is the author's attitude of gratitude. He actually has a piece titled -"Gratitude" which aptly captures his thinking and feelings on the subject.
Judging Baffour through this book, he comes across as an avowed patriot.
"I have always been grateful to my creator that he made me a Ghanaian and I have no regrets. I will, because of that, always take the rough with the smooth and the bitter with the sweet when it comes to this blessed land of ours".
Writing Style
The literary technique used by the author falls under the category of prose, in terms of tone, content and even length.
Throughout the book, the author emulates Shakespeare's famous quote, "Brevity is the soul of wit". His writing style is simple and engaging.
He applies a natural flow of speech, and uses ordinary grammatical structure, which will appeal to a mass audience.
Baffour has a knack for descriptive detail. His linguistic fluency is a great asset which captures the readers' attention throughout. He applies a good blend of hilarity and anecdotes, which is fit for purpose.
Shortcomings
The book does have its flaws. Packing 78 stories in a book of this size is herculean task. This resulted in cutting some stories drastically, invariably leaving the reader yearning for more.
This perhaps provides Baffour with an opportunity to publish a sequel. His cherished hope is thus within reach.
Another flaw is Baffour's sentimentality and hope regarding the country's future. In his eyes, the turn around is within reach, but to some others, this may seem like a mirage. Well, only time will tell which group is right?
My Thoughts
Overall, the book is effective, in part because Baffour tells his story clearly and authentically.
His writing seems relentlessly honest. He pulls no punches; praising where praises are due, and forcefully condemns unworthy acts as warranted.
The heart of the text deals with his experiences. He does a nice job by citing many examples that readers can relate to.
The humanity in him comes across strongly. This helps to connect and engage the reader in a meaningful way, from the beginning to the end.
I rate "After Midnight – Musings of a Ghanaian Politician", highly and recommend it to all who love to read good works.
The good old Professor Giddings did an awesome job teaching Baffour the rudiments of the English language; this fact will become obvious after reading the book.
The Reviewer, Peter Martey Agbeko, is the Head of Public Relations at the Ghana Standards Authority