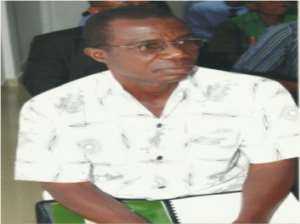 The Author
This article, and many to follow, is premised on the outcomes of my ten year study and analysis into 'lack of sustainability in development projects and programmes in Ghana'. The analysis of the research motivated me to design and develop the BACK TO ROOTS (BTR) ADVOCACY tool for Ghanaian attitude-change project. BTR is 'a probing, animation, motivational and attitude transformational tool for increased productivity, wealth creation and sustainable development'
One's environment greatly shapes attitudes, with formal education as the main driver. Our woes are consequences of poor attitudes fueled and bonded by an unresponsive educational system devoid of relevant socio-cultural significance, compromised by religion and political propaganda. Our education lacks clear INTENT, producing graduates whose competence and functionality that are questionable. And this is because our national vision is unclear for the education to fashion out how to train appropriate human capital to achieve the vision. These disconnects have combined to evolve poor attitudes within the national psyche with its sub-cultures, which we have really never assessed nor appreciated. We are therefore oblivious of the power and devastating consequences of attitudes to our developmental challenges and failed to take the needed steps to forestall them. Our woes are thus occasioned by deep-seated attitudinal challenges that constitute the greatest threat to the success of government's high vision of 'Ghana beyond Aid; but we must succeed.
Now read on….
Achievements of Ghana at 61 are not attainments well-meaning Ghanaians are proud of. But we are where we are because we have not been candid with ourselves and not really shown love and commitment to our dear nation, but held on to personality-cultism and parochial interests. But for once, let us be candid, forthright and truthful to salvage this nation from imminent catastrophe.
Mark Twain said, 'It's easier to fool the people, than to convince them they have been fooled'.
'In a speech to the United Nations in 1957, Ghanaian President Kwame Nkrumah said that, because institutions and capacity in his country were so weak, the government had to control the economy. His soon-to-be Ivorian counterpart Felix Houphouet-Boigny disagreed. Precisely because institutions and capacity in Cote d'Ivoire were so weak, he would rely on the market to drive the economy'. UN Report, 1957 reported in African Messenger, May 1, 1957.
The socio-economic woes of Africa will continue if the right diagnosis is not done. Kwame Nkrumah of Ghana and Houphouet-Boigny of Cote d'Ivoire referred to above adopted different approaches to economic development in their respective countries.
Within Ghana, the economic path to development was similarly contested between Dr Kwame Nkrumah and his CPP with its socialist induced state-led economic pursuits as against the liberal economic pursuits of property owning democracy advanced by Dr J.B Danquah and the UGCC, similar to what was propounded by Felix Houphouet-Boigny of the Ivory Coast.
Even though an economic contrast between the two countries is not the object of this write-up, the rhetorical question is, after 61 years of statehood, what is the value of the economic balance sheet between Ghana and Cote d'Ivoire today?
On 6th March, 1957, Ex President Kwame Nkrumah called that, 'now that we are independent state and no more subjects, we must change our attitudes and work hard to prove to the world that, the Blackman is capable of managing his own affairs'.
Sixty years on, on January 7, 2017, President Akufo Addo in his inaugural speech, made a similar call that, 'Fellow citizens, you must be at the centre of the change. The change we have voted for will have to start with each of us as individuals. We can start with little changes in our own individual attitudes and practices. The change can and starts now. I urge you to be citizens, not spectators; citizens not subjects.'
The President followed up on May 1, 2017 that, "…We have to start with the change in attitude to work. Government is ready to do its part and I'm counting on you, Secretary General [TUC] to lead the campaign for change and attitude to work and increase in productivity."
Even though both calls demanded immediate action, they reveal that within sixty years, nothing significant changed to fight attitudinal canker. Leaders at all levels since independence have called for change in attitudes. The reality being that, Dr Nkrumah's call failed to achieve the result he wanted, and we have failed along the line to necessitate the current calls by the President and many other leaders at various levels of national life.
The President is hurried to achieve high aspirations with Ghanaians which I so much applaud, but I caution that Government ministers must not joke with negative Ghanaian attitudes. The President has said 'we must be citizens and not spectators'; that he wants 'to change the Guggisberg economy'; that 'we cannot afford to be poor in the midst of plenty', that 'Ghana must grow beyond Aid'. These are profound calls and achievable goals; but we have to be real about the herculean tasks that poor Ghanaian attitudes way-lay the path of success.
From my research, the greatest challenge to success has been how to tame negative attitudes that have become hydra-headed because they 'are ingrained in our personality'. And we at RONJECT Group thus conclude that, 'Mere admonitions, exhortations, current formal education hardly change attitudes; awareness and deep concern for change within the context of carefully designed and regimented programming do'.
In this regard, topical national questions that have lingered on for answers must catch the sharp attention of all if we must achieve success with the vision of Ghana beyond Aid'.
These questions among others include:
Were our political leaders and top public servants before, during and after independence privy to the provisions on 'Universal Declaration of Human Rights', UN Declaration, Article 27 in Paris 1948, and the British document, 'Education for citizenship in Africa' of 1948? How did they utilise information from these documents to support our development?
Why do we not have a clear national vision and the intent for Ghana's education?
Why has education not been able to provide the needed solution to our developmental problems? We are getting many more educated with degrees and multiple degrees but getting policies and implementations increasingly wrong. Why?
Why are we poor at enforcing rules and regulations in Ghana?
Why do we believe Ghanaians perform better in foreign lands than at home?
Why have Dr Kwame Nkrumah's followers/admirers, who have ruled longer (50 years) than any other political tradition in this country, failed to salvage and sustain his legacy?
Why have most educated failed to sustain jobs the uneducated established?
Why do we encourage and celebrate mediocrity but criminalise achievers?
We accused the colonial government of cheating us. How do we assess our own governments?
Why does a vast majority of people not believe in the capacity of themselves and Ghana?
Why do we prefer things that are foreign and quick to accept them rather than those we are able to do or should be able to do ourselves?
Why have we failed to use the Chieftaincy institution to succeed in local governance unlike the British who used it for over a hundred years?
Why have local government and decentralization so far failed to impact adequately on local governance for sustainable socio-economic development?
Why are we very quick to abandon one project or facility for another, whiles insatiably craving for new and modern ones that we cannot maintain for ourselves, let alone produce?
Why do we find it difficult to ensure public/state machinery works well while we engender continuously weakening state institutions with Union leaders mainly concerned with earnings of members and not productivity?
Why has corruption become a way of life for so many?
Why has religion almost lost the moral legitimacy on our national conscience?
Have we been able to prove to ourselves that we are capable of managing our own affairs?
Indeed, there are so-o many questions within our body polity that have no answers; and these lack of answers are strong danger signs to the high sounding developmental initiatives of the President and his government. And I urge government to seek the answers, daring to say the answers are embedded in finding solutions to our attitudinal challenges shaped by our poor fusion of socio-cultural, political and economic evolutionary path into statehood.
Attitudes
Attitudes can be likened to unsecured grains of sand at the base of a building which over time erodes the foundation to finally bring the edifice down. It can also be likened to the activities of tiny weevils in the trunk of a big tree. If not attended to, it finally kills the tree. Attitudes are intangible but made tangible through behavior.
Our working definition of attitudes therefore is 'an impervious seal of the mind that hardly responds to training or formal education'. It is also defined as the 'disconnect between knowledge and action'. What could be the reason for a medical doctor to smoke when he fully understands the injurious nature of smoking to good health? How is his knowledge congruent with his action? Attitude? Yes, ignored important little details that build bad attitudes over time.
This is further epitomised by poor sanitation in slums and communities of higher learning. If both have sanitation challenges due to bad behavior, what then is the value of education over illiteracy? In other words, if Agbogbloshie is dirty and Legon is, what is the value of education? There is then a fundamental problem with education.
Thus, negative attitudes wield a lot of latent power exhibited through behavior. As John Maxwell affirms, 'Our attitude is the primary force that will determine whether we succeed or fail. Some climb with positive attitude, while others fall with negative perspective. The very fact that the attitude "makes some" while "breaking others" is significant enough for us to explore its importance'.
Additionally he says, 'Our attitude toward and action in life help determine what happens to us. It would be impossible to estimate the number of jobs lost, the number of promotions missed, the number of sales not made, and the number of marriages ruined by poor attitudes.
'But almost daily, we witness jobs that are held but hated, bad marriages that are tolerated but unhappy, all because people are waiting for others, or the world, to change instead of realizing that they are responsible for their own behaviour'.
Ghana's education lacks INTENT because the nation lacks a clear vision for direction and development. For these, the real and indigenous socio-cultural, political and economic substances that must inure to nationalism, patriotism and sustainability are lost. These show clearly in the non-functionality of many graduates resulting in high youth and graduate unemployment; the educational system literally blinds the student to his/her environment and therefore, the entrepreneurial and business opportunities therein are lost on them. Other than that, Agricultural graduates would not have travelled from across the nation to Accra to seek jobs, when they could have seen the huge opportunities they left behind while travelling to Accra. They are victims of a failed educational system.
Indeed, as culture is a way of life and attitude is everything, it stands to reason that poor fusion of socio-cultural and economic capacities have produced generational negative development paradigms in Ghana.
The effect of this void is the Opaque Box Syndrome (OBS), into which we have evolved as Ghanaians. This Syndrome, defined as 'inability to understand procedures and processes to attain results' has characteristics that influence formulation of ILLUSIONARY National policies that have made it difficult for us to identify the challenges that confront us and how to salvage them. In its place, the ability to speak good English has often been equated to intelligence, ability and competence. Based on these many 'square pegs have been placed in round roles' to consummate mediocrity as the measure for success.
A few warning signs about the lethargic educational system had been made over the years. In 1970, Dr J. K. Fynn, Ministerial Secretary for Education warned that, 'we have produced ignorant graduates'; Daily Graphic of Monday, May 14, 1970.
If this statement was not taken serious fourty-eight years ago, concerns and calls for action have become frequent and more vociferous over the last few years from persons in academia and industry. A few examples of such calls and concerns may suffice here:
Creativity is lacking in students of today - Sutherland-Addy. 12 April 2011; Source: GNA
Ghana's educational institutions should not be avenues for students to pass their examinations; rather places where people must be creative through serious research to make them analysts and thinkers needed for nation building.
Mrs Esi Sutherland-Addy of the Institute of African Studies, who said this on Monday, indicated that we (educational authorities) should be stringent to let people think about issues and problems themselves.
"The potential of creativity to perform as an impetus for a modern nationhood cannot be taken for granted," Mrs Sutherland-Addy said delivering a paper at the 9th Faculty of Arts Colloquium of the University of Ghana, Legon on the topic: Musing on Creativity as the Spark for Modern Nationhood."
IS UNIVERSITY EDUCATION STILL WORTH IT? 19 May 2011, Columnist: Pryce, Daniel K.
'A concerted effort is needed to reverse the ever-falling standards at all educational levels. We cannot address university education if there are no qualified students to send to the nation's universities. And without an educated society, we have little chance of competing with other nations, or improving conditions at home. Unless we take a stand against myopia and intellectual embolism, our politicians will slowly sink the ship of state, with all of us trapped in it and unable to escape.
Ghana Youth Given Wrong Education: Is The World Bank Taking Any Responsibility? 13 March 2011 ; Columnist: Kuyini, Ahmed Bawa
The statement by the World Bank country director on 9th March 2011 that Ghanaian youth are given the wrong education stirred a lot of anger in some Ghanaians. And although some Ghanaians felt that Mr. Ishac Diwan was calling a spade a spade, there is good reason to be angry with the World Bank official for not admitting to his own institution's role in our current educational disaster. The truth is that the World Bank /IMF are more to blame for the problem than the Ghana Government.
JOBLESS GRADUATES HIT 44.8%, 15 June 2011, Source: peacefmonline
44.8 percent of graduates from the universities, polytechnics and other tertiary institutions are said to be jobless, research data has revealed.
These graduates are believed to be in the age bracket of 22 and 25, a study conducted by Dr. William Baah-Boateng, labour economist and senior lecturer at the Department of Economics, the University of Ghana has disclosed.
MANY GRADUATES NOT READY FOR JOB MARKET – UG VC
24 October 2011; Source: Joy Online
The Vice Chancellor of the University of Ghana has conceded that many of the graduates being churned out in recent times are unfit for the job market.
Speaking on Joy FM's Springboard programme Sunday, Professor Ernest Aryeetey called on stakeholders to accept that there are challenges with graduates being produced by the universities.
"There are many people leaving our universities that are not ready for the world of work, or that are not ready to do anything meaningful with their lives. That is a challenge; unfortunately, it has taken us too long to acknowledge that."
Prof. Aryeetey said most of the complaints he is confronted with, come up during interaction with persons in the industry and public servants, noting "I hear complaints about the quality of today's university graduates. I think there are some merits in that complaint that is coming up."
He cited graduates' poor articulation of issues, lack of effective communication and a strong analytical mind as some of the complaints about Ghanaian university graduates.
f.GHANA'S PUBLIC SERVICE
Dr. Phillip D. Guribie Jr., in his feature article in the Daily Graphic of March 23, 2010 and titled, 'Rebranding Ghana's public service', stated:
'The first sentence one will read from BBC's country profile on Ghana is; 'blessed with an efficient public service, but…' Is it true that Ghana has an efficient public service and a good education system, yet these facts do not reflect in our day-to-day transactions at government ministries, departments, agencies as well as banks? We all bear witness to the fact that government employees have a laissez faire or a lackadaisical attitude towards work, and to add insult to injury, the 'face book pandemic' has rather worsened the situation. Useful man-hours go waste as a result of underemployment in the public service leading to low output or no output at all. Besides this black spot on our conscience, Ghana is fast gaining recognition within the international community and is serving as a role model to many African peers as a well governed country by regional standards. But is this true considering the way things work in our country? Our policy makers keep on vacillating from one educational policy to another to the detriment and dislocation of national agenda and human resource development'.
The sordid lamentations listed above, among numerous others, are the outcomes of misplaced emphasis and diagnosis of challenges in the educational and developmental landscapes. For instance, what defines quality education is problematic in this country.
Good infrastructure, well trained teachers, provision of adequate numbers of teaching and learning materials should define the quality of the environment for teaching and learning. But this is used to determine an end in itself, instead of the means to attain quality education. With almost 50% of tertiary graduates unemployed in the midst of rich resources, can that be quality education? Can we not see that our educated hardly act independently and calls to question their functionality?
Thus Government Ministers, education policy makers and their agents busy themselves about the aesthetic beauty in infrastructure development other than what is taught and how it is taught during lessons. They are less enthused about the quality product, the school graduate.
The outcome of this line of reasoning is a contributory factor to the lamentations and complaints listed above.
Quality of education must define the functional ability of graduates to addressing local developmental challenges. But is that what we get?
These are real obstacles that confront the President's great vision with policies and initiatives to develop 'Ghana beyond Aid', and must not be oblivious of these. His Appointees must always remember that, 'positions are not possessions' and for that matter a roller-coaster.
Yes, he wants to change the Guggisberg economy. But the real challenge is that the Guggisberg economy is sustained by the Guggisberg educational system and public/civil service, buoyed by negative attitudes 'ingrained in our personalities'. Mr President, are you taking the attitudes of your Ministers for granted because you think they are 'well educated' and members of your party? Please watch out because we all are victims of this mediocrity.
Free SHS is in flight. But with the same compromised educational regime, it will fuel graduate unemployment if the fundamentals to education are not quickly tackled; as it is a fact that, the mere change of name from Polytechnics to Technical Universities is hollow unless the fundamentals to education are corrected.
Flagship programmes like one district one factory, is faced with a lot of skepticism as the rank and file, dogged by a dependent mind-set, keep asking 'when will government build the factories', without realizing the vast opportunities government has opened for them to take advantage of as private citizens. The atmosphere is poisoned by emotional effusions that have influenced our developmental landscape over the decades, resulting in our poor showing through negative attitudes.
The challenge of converting from a 'spectator' to a 'citizen' is a herculean one. Admonitions and pleas cannot do it; not the educational system as it stands or our compromised religiousity. It is not a one-man wish come true. But the effort to carry the mass of 'spectators' through a transformational journey to 'citizenship'.
ACTION POINTS
An immediate and pragmatic approach to attain the vision of Ghana beyond Aid may include any of the following radical actions by government to show the way:
Utilise research findings from IBBR and Department of Rural Housing in the use of improved local building materials in the construction industry for all government projects to cut down on cost and motivate citizens to move away from the costly imported material regime of construction materials to address the housing challenges as well.
Begin actions to reengineer the lethargic local government system by rationalising unit committee and assembly persons' activities under direct supervision of Chiefs and Queen mothers without dispute, as the case may be, to inject effectiveness, improved human resource, enhanced security and socio-economic stimulation across the country. There are too many centres of authority at the community level deepening conflict and societal break down.
Set up a body to promote and develop local games across the country for national competitions.
Hold massive media campaign to promote all flagship programmes.
To tackle attitudes frontally, I offer for adoption the BACK TO ROOTS ADVOCACY tool, and request government, through the Ministries of Information and Employment, to begin massive crusade on attitude-change at institutional level. This will draw attention, waken the inner spirit, help in expectation management for government to sustain the space to methodically deliver on its far-reaching initiatives.
For the medium to long term, I call for a national dialogue on education to begin the journey for national regeneration and renewal. This journey will primarily begin with a presentation utilising the Back to Roots (BTR) tool to engender national discussions. BTR is a probing, animation, motivational and attitude transformational tool for increased productivity, wealth creation and sustainable development.
Government in a critical effort must then design our national vision together with the National Development Planning Commission and get the national vision approved by Parliament.
The Education Ministry must then be tasked to re-design the INTENT for our education and get the Curriculum set ups to work.
Only by these shall we be seen to be addressing the multi-faceted developmental challenges that are hydra-headed and starkly confronting this nation through attitudes.
We cannot afford to lose the battle and the war this time round. Ghana beyond Aid is possible as the call to mark the 61st anniversary of our independence. Let all join this non-partisan fight with positive attitudes.
Ɖelali Ndᴐ
Executive Director,
RONJECT Group, Ho.
[email protected] 024-4160535