Poverty As A Lifestyle Is Also Killing Millions!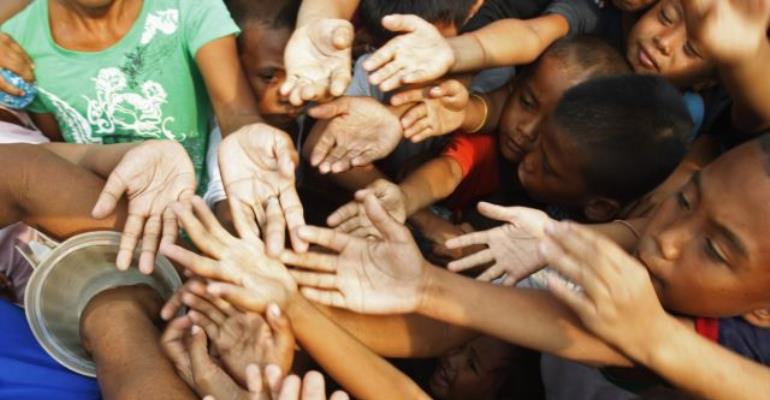 It is unfortunate that poor people around the world do not seem to matter to policy makers. Ghana is not an exception. As a result, so much attention has been directed towards diseases caused by prosperity which have been termed "lifestyle diseases". Unfortunately, poverty for majority of people who live in poor conditions has not been recognised as a lifestyle.
That is why in the campaigns against lifestyle diseases by most health authorities, no mention is made of Infectious Diseases of Poverty (IDP) and Neglected Tropical Disease (NTDs). In medical cycles, IDP and NTDs are diseases that affect millions of people around the globe and the common link is that, they are caused by poverty.
IDP as defined by medical experts; "is a term sometimes used to collectively describe diseases, disabilities, and health conditions that are more prevalent among the poor than among wealthier people."
"In many cases, poverty is considered the leading risk factor or determinant for such diseases, and in some cases the diseases themselves are identified as barriers to economic development that would end poverty. Diseases of poverty are often co-morbid and ubiquitous with malnutrition," the experts add.
Among some of these diseases are gastroenteritis with its associated diarrhoea which the online resource, Wikipedia, says results in about 1.8 million deaths in children yearly with most of these in the world's poorest nations. It also said, at the global level, the three primary poverty-related diseases (PRDs) are AIDS, malaria, and tuberculosis, adding that, developing countries account for 95 per cent of the global AIDS prevalence and 98 per cent of active tuberculosis infections. In addition, about 90 per cent of malaria deaths occur in sub-Saharan Africa and together, these three diseases account for 10 per cent of global mortality.
On the other hand, NTDs, as defined by medical experts, are a group of diseases that affect the world's poorest and most vulnerable people, often living in the most remote communities. These diseases include, African trypanosomiasis, Chagas disease, Leishmaniasis, Lymphatic filariasis, Dracunculiasis ("Guinea worm disease"), Onchocerciasis, Schistosomiasis and Trichomoniasis.
More than 1.5 billion people are at risk for NTDs globally, including more than 620 million in Africa. Whilst NTDs cause hundreds of thousands of deaths each year, their primary impact is on the millions that are left trapped in endless cycles of poverty. They cause blindness, disfigurement, disability, stigma and discrimination. Parents are left unable to work and children unable to go to school.
Research published by the National Centre for Biotechnology Information, shows that there are strong and direct relationships between undernutrition and the diseases caused by infectious organisms, including the diverse pathogens labelled as neglected tropical diseases (NTDs). "Undernutrition increases the risk of infection, the severity of disease and the risk that children will die, while the physical damage, loss of appetite, and host responses during chronic infection can contribute substantially to undernutrition. These relationships are often synergistic," the researchers said.
They noted, the role of nutrition in controlling NTDs and make the point that mass drug treatment--the major strategy currently proposed to control several diseases--is crucial to controlling disease and transmission, but is only the beginning of the process of physical recovery. "Without adequate energy and nutrients to repair damaged tissues or recover lost growth and development, the benefits of treatment may not be evident quickly; the effects of control programs may be not be appreciated by beneficiaries; while vulnerability to reinfection and disease may not be reduced," the researchers said.
They said there is substantial potential for nutritional interventions to be added to large-scale programs to deliver drug treatments and thereby contribute, within a broad strategy of public health interventions and behaviour change activities, to controlling and preventing NTDs in populations, and to restoring their health.
There have been efforts all over the world to make the case of nutrition top of the agenda for policy makers. International food and drink giant, Nestlé has found that, farmers and their families sometimes have insufficient food or dietary diversity for themselves, particularly in parts of Africa and observed that, this can lead to health and other problems.
In a report, the company said, "we need to take what we have learned about this issue, and work with local non‑governmental organisations (NGOs) to build the necessary framework to overcome this. Two years ago, the company gathered detailed information on dietary diversity in Mexico and the Philippines, and commissioned further detailed research in Kenya.
"We were part of a study to gather similar information in Côte d'Ivoire and Ghana, and already hold information from Indonesia and China. Based upon insights from these studies, we are designing programmes to support farmers and their families to improve food availability and diversity. We train farmers on nutrition, promote intercropping, and help farmers develop and maintain kitchen gardens and livestock," they added.
The company then introduced the concept of house gardening and growing vegetables for home use in Indonesia. According to them, they "are also taking our Nestlé Healthy Kids programme to rural areas in Indonesia, the Philippines and Kenya".
"We continue working with Solidaridad to improve food security for farmers in Kenya and Ethiopia by increasing production and incomes. Solidaridad trains farmers on nutrition and coffee production, and developing intercropping to improve incomes, while we are developing training and support for kitchen gardens to improve nutrition," the company stated.
This is just one part of the fight. Fortunately, African leaders have finally decided to add NTDs to its annual scorecard on disease progress. The scorecard is personally reviewed by African heads of state every year, putting NTDs alongside malaria and maternal and child health as top health priorities for the continent. Hopefully, this will lead to more work on how to improve nutrition across the continent.
The annual scorecard was developed by the World Health Organization in collaboration with Uniting to Combat NTDs. This index reports progress for the 47 NTD-affected countries in sub-Saharan Africa in their strategies to treat and prevent the five most common NTDs: lymphatic filariasis, onchocerciasis, schistosomiasis, soil-transmitted helminths and trachoma.
It is hoped that what African leaders have begun will move member countries to give coverage to NTDs. They need to walk the talk to make poor people a part of the national health agenda. International efforts to combat NTDs have also led to the training of over one million health workers and brought about a variety of services, including family planning tools and vitamins, to people in remote communities otherwise unreached by the health system.
If a programme recently launched to end NTDs, which proposes to reach a billion people, is successful, those behind the initiative hope that, (the initiative), Uniting to Combat NTDs, will be able to lift a million people out of poverty.
In their progress report, they also plan to improve the lives of some of the world's poorest and most marginalised people. Chairperson of the NTD NGO Network and CEO of the International Federation of Anti-Leprosy Associations, Tanya Wood said, "there is a huge amount at stake and we know that eradicating these diseases is too big a job for one sector alone,"
Wood said "With the Africa Leaders Malaria Alliance (ALMA) initiative driving accountability and action, and new cross-sector partnerships like the Global Partnership for Zero Leprosy combining expertise, we are getting closer to a world where NTDs are neglected no more."