Ebony Reigns; [RIP] RETURN IF POSSIBLE!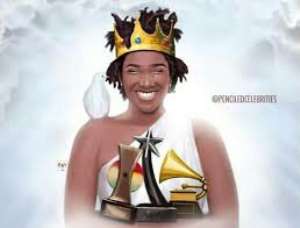 Ebony Reigns
The first time I wrote a poem, I was deeply in love with Edmund. The second time I was being being selfish and proud so I don't want the third one to be about Ebony's death. I'll just write naked and that is if my words do not fail me in the middle of some dense emotional tears.
When my grandmother passed away mysteriously on my birthday somewhere between the times I was taking selfies [well at least you now know why I don't fancy taking pictures anymore, it brings bad memories.] I thought that I had come to that point of my life where nothing could surprise me anymore but I was wrong to think that way. Well that was what I thought until Ebony's death shocked the hell out of me. I am not a fan but she was still a star in the minds of many Ghanaian youths. I believed that stars do not fall out of the sky. Do they huh, and forgot that they can burn out.
In a dream her sister had as she told it to Berla Mundi on the Late Afternoon Show, GHoneTV yesterday, she wished she had told Ebony who had stopped in the middle of performing in a concert and told her that they should get home, that she should wait for her. Instead she told her to take the lead and she did. And now she is gone; a sign of her departure and farewell to her dear and only sister in a strange dream.
She was beautiful and talented but criticized by many while others did not hesitate to backbite trying to put out the flame but she ignited and even rekindled. Now that she is gone they are all pretending as if they loved her. I am not going to sit here and pretend because I am definitely not her fun but I did not let that blind me from seeing her talent, beauty and passion. Just like me, my dad complained about her dressing upon her sitting in his car on about 2 to 3 occasions.
Young and wild she gave it all she got and that is what I call competence, exactly what many Ghanaian leaders lack explaining the reason why the people of "Bekyem" where the gory accident occurred contributed to buy sand and patriotically to help construct their own road but were proudly stopped by politicians who claimed that they would do the job but never did it anyways.
Beautiful and talented, she gave it to us, back to back hit songs and that is what I call consistency exactly what many writers struggle to do and a replica of the state of lack of continuity perfectly performed by succeeding government from back in the days till now. We failed to see the light in her, over concentrated on the darkness, used their stinking mouths to curse her and then when she died they wear fake French perfume and say good things about the person they hated with passion; hypocrites! It is just like when some Ghanaian movie stars hypothetically grace the sets of telenovela and later go on the street to demonstrate.
I was born in 1st January, 1998 so I don't even know who Suzzy Williams is but here comes the case where some citizens in their teens turn themselves into entertainment pundits and they say that the demise of Ebony reminds them of that of Terry Bonchaka and Suzzy Williams. They didn't remember Kwame Owusu Ansah's death in 2008 but remember the ones that occurred in 2003 and 2005 respectively; a perfect example of the fake lovers, the "frenemies" that Ebony had as fans.
So the parents who failed in the up bring of their wards blamed Ebony partly for influencing the youth negatively but now that she is gone the youth will still get POISSONED if not corrected in time will get SPONSORS and probably DATE THEIR FATHERS for them to CHOPE KUPE and then say MAAME WHE when the harm is caused. Glory turned gory. It's sad but that is the truth of the story. Oral research and evaluation directors' a.k.a "kokonsa" accompanied by any irresponsible person with data a.k.a "honam pe job" at their insensitive best will share the images of her remains like a mother shares rice porridge to her kids every morning. Yes they did it and are still doing it. They did it when Christabel Ekeh got naked, repeated it when Carsely Hayford Sydney compared the intelligence of GIJ female students to their fashion sense and have done it when Ebony passed away. Imagine how the mother would feel should she see images of the daughter's remains being shared disrespectfully across social media.
"Nkwan kyen journalists" Misquoting and concluding for prophetess who were granted interview on various radio stations based on the recent developments. Blogging tricksters also joined in. They will repeat the same level of unprofessionalism. Wait for the funeral and see these so called photo journalists take pleasure in taking images of when sympathizers mourn till they have a panic attack. people who claim to be wise adding insults and salt to injuries. The road and transport issue in general is taking too much of our souls. All of a sudden manipulators of the spiritual realms become popular with their names withheld but the day they will actually prevent someone from dying maybe just then we will consider listening to them. Why should her father even have something to say, after all some Ghanaians are just hypocrites?
Nambe Patrick, a student of GIJ, radio GIJ and radio Nambe says that "As we mourn and reflect on the death of Ebony, let's not forget to mount pressure on our leaders who seem to be looking aloof to the various problems associated to the deplorable nature of our road system. We should not sit down for the selfishness of the leaders to lead us into trouble before we react. More accidents could have been prevented if we drive at lower speeds on the roads that are bad"
Value every second of life when you breathe because life is a gift that has an expiry date. Be careful if you think you stand for you might just be sinking.
My RIP to Ebony is not the one that says REST IN PEACE. It the one that means RETURN IF POSSIBLE and if it is GOD's will.
*😊Aba Radical😎*
*📽The Photographer of Thoughts🤔*
FB: *Mercy Aba Blankson*
Twitter: *@aba radical*
📞: *+233249953609*
*,Like and Share*
*#AbaIssaRadicalWriter✍🏾*