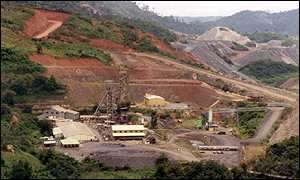 Gold exports registered a 6.6 per cent rise in the first half of this year over the same period in 2004 as the price of the metal fell,according to figures released by the central bank.
The country earned $453.6 million from exports of the metal in the period as against $425.28 million realised the same period laast year.
Gold was sold for an average of $427.60 an ounce this year, compared with $409.91 last year.A total of 204,058 fine ounces of gold were exported in March, while 151,172 fine ounces of the metal were exported at a face value of $63.85 million.
In the year 2004, the country earned $838.66 million in gold exports.AngloGold Ashanti Ltd, the world's number two gold producer, is the leading gold-mining company in the country after it bought Ghana's Ashanti Goldfields Company.
Goldfields Company Ltd., the world's fourth largest, also mines in other West African countries, while Newmont Mining Inc,the biggest in the world, plans to dig a $500 million mine in Ghana.
Meanwhile, AngloGold Ashanti has released its nine-month financial results ending June 2005, saying that gold production rose steadily to 1,569,000 ounces against a strong financial background which saw a $74 million increase in profit.
It said total cash cost was down by two per cent to $278 an ounce.Commenting on the company's performance, Mr Bobby Godsell, Chief Executive Officer of AngloGold Ashanti,said the June quarter had produced steady operational results and a good financial performance, including a 19 per cent increase in headline earnings.