Acknowledge The Importance Of Thanksgiving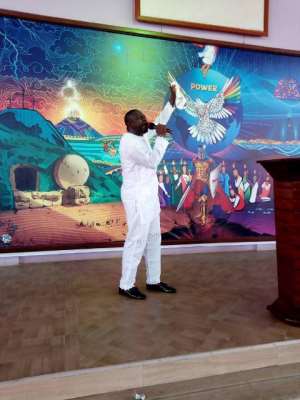 Accra, Jan. 08, GNA- Pastor Emmanuel Osei Bediako-Dinkunim, the Head Pastor of the ICGC Seekers Temple Bohye, New Ashongman, has encouraged Christians to acknowledge the importance of thanksgiving and give thanks to God wholeheartedly.
He urged them not to forsake God, but acknowledge Him for making all things possible for them even in their challenges.
"Never forsake God of His thanksgiving, spend quality time with God through your worship and praises in 2018, And the Lord will reach out to you and reward you," he said.
Pastor Osei Bediako-Dinkunim said this at the church's first Sunday service in the year which was on the theme: "The Real Meaning of Thankfulness."
He said: "You have been through fire and all the weariness but God is taking you to your wealthiest place through your thanksgiving this year."
He urged the congregation to let their hearts be filled with thanksgiving with their minds being characterised by thanksgiving as well.
"What your praises and thanksgiving can do for you sometimes, your prayer cannot do but by being led by the Holy Spirit through your thanksgiving, God will reward you at the appointed time," he said.
There was a communion service to usher the congregation into the year amidst an atmosphere of praises and worship led by the head pastor.