Restoring Integrity To The University Of Education, Winneba: The Need For Stakeholders To Speak Out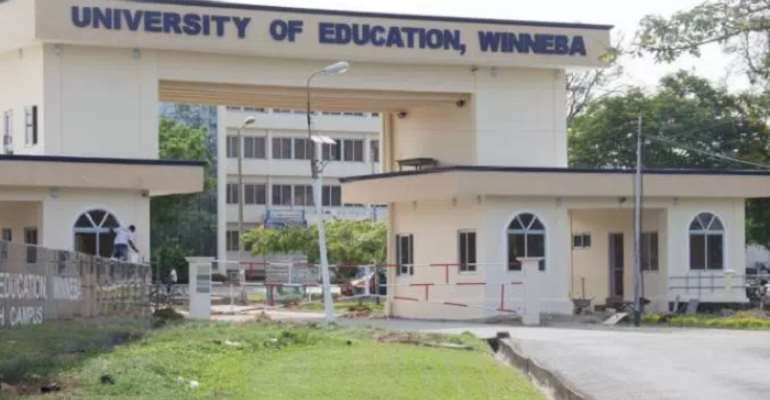 In this article, I outline once again the harm that is being caused to UEW because of the greed of a few people. Let us forget the likes of Alhassan Salifu Bawah and several other sycophants who seem absolutely blind to the implications of the happenings in UEW. These blind people are mostly those who have been promised employment/appointment opportunities by the scandalous priest, the Effutu MP and the Council chairman. As the Holy Father, POPE FRANCIS said this year, SHEPHERDS WHO SEEK MONEY; POWER CAUSE SCANDAL. This is exactly what has become of what PREDATORY PROFESSOR who did not only dumb articles to be published after paying, but also used works of students. In addition, he has abandoned his Priestly Vocation and is now chasing the WORLD for POWER and MATERIAL pleasures. The Catholic Bishop Conference must act NOW before their hard-earned reputation is destroyed by the greed of an individual. The Church preaches peace, love and compassion, the very things Christ stood for. But this is a Priest who embraces every scandalous activity once it can get his greedy needs. The Church should no longer allow him to threaten them with the PROFESSOR title as it is clear now, that this title is as SCANDALOUS as his very attitude.
The loss of academic dignity in UEW
I learned that under the current Ag VC, who used manipulative means to gain undue promotions in UEW right from the rank of senior lecturer, scholarship has been thrown to the dogs. It is sad that this man is not a HEADMASTER of predatory journals, but grooming a hell of these young and lazy academics to cherish predatory as well just for the ease of it. I am yet to receive any viable counterevidence to the professional claims made about Anthony Afful-Broni. What kind of professor is him, that when you google his name, it takes you only to church activities? This is a man who was employed as a Chaplain at UEW (get to HR of UEW) for more evidence on this. Being lazy and spending so much of his time harassing female students, he took to paying and publishing in predatory journals. It is a BIG SHAME that such a man wants to rule UEW at every cost. Please UEW is a secular institution and so I charge you to sit back and reflect on the oaths you took at your ordination. Reflect on your Canon Laws and the practices of Christ.
Anthony Afful-Broni is no different from the Council Chairman, Associate Professor Emmanuel Nicolas Abakah who has also succeeded in manipulating UEW to even be promoted to the rank of Assoc. Professor. This is a man who most probably retired before the submission of his PhD thesis in Norway, yet managed to cut down his age and even became Pro VC of this unfortunate Alma Mater of mine. You try to get him as a scholar online and google takes you to his position as Pro VC and nothing else to show. I tried it several times yesterday, and at a point I thought I spelt the name wrongly. These are the people who have come to destroy a growing academic institution. I weep for the university I attended and those who support these people unknowingly.
Professional advice to Salifu Alhassan Bawah (the sowing of destructive academic seedlings by Anthony Afful-Broni)
After thorough search for this name, I had two results…mainly on ModernGhana where he had dumped things he never reflected on. One wonders how this guy made it to the University. My advice to him for now is that he is no longer working as an Hgv Driver in the United Kingdom but in an academic institution. He must therefore sit very well, embrace humility and learn from those in the system who are more experienced. He should not be too excited with his award, that is rather so temporary and his PREDATORY JOURNAL PRIEST, would not always be there to defend him. Fr is there today, but do not create the opportunity to be as uncomfortable as he is TODAY. Every short cut they say is DANGEROUS. I hope he does not even force you to apply for promotion earlier than expected because rumours on campus have it that he is also known for facilitating illegalities in the University once one is ready to serve his greedy needs.
The second 'spot' that Google took me to when I tried to get more information on him was at the International journal of Business and Management (2016) VOL: 11 No 7 pp 245-280. The paper was submitted on the 11th of April, 2016 and published on the 28th of April, 2016. There are not less than 4 authors to this journal. The issue of number of authors, I it leave out for the 'possible wrong assumption' that he is learning how to collaborate. Now, the important question is, what is the academic integrity of this journal? It is in fact not different from the INDIA journals in which his MENTOR, the priest turned politician, has published in. It is indeed a big imagination for me that within 17 days, reviews of the article were done and the paper published. Guess what, my good reader, Bawah and co paid money to publish in this journal. This payment could be as much as 600 dollars as my Google search indicated. These are today the people barking and attacking refined scholars. These are the guys attacking scholars whom they are to learn from. The young ones who are being misled by lazy professors to do this predatory business, please sit up and reason well.
For those who may think I am joking, find below the abstract of this article which was published in a predatory journal.
"Two sets of questionnaires were designed for experts and working staff of the case study totaling 100 elements as the target. In this study, 81 questionnaires in all were answered and returned, which were used for analysis and conclusions. Out of this, 35 elements were targeted from experts group whereas 65 elements were targeted from the non-random sampling of employees. The questionnaires were sorted as 26 answered questionnaires from the experts whereas 55 questionnaires were obtained by quota sampling (non-random) from employees as the actual responds received. As the main objective of this paper was to gather and point out the best staff promotion policy statements and procedures to enhance employers, professionals, and practitioners for future adoption. First of all, the research findings shows that the number of years that a staff will work before being promoted is not significant in the promotion process because of other factors that may be considered within such period of work.
Also, the findings showed that the number of times that a person can be or should be promoted in an organization is not significant as it depends on other factors and activities that may play a part in determining how often a person is promoted. The results obtained from the cases indicated in the hypothesis that if a staff obtains a high qualification during employment is not a guarantee for promotion.
The study also showed that staff promotion as a policy does not mean that staff will climb the organizational ladder or hierarchy automatically. It means that a lot more work is taken into account once an employee is employed by helping to solve the organizational challenges for the achievement of organizational goals and objectives. Therefore, staff promotion is the advancement of an employees' rank or position in an organizational hierarchical system (Goblar et al., 2002; Tuwei et al., 2013). The following are the attributes or factors to be considered in staff promotion – experience and knowledge gained on-the-job, qualification, leadership skills, can do ability, good interpersonal relations, commitment to deliver/hard work, and punctuality but not job enrichment, job enlargement, whom you know, who knows you, and friendship, etc. This is what the research findings showed.
Since this paper used several research methodologies, its findings concludes that staff promotion of an organization must be in line with the general long term budgets estimates and allocations in order to apply promotion processes and procedures appropriately, efficiently, and effectively. From the research as seen in the hypothesis indicates that, if a member of staff obtained further qualification in the course of employment does not serve as a guarantee for promotion."
Do you know how many words were in the abstract? Four Hundred and Thirty-Four (434) Words. I am sure this kind of abstract can only be accepted in a predatory journal. I am sure you can detect typos and the likes. No serious journal would publish a paper with such visible mistakes. Bawah, please sit up with humility and learn. The name of the journal as I already mentioned is International Journal of Business and Management. Bawah sit up and improve upon your professional life. You see even Brako after receiving his DONATION of Senior Lecturer has gone into silence. Professor Ameyaw after his appointment, is no longer visible. At least you have received your share of the 2017 awards, please HIDE YOUR FACE small. You may check from the List of Predatory Journals.
Let me veer off a little and make some commentaries on some observations.
One wonders the need for the press release of the Council Chairman. It appears only UEW has a council chairman since he is doing all he can to destroy people just out of envy. A look at his press statement and response from the victimised staff makes me wonder if he still writes his name with the title Professor. He is supposed to defend UEW but he has rather join forces with Supi Kofi Kwayera fronting for Alex Afenyo Markin to fight UEW. What is the relationship between UEW and Supi Kofi Kwayera who sent HER to court? Academics who have nothing good to offer are those supporting this nonsense in an academic institution? Why do I say these academics failed? Simply the facts that (a) the PRIEST cheated the system to be called a Professor (b) his best mentees are taught how to publish in predatory journals (apart from Bawah and co, there are more in the system and I am yet to get specifics on them). The council Chairman has never mentored anyone as a teacher in the university and was known for his tribalism which he has brought out. Evil would be expose soon!
The infighting for appointments in the current Appointment and Promotions Exercise
Let me make some commentaries on what is happening in Associate Professor Nicholas Abakah and Rev. Fr. Afful-Broni camps before I proceed. The two are now fighting over new appointments and I am told Alex Afenyo Markin has also joined the fight. I learned Alex Afenyo Markin called Rev. Fr. Afful-Broni and put his phone on loudspeaker and told him that he Rev. Fr. Afful-Broni is not trying to take orders from him. Afenyo went on to tell Rev. Fr. Afful-Broni that he doesn't know how he suffered to put him there and that's why he Rev. Fr. Afful-Broni is fooling and that he must be very careful. For Associate Professor Nicholas Abakah, he is not left out as he is also ready to force his ladies in to the displeasure of the PRIEST turned POLITICIAN. I am still gathering more facts on this, and the realities shall be known by all soon. It is now glaring that they want to push nonentities into UEW and they are fighting among themselves. Some also attack Professor Avoke and Dr Ackorlie just with the hope of being noticed and become beneficiaries of the next AWARD scheme.
The Abuse of Power: Council is not a disciplinary committee
Now, Section 9(1) of Act 672 states that "The Council shall meet such times and places as the Chairperson may determine for the conduct of its business but shall meet at least three times in each academic year." From July, 2017, the council chairperson has organised over 12 meetings as of now because he has taken solace in "at least three" phrase. In all these meetings, allowances were paid and the same person would go shouting that he is there to protect UEW funds. I was told anytime he receives his bills, he must call for emergency meeting. In the history of UEW, I learned this is the first time UEW council meet frequently.
There is no section in either Act 672 or UEW Statute that council can interdict any person and I am wondering why the interdicted staff will not forcibly come to office so that we will see what council can do. As of now, there is no case in court so why are the interdicted officers still afraid to report to work? Sometimes, I think, if persuasion fails, force must be applied. Council chair is just hiding behind EOCO and BNI to ask the officers to step aside. Below are some aspects of Statute 36
Statute 36: Discipline in the University
a. The Vice-Chancellor shall be responsible for discipline within the University and in this connection shall act in accordance with rules formulated by Council.
b. The Vice-Chancellor may delegate any part of his/her authority in respect of discipline as shall seem to him/her appropriate.
c. The following are the penalties that may be imposed for breaches of discipline:
i. Dismissal
ii. Termination of appointment
iii. Suspension for a stated period without pay
iv. Reduction in rank or grade
v. Interdiction
vi. Stoppage of increment
vii. Forfeiture of pay for a stated period
viii. Withholding of increment
ix. Reprimand
x. Warning.
d. For the purpose of these Statutes, penalties (a-h) shall be treated as major penalties which shall be imposed only by the Vice-Chancellor in consultation with Council. This applies only in the case of Senior Members. For non-Senior Members the Vice-Chancellor shall be responsible for administering both major and minor penalties.
Now, I ask the victimised staff, what are you waiting for? Please, let justice prevail. Deal with this old man so that he regrets the appointment ever. He has no powers per statues of the university to do what he is doing. His quest to manipulate the rules for his benefit are being noted and the non-predatory journal lecturers must sit up and make it impossible for him to misbehave. How many council meetings so far? Let us think well.
Professor Kwesi Yankah who is a fine scholar must quickly get out this old man before he messes up UEW. It would be on record that it happened during your days in office as Minister of state in charge of tertiary education. Prof Yankah, you became a PRO VC not just of any University, but University of Ghana, please do not let these predatory professors destroy your reputation.
The current Registrar and his role in the destruction of UEW
The current Registrar whose appointment was as dubious as the promotions and publications of Rev. Fr. Afful-Broni is part of the scheme that is being drawn to destroy UEW. He also has a few Assistant Registrars he is manipulating (details coming up soon). My findings so far about the manipulation of the processes are being scrutinised and I would soon make them known to the general public and the people of Ghana to know how corrupt the Council Chairman is, yet he goes attacking innocent fine academics and financial experts. This registrar, whose English is even so bad that he is always fighting with the PRO VC is even worse than the catholic priest in terms of his hatred for people of some origins. This is what he shares in common with the Council Chairman the reason for which the two are very close. Details of the planned and well executed plan shall be made known soon. I learned during the November, 2017 congregation, the registrar shivered on stage and messed up big throughtout all the sessions.
Deputy Registrars of UEW, are you people saying that everything was okay in appointing the current registrar? Won't you people contest the processes used in bringing a mediocre registrar to the University? How can all applications go to an Ag. VC's office? Is that the norm?
I am still wondering why the current government through the Ministry of Education is quiet about the UEW impasse!! No wonder, silence means concern. Is that not it?
Victor K. Owusu (An Alumnus of UEW)
[email protected]