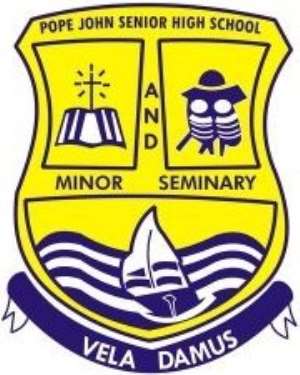 Pope John Senior High and Junior Seminary School (POJOSS) scored 77.6 points to emerge winners of this year's Project Citizen Showcase competition in the Eastern Region.
For this, they were presented with a plaque, five copies of the 1992 Constitution and would be representing the region at the national competition.
Aburi Girls' SHS came second with 75.5 points and Ghana Senior High School (GHANASS) placed third with a score of 75.0 points.
The fourth and fifth places were taken by Koforidua Secondary and Technical Senior High School (SECTECH) and Islamic Girls Senior High School having scored 74.5 and 69.5 points, respectively.
The annual competition organized by the National Commission for Civic Education (NCCE) with support from the European Union (EU) is meant not only to empower students to learn how to develop public policies to solve community problems, but also learn how citizens could have power to monitor and influence public policy making in the community.
The theme chosen for this year's event was 'Restoring our Ghanaian values: the role of the youth in nation building''.
The participating schools undertook research on the theme and identified a peculiar problem or challenge in their locality and made policy proposals to address these.
They had to defend their proposals - explain why they thought these could work better, provide action plans and budget for implementation.
Some of the challenges identified by the schools included the lack of patriotism, indiscipline, poor sanitation and illegal mining.
Deputy Chairman of the NCCE, Mr. Samuel Asare Akuamoah, urged the youth to uphold the values integrity, hard work and punctuality.
He said these were vital for life success, telling them that cutting corners would simply not do. GNA
By Benjamin Akoto, GNA