November 14, 2017
|
Regional News
Thousands Join 2017 MTN Savanna-Fest Walka-thon In Tamale
Nana Antwi Boasiako, Sunyani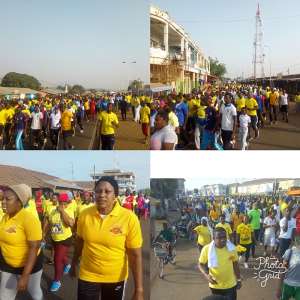 Over 1,000 made up of students, traders,office workers,keep fit clubs and footballers gathered at the Tamale Jubilee park early Saturday morning for MTN savanna-fest 2017 walka-thon, aimed at enhancing peace and unity amongst the people in the area.
The event "MTN Savanna-fest 2017" was initiated and funded by MTN, Ghana's biggest communications company and organised by Mr. Ransford Antwi the CEO of Sunyani based radio ,Suncity Radio 97.1.
MTN use the event to deepen its relationship with the people of the North and also show the company's appreciation to their numerous subscribers spread across the north.
After a thorough warm-up at the Jubilee park led by coaches from various keep fit clubs, the crowd of over 1,000 began their walka-thon through the principal streets of Tamale, through a given route.
Mr. Kwasi Ose Kwasi, Area Sales Manager, Northern Region,in an interview with Sunyani based radio Suncity radio 97.1, said the MTN Savanna fest walka-thon is an initiate that seek to bring together the youths and people within the Tamale metropolis to engage in some fitness and exercise to ensure bodies are fit.
"Such initiative of bringing together various keep fit clubs and groups is a clear manifestation that MTN is intended to helping the Nation building since a healthy being contributes" he added.
"MTN acknowledge the fact that "a healthy body means a healthy society and a healthy society contributes to achieving developmental needs of every region and to the Nation at large" he stated.
He said MTN Savanna Fest is an annual event by the telecom giant, MTN, which started in 2012 has contributed greatly in the lives of Ghanaians," this year's Savanna fest was a supper promising one as compared to previous ones since the MTN is determined to ensuring good health through the keep fit" he said.
"MTN,poised for Savanna cities-fest in the three northern regions of Ghana".
He said other activities have also been scheduled for Wa and Bolga respectively, where the Upper East and West will get their fair share of the fun.
Mr. Kwasi Ose Kwasi advised that residents should try to walk at least 15mins a day to improve health and fight diseases related to lack of exercise.
After the walk, a special inter-community football -gala held at the Tamale stadium annex for 11 communities in the tamale metropolis which completed for a special trophy and cash prize.
Facebook team who won 2017 MTN Savanna Inter-Community soccer gala Trophy received GH¢ 500.00 and a set of branded jersey amongst other souvenirs from MTN.
Mr. Kwasi Ose Kwasi urged network subscribers to immediately report to the company any suspicious or scam messages to ensure that appropriate action was taken to prevent fraud.
Meanwhile some people who participated the walk told Suncity radio 97.1 that "I've been running 30 minutes a day for the past year, so the walk was not that much of a challenge".
"This is my first time, it's a wonderful experience nonetheless to be walking among such an energetic crowd on a beautiful Saturday morning". A lady told Suncity radio.