November 8, 2017
|
Business & Finance
Rural Enterprise Program Tied To Industrialization Agenda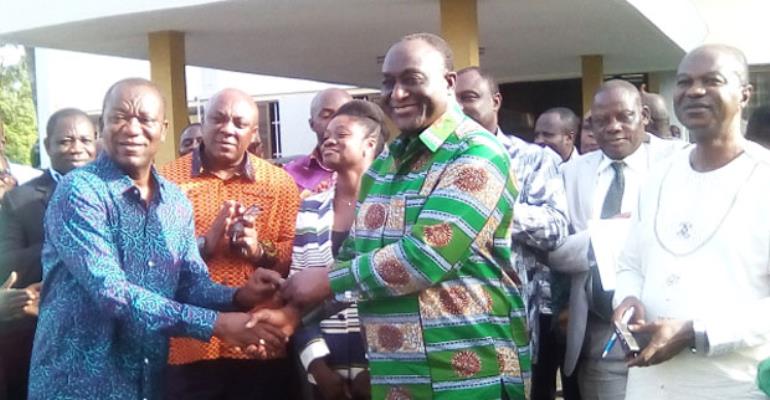 Alan Kyeremanten (right) handing a key to Deputy Minister of Food and Agriculture, George Boahen Oduro to symbolize the official handing over of the vehicles
Government has expressed its intention to align the Rural Enterprise Programme (REP) with its industrialization agenda.
Minister of Trade and Industry, Alan Kwadwo Kyeremanten, made this known on Monday in Accra in a statement to reconstitute the steering committee of REP, as well as hand over three Toyota pickups, motorbikes and other logistics to three farm institutes namely Asuansi Farm Institute, Wenchi Farm Institute, Adidome Farm Institute under the Ministry of Food and Agriculture.
The vehicles were donated to the institutions to assist them monitor the activities of youth who are into agribusiness.
According to him, it has become necessary to realign the objectives of the REP to support government's industrialization programme.
The move, he said, was aimed at further boasting enterprise and industrial activities in rural areas nationwide.
Mr Kyeremanten indicated that apart from aligning the programme to government's industrialization plans, the Ministry will also ensure that it retains the core objectives of the REP, which includes improving the livelihoods of rural folks.
REP has been of significance to communities in which it has been implemented over the years since its inception in 1995, the minister said.
According to him, the objective of the committee, made up of representatives from the Ministries of Food and Agriculture, Finance, Gender, Children and Social Protection, Employment and Labour Relations, Local Government and Rural Development, Bank of Ghana, Association of Ghana Industries (AGI), ARB Apex Bank, among others, remains the same.
He explained that government was "raising the bar in terms of how our rural communities should look like."
The Minister further noted that government was interested in scaling up enterprise activities at the rural level, saying REP is now going to be a one-stop-shop for enterprise activities in the districts.
About REP
The Rural Enterprises Programme (REP) is part of the efforts by the Government of Ghana to reduce poverty and improve living conditions in the rural areas.
REP is an upscale of the Rural Enterprises Project – Phases I & II, which were implemented in 66 districts across the country from 1995 to 2011, according to the Minister.
The programme targets the entrepreneurial poor, who are expected to convert capacity-building support from REP into assets, with little or no additional support.
It is a partnership between the government of Ghana, African Development Bank and IFAD.