7 October 2017
|
Feature Article
Obituary: Prof J R Anquandah, Archaeologist & A "complete Historian"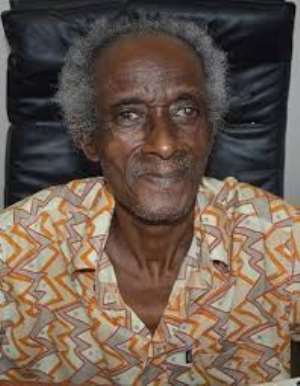 One cannot be a good historian without making use of information
gathered from beneath the habitats of modern peoples by archaeologists.
These buried sources of information provide incontrovertible evidence of how men lived and died thousands or hundreds of years ago. They are scientifically verifiable, unlike many of the "words" that constitute the bulk of historical source material. For instance, documents can turn out to be forgeries or mistranslations of the original. Archaeological material, on the other hand, can be carbon-dated to remove all doubts about its authenticity.
Now, while one cannot be an archaeologist without also being a historian, one need not be an archaeologist to be a historian! (I suspect, therefore, that there must be a small element of 'tension' in relations between practitioners of the two professions. Professor James Anquandah, formerly of the Department of Archaeology, University of Ghana, would have loved to enlighten me on this odd relationship, for he had a very wicked sense of humour.
But alas, I won't be hearing from Jimmy about this academic "love-hate" relationship – for he's just passed, aged 79, leaving behind, his wife, Susan (with whom he had two children, one of whom predeceased him.)
Prof Anquandah's sad death occurred on 7 September 2017. He was buried, after a moving church service at Trinity United Church in Accra, on 7 October 2017.
Susan was married to Jimmy for some fifty years – I knew both of them at the very beginning of their love affair, and I cannot but wonder at the miracle that enabled their marriage to survive, in an age when other marriages were breaking down left and right around them.
It says much for the sweet nature of both man and wife that they stayed together for so long and thus became a by-word for love, trust and loyalty in marriage. How many of us can even imagine being blessed with such a relationship, let alone actually obtaining a partner who would enable one to experience such an unflinching togetherness?
The late 1950s, during which time I came across James Anquandah, were years of unabashed ambition -- and subsequent high achievement -- for many Ghanaians in our age group. I was 20 years old while Jimmy was 19, when we both gained employment at the Ghana Broadcasting System. I became a Reporter in the News Division in 1957 while Jimmy was appointed a Programmes Officer.(He was to return to GBC as a Senior TV Producer in the late 1970s).
The Ghana Broadcasting System, under its ex-BBC Director-General, James Millar, aspired towards quality, and so many bright young men and women were employed there – usually on vacation jobs or straight from secondary school after qualification, some to leave very soon for Universities either at home or abroad.
So while working at the GBS, I found myself meeting extremely interesting people, some of whom became lifelong friends. Two of the most vivacious were ex-Achimotans and I was so impressed with their intelligence that I courted their company assiduously.
One was the renowned novelist, Ayi Kwei Armah (who was employed as a radio News Reader) and the other was James Anquandah, who worked in "Programmes".
From the very first day I met him, I found Anquandah to be extremely lovable. Small in stature but possessed of a huge intellect, he also seemed to ooze goodness of heart from behind the thick lenses of the glasses that he always wore. His smile was as broad as anything and I cannot say that I ever saw him angry, even though our discussions encompassed a lot of subjects from which much nonsense could – necessarily – not be divorced.
Anquandah would smile broadly, whilst demolishing one's argument with detached precision. It was a joy to be in his company and I relished being with him.
However, all too soon, the bright ex-Achimotans left me at the Ghana Broadcasting System, while they journeyed on in their quest for more knowledge. Jimmy Anquandah left for the University of Ghana, Legon, while Ayi Kwei Armah left for the US. I felt as if part of me had been cut off.
At the University of Ghana, Anquandah chose a field of study that was somewhat esoteric at both the University and Ghana at the time – Archaeology. Many thought his choice strange, for we imagined that archaeology involved nothing but hours of back-breaking digging. We didn't know about the sheer joy of having confirmed for one, the vague suspicions one had harboured about an ancient settlement that had existed at a particular site. Nor could we imagine the aesthetic pleasure to be derived from the handling of an ancient work of art just rescued from the obscurity in which it had lain for ages.
I still remember how excited Jimmy was to absorb the unusual knowledge he gleaned from experts about things buried under the soil of Ghana and elsewhere, that told the story of our ancestors more eloquently than the mere exposition of history through words cud do. He had some excellent lecturers over whose teaching he enthused. One name that was always on his lips was that of the pioneering head of the Archaeology Department at Legon, Dr Peter Shinnie.
Whilst Jimmy was at Legon, he introduced me to a number of his mates -- young brilliant students, whose hard work and ambition were to help them make a name for themselves in later life: one was Annan Cato (former Ghana High Commissioner to the UK and Secretary to the Cabinet); another was Chris Hesse (former Ghana High Commissioner to Zimbabwe); and a third was Joe Edusei (also an ex-diplomat).
Jimmy and I used to joyously yell: "SOT!" – very loudly indeed! – at each other, whenever we met. This naturally attracted notice everywhere and others soon joined in, so that we became a sort of "Sot" club! Even today, members of the group are wont to greet me with the sobriquet, no matter what exalted company we happen to be in.
James Robert Kwesi (JR!) Anquandah was born in Accra on 10 April 1938. He was fathered by a very nice and extremely humble teacher who, the first time Jimmy took me to see him, made me feel like a renowned film star, just because he had heard a story of mine broadcast on the radio. The elder Anquandah, it turned out, was an avid reader and an ardent listener to the radio. Jimmy no doubt owed his great sense of curiosity and his utter devotion to his calling, to this teacher father of his, who would never rest until very pupil under him fully understood what he had tried to teach him or her.
(To be continued)