India Using "Namaskar Africa" To Boost Trade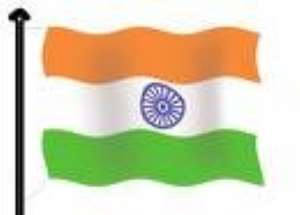 Indian leaders have always said their relationship with the African continent is based on a shared experience and it looks like India has finally found a more robust vehicle to boost trade with Africa through the "Namaskar Africa" an annual forum and trade exhibition that brings Indians and Africans together.
This year's forum, scheduled for August 14-16, in Accra is a joint initiative of the Indian ministry of commerce and Industry as well as the Federation of Indian Chamber of Industry (FICCI). "Namaskar Africa" meaning "Hello Africa" in Hindi, was started with an India-Central Africa Regional Business Forum in the Republic of Congo.
The FICCI said, as a result of the strong response from African as well as Indian industry and the demand for increasing the scale of the programme, it expanded to include three critical components of exhibition, conference and business to business with an objective to reflect India's engagement cutting across trade, investment, technology transfer and capacity building.
After trying various initiatives, "Namaskar Africa" is just a part of India's long term plan to increase trade with Africa. A recent report by the international accounting firm, KPMG said, as India focusses on nuclear energy to meet its rising power demands, it aims to produce 25 per cent of its electricity through nuclear power by 2050 and has accordingly entered into numerous nuclear deals with African countries.
This is due to the fact that Africa presents a high growth prospects with significant business opportunities for Indian corporates organisations and investors to contribute towards the development of a continent which has over a billion in population.
"In recent times, India's economic partnership with the African countries has been vibrant, extending beyond trade and investment, to technology transfers, knowledge sharing and skills development. India has in-depth knowledge in a range of areas that could benefit Africa, especially small farm mechanisation," the KPMG report said.
It also said, Indian investment in agriculture has the potential to exponentially boost production, adding that, "with growing economic prowess and a shared vision of crafting an inclusive world order, India and Africa are pro-actively seeking to collaborate on global issues."
It is therefore not surprising that India has decided to hold "Namaskar Africa 2017" in Ghana which Indian officials say is due to the fact that West Africa presents a large market. In addition, leaders of India and Ghana have expressed the desire to boost bilateral trade to $5 billion by 2020.
A statement by the FICCI said, the aim of "Namaskar Africa 2017" is to brand India as a leading economic player and partner to the West African region. It will help facilitate Indian investments into Ghana and neighbouring West African countries, create awareness about the best Indian technologies and products in the region, as well as explore opportunities offered by the sub-region.
The FICCI said, in partnership with the regional African body, - the Africa Union (AU) - and the bilateral chambers/business associations of the participating countries, this initiative rotates in various regions of Africa.
"Successful regional shows have already been held in the Central, Western and Southern regions of Africa. "Namaskar Africa" in Ghana focuses on the West Africa regional block," it said, adding that, Ghana is the focal country with participation expected from neighbouring countries like Benin, Burkina-Faso, Cameroon, Congo, Cote-d-Ivoire, Gabon, Liberia, Nigeria, Senegal, Sierra-Leone, and Togo.
While India is in the top five import destinations for Ghana, the value of exports from India is showing continuous decline over the past five years except for 2013-14. Imports from Ghana continue to increase leading to negative trade balance for India. "Import commodity matrix of Ghana with the top global partners when compared with India's export clearly indicates the potential of Ghanaian market to absorb increased exports from India as well as the ability of Indian industry to export the same," the FICCI said.
In addition, Ghana has been preparing to implement the regional economic grouping, Economic Community of West African States (ECOWAS's) Common External Tariff (CET), a major platform for a Customs Union that facilitates free trade and ensures greater regional economic integration. Industry will have a wider reach in the sub-region using Ghana as the base.
Furthermore the FICCI said Ghana has the ability to contribute towards the energy and food security requirements of India., accordingly, "sustained efforts are needed to maintain India's lead in this market, due to growing presence of other major foreign players arrest the slide in exports from India to Ghana and to further push the exports to not just Ghana but entire West Africa using Ghana as the hub." the FICCI added.
"Namaskar Africa 2017" is taking place at time the Ghanaian government says it is making efforts to re-position Ghana as a pharmaceutical hub in the West African sub-region. This means that Indian pharmaceutical companies that will take part in the three-day event would have the opportunity to look for more opportunities.
Among other incentives, Senior Minister, Yaw Osafo-Marfo, says companies will also enjoy customs duty exemption on all raw and packaging materials for local production. There are also moves to engage countries in the region to promote the smooth movement of pharmaceutical products.
"Government is taking pragmatic steps to re-position and revitalize the pharmaceutical sector through series of targeted policies, interventions and initiatives. Stimulus packages for viable but distressed companies including some selected pharmaceutical firms; two, exemptions from payment of customs duty on all raw materials and packaging materials for the local production of pharmaceutical products," Osafo-Marfo said.
He said, the ECOWAS market has 350 million people and with the government's dream to make the country a pharmaceutical hub, it means there is a big potential for those who would want to invest in the sector.