What Is Africa Waiting For About Yoga?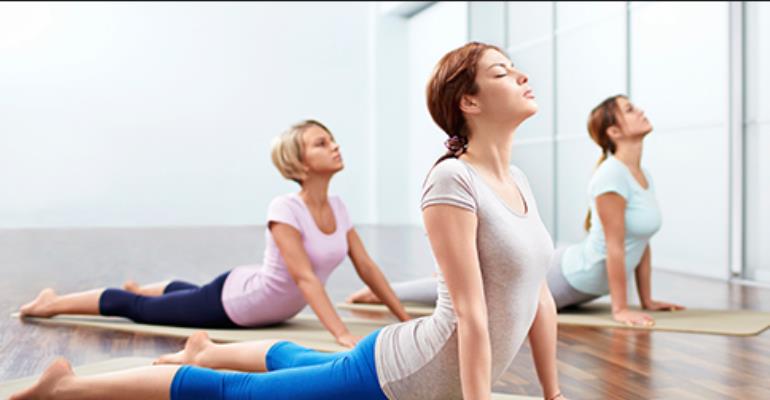 It is surprising why the African Continent is always late to accept new things. This has been one problem that has kept the continent from moving as fast as others. One wonders whether it is our aversion to change that accounts for our refusal to move with the times.
When the United Nations General Assembly on December 11, 2014 proclaimed June 21 as the International day of Yoga by Resolution 69/131, which was intended to raise global awareness on the benefits of Yoga Practice, especially in health, one would have expected African countries to accept this with both hands. Not so, because Africa as always, would like to play the "wait and see" game and by the time, the continent has seen all it wants to see, the rest of the world would have been long gone.
A study conducted by the International Finance Corporation (IFC) and the global management organisation, McKinsey, estimated that, this study, conducted by IFC with assistance "over the next decade, $25–$30 billion in new investment will be needed in health care assets, including hospitals, clinics, and distribution warehouses, to meet the growing health care demands of Sub-Saharan Africa."
The truth is that, African countries do not have that kind of money and would therefore have to depend on development partners to cough up these funds. Unfortunately for the continent, things are not going well for these partners, which means that funding for health in Africa would be greatly affected.
The joint IFC-McKinsey report said, "health care in most of Sub-Saharan Africa remains the worst in the world. Despite decades of foreign assistance, few countries in the region are able to spend even the $34–$40 per person per year that the World Health Organization (WHO) considers the minimum necessary to provide a population with basic health care." It said, in spite of the billions of dollars of international aid dispensed, an astonishing 50 percent of Sub-Saharan Africa's total health expenditure is financed by out-of-pocket payments from its largely impoverished population. In addition, the region lacks the infrastructure, facilities and trained personnel necessary to provide and deliver even minimal levels of health services and goods.
It is against this background that one expects the practice of Yoga, which the UN Resolution notes, encourages individuals and populations to make healthier choices and follow lifestyle patterns that foster good health. In fact, the WHO has also endorsed the practice of Yoga which it said will enable "member states to help their citizens reduce physical inactivity, which is among the top ten leading causes of death worldwide, and a key risk factor for non-communicable diseases, such as cardiovascular diseases, cancer and diabetes."
In celebrating this year's International Day of Yoga, the UN chose the theme, 'Yoga for Health' which it said "highlights the fact that yoga can contribute in a holistic way to achieving an equilibrium between mind and body." They believe that, this approach to health and well-being can make a direct and useful contribution to humankind's quest to achieve sustainable development and move towards lifestyles that are in harmony with nature.
In Ghana, one serious believer in Yoga is the technical Advisor to the ministry of youth and sports, Emmanuel Owusu-Ansah who has debunked the idea held by some Ghanaians that Yoga is a religion. He advocates that it is a physical and mental activity that keeps the body healthy.
Owusu-Ansah, who is close to 70 years said, the practice of Yoga has kept him away from hospital for the past 40 years that he has used it. "I have not fallen sick and have not been absent from work for the past 40 years that l have practised this noble art," he said.
He advocated the practice of Yoga by Ghanaians which he said, would keep them healthy and fit. "It would reduce expenditure that the government spends on the prevention of diseases because those of us who have been practising it know it's usefulness to keep the body sound," Owusu-Ansah said.
Therefore, there is no reason why African countries should be sitting on the fence as other countries take up Yoga as a back-up for their healthcare. There are those who have some misconceptions about Yoga and see it as a religious practice. The Indian High Commissioner in Accra, Birender Singh Yadav has debunked this thinking and said, Yoga has nothing to do with religion as some people believe but rather it "unites people" and helps to reduces expenditure on the prevention of diseases that are associated with life-style including hypertension. He noted that if the UN General Assembly had any misgivings about Yoga, there is no way, 177 countries would have supported the Resolution. It means therefore that, there is something to gain from Yoga which cannot be traced to religion.
In addition, Yadav has said, Yoga is gaining popularity in Ghana after the celebration of the first and second International Days of Yoga, and it is for this reason that, the High Commission joined hands with the Ministry of Youth and Sports to celebrate this year's event to enable the youth in Ghana to learn more about the benefits of Yoga to keep the body healthy.
Another thing that has bothered some people is the fact that it originates from India. Consequently, some analysts see this as a way of India using Yoga to spread its culture. Yadav has also dismissed this and said, Indian has no intention of using Yoga "to culturally colonise the world", adding that, the message behind the practice of Yoga which is "harmony and peace," is necessary to provide solutions to current global crises.
He was of the view that "Yoga practice is a unifier to bring people closer and it is needed in today's world if we must find solutions to the problems in the Middle-East and that of Boko Haram in Nigeria."
"Yoga brings messages of harmony and peace, brings people together as well as preaches a message of harmony and peace to the world, therefore, if India can use this to heal the world, it should not be seen as an attempt to colonise the world culturally," Yadav added.
He said, said, Yoga is a discipline based on an extremely subtle science which focuses on bringing harmony between mind and body. "It is an art and science for healthy living," he added.
Given all these, there is no point for African countries should still be sitting on the fence. Kenya has made some inroads with the Africa Yoga Project taking root there and consequently, seen many people practicing Yoga. This should give other countries on the Continent the urge to join the band-wagon before it is too late.