18 June 2017
|
Opinion/Feature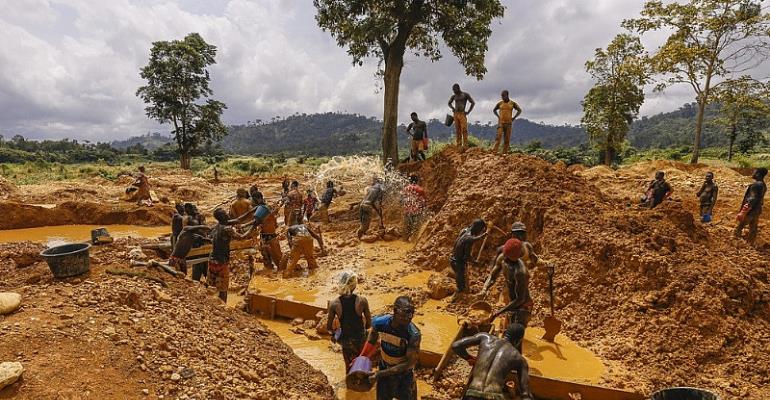 There seems to be no end in sight to the dreaded war against illegal mining, popularly known as galamsey, in the country.
Day in and out, there is one report or the other of some incident relating to galamsey which is simply interpreted as 'gather them (mineral deposits) and sell'.
Illegal mining in the country is gradually becoming a fly in the ointment of sound forest and management, with its attendant effects like deforestation and forest degradation, drought, water and air pollution.
The country's forest reserves are being plundered, whilst waters bodies which used to serve as potable drinking water such as the Densu, Ankobra, Offin, Pra, Birim and several others, including farmlands, have all not been spared the effect, with the worst hit areas said to be Kyebi and Wassa Akropong.
Past governments' several attempts to curb the menace have failed, obviously because of the big cartel involved, sometimes with the connivance and direct involvement of the police, military, immigration officials, politicians and chiefs of the affected areas themselves.
Presidential Intervention
This is what compelled President Akufo-Addo to declare war on illegal mining when he took over the reins of government, promising to stop it even if it would cost him the next elections after galamseyers threatened to vote against his party.
"I understand the galamseyers say if I want go by the dictates of the law, they will vote against me and my party the NPP at the next elections. But what is important to me is to do what God has asked me to come and do which involves programmes and policies that will lead Ghana on the path of development. That is more important to me than elections matters," he said.
"Our forefathers bequeathed these lands to us; if we can't put them to good use, it's better we leave them in the state we came to find them but not to destroy them. That is what has led to this war against galamsey," President Akufo-Addo added.
Minister's Show Of Force
But that fight has not proved an easy one try as the sector Minister for Lands & Natural Resources, John Peter Amewu, is to clamp down on the activities and operations of these illegal miners.
Even though the campaign has received massive support from majority of Ghanaians, including the media who also formed a 'Media Coalition Against Galamasey', the practice continues unabated, interestingly with new twists and turns.
But the gruesome murder of a young and promising officer of the Ghana Armed Forces (GAF), Major Maxwell Adams Mahama, who was said to be on an anti-galamsey operation at Denkyira-Obuasi in the Central Region with a military detachment, has provoked public-spirited anger and sparked a new wave of campaign against the menace.
It has not only succeeded in heightening tension in galamsey communities but seems to have rekindled government's effort to stamp out the tide with all the force it has.
Military Involvement
It, therefore, came as no surprise that more than a week ago, President Akufo-Addo, who is the Commander-In-Chief of the Ghana Armed Forces, tasked them with the responsibility of leading the war against galamsey.
Speaking at the presentation of colours to the Armoured Reconnaissance Regiment (Recce Regiment) of the Ghana Armed Forces more than a week ago at Burma Camp in Accra, President Akufo-Addo stated that "as government intensifies its efforts to curb the illegal mining phenomenon, otherwise referred to as galamsey, that is polluting our waters, destroying our farmlands and forests, and threatening the very survival of this country, Ghanaians would continue to rely on the efforts of our security services, with the Armed Forces in the fore front to help deal with the problem."
He stressed confidence that "as always, the Armed Forces will rise to the occasion."
This happened after the Lands and Natural Resources ministers toured some illegal mining sites to assess the extent of damage and to also see what measures could be put in place to forestall recurrence.
Field Operations
As part of activities to ensure the ecological integrity of Ghana's forests, the sector minister planned another visit to forest reserves in the Ashanti Region, which have been affected by illegal mining operations.
He was together with the Chief Executive (CEO) of the Forestry Commission, Kwadwo Owusu Afriyie, famously known as Sir John, and his Deputy, John Allotey, the Australian High Commissioner and his wife, Andrew and Theresa Barnes; officials of Ashanti Regional FC offices, officials from the Ministry of Lands & Natural Resources, the Minerals Commission, Water Resources Commission, the media and a joint police, military and immigration teams.
The tour saw him visit places, including the seat of the Ashanti Kingdom, Manhyia Palace, where he went to solicit the support of the monarch.
After receiving the blessings of Otumfuo Osei Tutu II, the minister and his team then went on a fact-finding mission at Nkawie where they visited the Tano Offin Forest Reserve, which is the biggest in the Nkawie District.
The Nkawie District Manager, Nana Poku Bosompim, mentioned that though the reserve has been declared a Globally Significant Biological Area (GSBA), there had been some instances of illegal logging and mining.
From the Tano-Offin Reserve, the chief executive of Forestry Commission and the sector minister sought audience with representatives of 1,200 farmers at Nyinahin-Nkyensekrom.
These farmers are being engaged to do the Taungya system of farming in the reserve.  In all, the farmers will be planting 200 hectares of land.
The chief executive thanked the farmers for agreeing to plant and nurture the trees and advised them to plant only allowable food crops on their farms.
He advised them to take care of the trees well up to the time of maturity and harvesting as they also have a 40 percent stake in the project.
The team then moved to Amadaa, another community which has suffered extremely from illegal mining activities where they saw gaping holes filled with water and parts of the Offin River which have been polluted.
Arrests
In the process, three young men who gave their names as Abdul Karim, Musah Seidu and Yakubu, who were engaged in some form of search for gold, which is known in local parlance as 'kolikoli', were arrested.
Their water pump was seized together with some gallons of diesel and other items which they were believed to be using them for mining in the night.
They are among the list of several other Ghanaians and foreign nationals who have been arrested for illegal mining, with some facing prosecution, including the now famous Aisha Huang.
A little over a week ago, four expatriates engaged in galamsey at Tontokrom in the Amansie West District in the Ashanti Region were arrested.
They included Coemwotit Putats and Chepainyi Serchii – all Ukrainians – Farid Issaer, a Russian, and one other person who are since facing prosecution.
Their arrest was caused by John Peter Amewu when he paid a visit to some illegal mining sites on Monday.
The company, owned and run by Russians and Ukrainians, was mining on concessions fronted by three Ghanaian companies – Kasmil Mining Company Limited, K. Afriyie and Sons Precious Metal Company and King Solomon Mining Company.
Interestingly, some of these galamseyers do not only wield dangerous weapons, including guns, used in protecting themselves but are also said to protect themselves with spiritual powers, considering the gains involved.
What is, however, not certain is whether these spiritual powers are able to help them escape from arrest.
Report
Meanwhile, a study conducted by the International Growth Centre (IGC), an organisation that documents galamsey operations and their environmental impacts, revealed that an estimated amount of $250 million is required to reclaim lands and water bodies affected by these illegal mining activities in the Western Region alone.
The thought-provoking question that immediately comes to mind is how much would be the cost of other regions and the total cost of the entire country if only one region needs that much for the purposes of claim and water bodies reclamation, thereby, raising serious concerns.
Way forward
This is part of reasons why people like Lawyer Kwame Gyan, who is well-versed in the country's land administration system, has been pushing for a strict application of the law.
He is of the firm conviction that when the existing laws are applied to the letter without fear or favour of who is at fault, sanity would prevail.
It is believed that most of these state agencies, including the police and military and the other agencies with the responsibility of seeing to issues relating the menace, have either been compromised or have all gone to bed hence the need for all of them to get back to work to save Ghana, its water bodies, farmlands and forest reserves from these stealthy encroachment and degradation from not only foreigners but its own nationals.
By Charles Takyi-Boadu