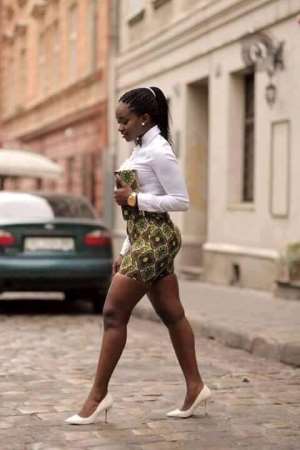 As history can take me back our grandparents wore our beautiful traditional clothes, the beautiful colors of Northern fugu, shining brightness of the Asante kente, adorable Volta kente that made us first class citizens as time pass on to our time we are gradually accepting the second class citizen, why at all should we complain about racism and superiority of the white men, na who cause amm.
Ghana economy and Ghanaians are the second highest uses of used clothes (broni wawo) meaning the dead Whitman clothes, this, in my opinion, consider Ghanaians as second class citizens, is time we acknowledge ourselves as first class citizens but not second class.
We import BRONI WAWO from abroad to Ghana for Ghanaians to buy and wear them, according to 2013 figures from the United Nation Comtrade Database; Ghana spent 65 million dollars on importation of used clothes from Uk alone.
That is not even the issue of the amount of money involve but the issue is why are we killing our talented tailor's skills and destroying our culture of clothing? In Ghana every nook and cranny you will find dressmaking shops with beautiful young ladies in their uniform learning how to sew Africa dress or Kaba they learn it for many years hoping to graduate and get their own shop and start their own business this is massive employment for the youth, SELF EMPLOYMENT.
But with the importation of BRONI WAWO the youth in dressmaking end up as skilled jobless because people will not give them materials/textiles for them to sew, they will rather go in for the BRONI WAWO. Thou some give excuses that, tailors like saying go and come that is to say delay tack tics but the truth is that there is BRONI WAWO in the market.
The BRONI WAWU is collapsing our textiles factories, making our youth unemployed, putting us before the world as second class people, we are likely to get skin diseases by using broni wawo and using our country as dumping place of rubbish.
I, therefore, ask my fellow Ghanaians to restore our dignity as first class citizen by not patronising broni wawo
I call on government and policy makers to ban the importation of used clothes (broni wawo) into Ghana just like the government did on used refrigerators.
The main challenges for banning broni wawo is the loss of jobs to those who are into the business, I suggest government make a policy to integrate them into textile production or fabric business where they will supply textile and other materials in the market for tailors to buy as well as individuals. Those who are into broni wawo wholesale business can, therefore, collaborate with dressmakers were they will buy the textiles and materials for the tailors to sew for them and they will, therefore, get their designed clothes from the tailors into the market for both retail customers and final consumers to patronise. By so doing, we will be promoting our culture, restore our dignity and create businesses as well as export our production across West Africa countries.
I am therefore appealing to all the boggas outside Ghana to also make a pledge to stop the importation of used clothes and rather go into textile business.
I ask Ghanaians to stand up against this broni wawo importation just as we did to illegal mining (glamsay) meaning gather and sell, in Ghana.
I SALUTE OUR PRESIDENT FOR TAKING THE LEAD
I SALUTE KOFE ARKO FOR HIS PASSION FOR AFRICA WEAR
The Whiteman will not allow used clothes from Africa to their land not talking about using them by their children, but why should we allow it into Ghana are we so poor that we can afford new clothes?
I stand for youth empowerment my role to advocate for youth empowerment
Once we lose our culture we lose our soul
Africa Ghanaians arise to uphold our culture

Abongo promoting Africa wear abroad

President of Ghana in his beautiful Africa wear

Africa lady wearing kente

Kofi Arko passion for Africa wear