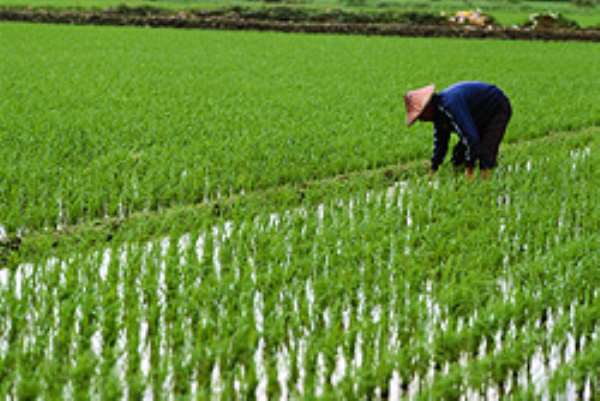 Accra, April 22, GNA - The Ministry of Food and Agriculture on Friday outlined Governments plan to revitalise the rice sector, to reduce the country's import bill.
The plan included increased mechanisation and cultivation of inland valleys, lowlands in the Northern sectors, improvement in irrigation systems, quality seed production and grain, Mr Ernest Debrah stated at the inauguration of the Ghana Rice Inter-Professionals Body (GRIB) in Accra.
Mr Debrah explained that the rice industry was listed among the five priority areas in the Government's Poverty Reduction Strategy to be developed within the short-term in the Agricultural Sector Development Programme.
He said Government has also mopped-up strategic systems for the development of infrastructure in the sector as well as adoption of appropriate technology, equipping of the extension service department of the Ministry to assist farmers with modern skills and provide soft credit facilities to farmers.
The Agriculture Minister whose speech was read on his behalf said inland valley rice production would be increased to 60,000 metric tones, whilst upland production would also be boosted with funds provided by the African Development Fund and UN Trust Funds for Human Security. He said the ministry was also facilitating and empowering competent brokers who would work with the banks, millers and distributors to lift paddy rice from farmers for processing and distribution to the Armed Forces, Prison Service and other key institutions.
Mr Debrah therefore, called for collaboration between the MOFA and stakeholders in the rice industry for the attainment of the set goals and objectives of Government.
Major Courage Quashigah, Minister of Health who chaired the inauguration urged the Ministry of Trade and Presidential Special Initiative to support the Rice Development Funds. He also called on Rice producers to continue to improve upon the quality of processing, packaging, marketing and advertising. GRIB a non-governmental organisation aims at bringing together farmers organisation, processors and brokers, researchers, policy makers and financial institutions to identify, discuss and develop programmes and strategies to address common problems.
A Chief Director of MOFA on behalf of the Minister swore the GRIB Executive members into office, whilst the Reverend Col J. K. Otoo a Catholic Priest ushered them into office. 22 April 05