New Force Commander For ECOWAS Mission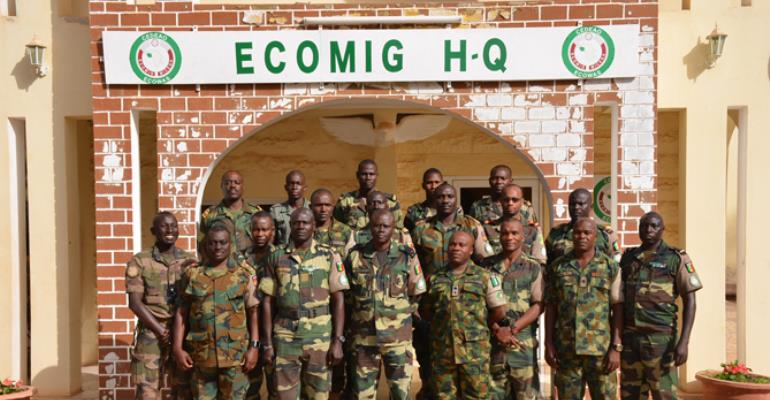 The Force Commander of the ECOWAS Mission in the Gambia (ECOMIG), Major General Francois Ndiaye, has urged officers and men of the Mission to continue to exhibit professionalism and support to the Gambian security agencies to help deepen the existing peace that is being enjoyed by the people of the Gambia. Gen Ndiaye, a Senegalese appointed by ECOWAS as the first Force Commander of the Mission, is optimistic that the new mandate of the Mission which is to provide security to the new President and his government as well as work closely with the Armed Forces and other security agencies of the Gambia to ensure peace and security would be achieved.
General Francois Ndiaye made these comments when he met staff officers of the Mission to bid them farewell after successfully bringing his tour of duty to an end at the Force Headquarters in Bakau. General Francois Ndiaye mentioned that he was leaving ECOMIG with a sense of optimism and used the occasion to introduce the in-coming Force Commander, Colonel Magatte Ndiaye, also from Senegal. " I have no doubt in my mind that under the leadership of Colonel Ndiaye, the Force would continue to achieve success since he has been deeply involved with the Mission from its preparatory stage till where I am leaving off," he added.
On his part, the in-coming Force Commander, Colonel Ndiaye thanked the out-going Force Commander for his leadership and guidance that has led to the success of the Mission so far. He assured that he would continue from where he is leaving off.
The ECOWAS Mission in the Gambia is made up of troops drawn from Senegal, Nigeria and Ghana. After the successful return and swearing-in of President Adama Barrow, ECOWAS decided to reduce the strength of the Mission with a new mandate of providing security to the President and his government as well as working closely with the Gambian Armed Forces to ensure peace and security in the Gambia.
Earlier, General Ndiaye paid a courtesy call on President Adama Barrow to bid him farewell.