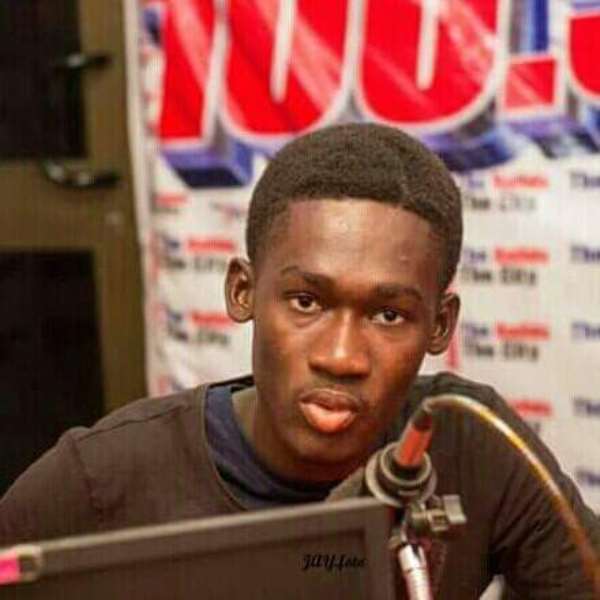 Sir Article; born on September 11, 1996 as Allan K. Buah; is a Ghanaian writing entrepreneur. He is the Founder and CEO of Sircle Communications, a start-up writing firm based in Sekondi-Takoradi. He is widely known as a university dropout — a very proud one. Sir Article's vision in life is "to be a rare titan in the world of writing."
He dropped out of the University of Cape Coast (UCC), where he read B.Com Accounting, after his first year just to establish a writing firm. He is currently assisted by more than 15 teammates who hold various senior executive positions. Together they are called the Sircle Family.
Sir Article is the author of a motivational book titled, "Control Your Own Destiny (The Philosophy of a 20-Year-Old University Dropout)," which is yet to be officially sold to the general public. He is, therefore, embarking on radio interviews to promote the message of his first book. And he has had some radio interviews so far, the most prestigious among them is his interview with Abeiku Santana on Okay 101.7 FM in Accra.
Though he is very young, he is a highly prolific writer, having written over 350 articles in about 4 years and still at age 20. In the year 2016, he wrote over 170 blog articles alone. He actually possesses atypical writing skills. He writes with dexterity, class, profundity, excellence, precision, defiance, uniqueness etc. He can write on virtually every subject, but he presently writes motivational articles just to empower people to live a successful life.
Sir Article, who usually describes himself as a maverick, is perceived to be breaking the rules and setting new ones in Ghana. His freakish way of life actually proves it. He also believes that Sircle Communications would eventually emerge as a global writing empire worth billions of dollars. Yet he continues to encounter a whole lot of challenges for defiantly following his inalienable passion. He has been branded as foolish, crazy, naive, immature etc. for quitting school to pursue a full-time writing career in Ghana.
Early life:
Sir Article was born on September 11, 1996 in Tema, Ghana's industrial city. He is the fourth born and son of Joseph Buah and Florence Aggrey. He lived in Tema for nearly a decade before his family moved back to Sekondi-Takoradi, where most of his family members reside. Sir Article's childhood had been full of struggles due to marital problems in his nuclear family.
He is an alumnus of St. John's School, an august senior high school located in Sekondi-Takoradi. In senior high school, Sir Article was known to be a highly controversial preacher. He also liked his business studies so much, though he has always had a distinct affinity for the arts or language as a gifted writer.
Career:
In the year 2016, Sir Article dropped out of UCC to start his own business as a full-time entrepreneur. His decision to quit school in order to take full charge of his destiny in an entrepreneurial way was met with all kinds of opposition. Some people even condemned him to possible and eventual failure.
Sir Article started planning his business, Sircle Communications, in his last semester at the university. He was then researching on writing his first book and pioneering a literary revolution too. So after he completed first year at the university, he wrote the manuscript of "Control Your Own Destiny" in June, 2016. Surprisingly, it took him about 6 months to plan the book, but he used exactly 1 week to write its entire content. He also began to seek sponsorship from several organisations and individuals, yet he got none to sponsor his book project to date. The reason is simple: Sir Article is really freakish, and his motivational book looks weird, controversial and defiant.
Sir Article, who had felt somewhat disappointed, then sought for radio interviews to promote the message of his rare motivational book. He has actually had 6 radio interviews so far, which were all memorable. Sir Article recently appointed a few friends and family relatives to hold ceremonial positions as senior management executives of Sircle Communications, his writing firm. They now work together as a like-minded team to achieve stated organisational goals. "Sircle Communications will soon become a leading start-up brand in our country Ghana," Sir Article recently declared.
Personal life:
Sir Article is a Christian who subscribes to Pentecostalism as a member of the Church of Pentecost. He also believes in Nkrumahism since he adores Kwame Nkrumah as one of his role models. He always describes himself a Pan-Africanist to the bone. He also sees himself as an exceptional teacher of motivational philosophy. He is a proponent of self-education, because he asserts that true education is more important than mere schooling. Sir Article is in a relationship with a beautiful girl who is an ambitious entrepreneur; he even wrote an open letter to his girlfriend and a love poem for her quite recently.