An Open Letter To My Haters, Critics And Detractors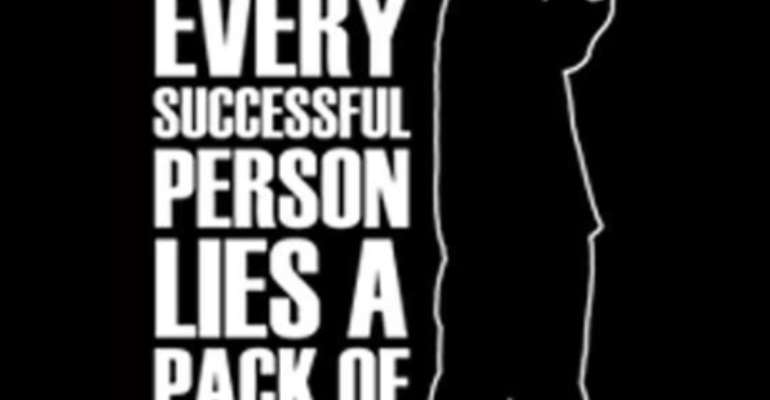 Written by Sir Article, Founder and CEO of Sircle Communications.
Dear haters, critics and detractors,
I thank you all for coming into my life. No, I thank you all for being an extended part of my life.
Everyone has got his or her own haters, critics and detractors. Yet I have many more haters, critics and detractors.
Why? I am simply a rare breed; you guys are actually mere mortals.
First off, let me emphasise that I do not really hate opposition, hatred, criticism and defamation. I think they are sometimes worth knowing and helpful.
I also have nothing against you guys. Interestingly, I once revealed that I admire my detractors more than my admirers, because my detractors are like fuel for my vehicle of success.
Ha-ha, I could even give a long list of my haters, critics and detractors, and even categorise them under each of the three groups.
But that is absolutely needless. Besides, I appreciate the fact that I have all those people ironically working for — and not really against — me.
Malcolm X, an erstwhile Pan-Africanist, once declared that, "If you have no critics, you'll likely have no success."
I now truly know why my girlfriend's favourite quote is, "To be great, you would have to be willing to be mocked, hated and misunderstood."
Alright, who are haters, critics and detractors?
To me, "Critics usually act like dogs; they bark when they are doubtful, confused, insecure, afraid, predatory and seeking attention."
Channing Pollock's definition of a critic is so profound; it goes like, "A critic is a legless man who teaches running."
Steve Maraboli once wrote, "Most haters are stuck in a poisonous mental prison of jealousy and self-doubt that blinds them to their own potentiality."
I sincerely see detractors, not only as people who say bad things about someone to belittle him or her, but as arguably the greatest promoters of a particular person.
Okay, why do I have seemingly innumerable haters, critics and detractors?
Well, I am a maverick. I am a rebel. I am freakish. I am obstinate. I have defied the odds. I am changing the status quo. I am breaking the rules and setting new ones. I am, in fact, everything that violates the norms of our society.
Basically, I dropped out university here in Ghana to start a writing firm in an annoyingly proud manner, and I am pioneering an abnormal revolution through my writing. That is why numerous people are strongly against me.
However, I feel so sorry my haters, critics and detractors far more than they do for me.
I remember when I wrote a highly controversial letter to my former programme mates in UCC. Many of them verbally assaulted me with impunity. There were haters among them, some too were critics, and others were mere detractors.
I have come to realise that, "When dealing with critics remember this: critics judge things based on what is outside of their content of understanding," according to Shannon L. Alder.
And I always ask myself where those haters, critics and detractors in my former class would be in the next 3 years. They would be fresh graduates struggling to get a job or even to start a business, but I would be a national icon in my field of endeavour.
Moreover, I find it laughable when some of my colleagues attack me for my perfectly aberrant lifestyle.
They understand that I possess and do rare stuff which almost all of them wish they possessed and did but would never possess and do in their lifetime.
No wonder Yaira N. said that, "Haters don't really hate you, they hate themselves, because you are a reflection of what they wish to be."
Frankly speaking, I am foolishly determined to succeed in my career that I hardly pay attention to my haters, critics and detractors.
I do not give a damn about anything you guys think of and say about me — for they are fundamentally flawed.
You guys live in the world of reality; I live in the world of imagination. You guys believe in logic, realism and facts; I live by, with and in intuition.
I know you may never admire, appreciate and understand my thinking and actions. Some of you are envious, some are also intellectually misguided and some are just crooks.
Lastly, I want to remind you guys that the kind of path I am treading, in Ghana especially, is wholly unique and virtually no one has ever travelled.
Therefore, your noise is vain and cannot change anything about me.
So stay calm and watch me make an unthinkable history on planet Earth.
Thank you.
Source: sirarticle.blogspot.com