The Story Of A KNUST Student Who Committed Suicide Over Exam Results: My Candid Opinion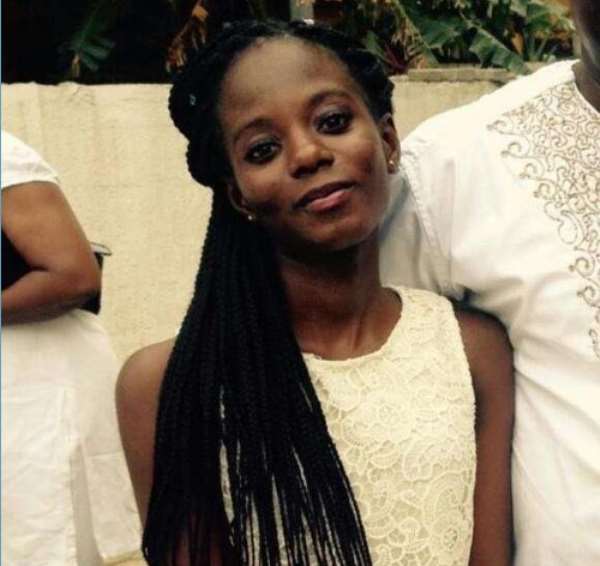 Adwoa Agyarka Anyimadu-Antwi, a first-year undergraduate student of KNUST, committed suicide on Friday. Adwoa, who studied Chemical Engineering and was the daughter of the MP for Asante Akyem Central Constituency, hanged herself in her room on campus. Her reasons seem vague at the moment.
According to credible sources, she failed a course in her end of semester examinations, and that apparently angered her parents. It is believed that she was really distressed by her seemingly poor academic performance.
Those three intertwined factors could largely be validated.
Well, there could be other factors that accounted for her mysterious suicide. She could have had an unwanted pregnancy, a broken heart, or even a nervous disorder. Who knows?
Alright, I strongly believe Adwoa's suicide exemplifies the height of ignorance. Initially, I thought she just acted foolishly, but I realised that her perceived folly has complicated dimensions.
But who is to blame for Miss Adwoa Anyimadu-Antwi's bizarre death? I actually do not blame her; I do blame her parents, colleagues, school and the entire system or society.
They all contributed to her grave ignorance; they also filled her mind with a terrible philosophy on life. If you ask me, the whole thing sucks.
Besides, I wish the late Adwoa Anyimadu-Antwi was my close friend; she would have learnt priceless things about life from me, and would have hardly killed herself over a mere bad grade.
I also wish Adwoa had read my rare motivational book, "Control Your Own Destiny;" she would not have committed suicide if she ever did.
In fact, Adwoa Agyarka Anyimadu-Antwi was never in charge of her own destiny; she relinquished her destiny to her parents and even the school system.
Moreover, Adwoa was compelled to follow the misguided dictates of her family and also the society.
She left a note which says, "Sorry mummy and daddy for not been the girl you want me to be." Clearly, she was under pressure to meet the delusive expectations of her family and even the society.
Gosh, striving to please other people is a recipe for personal disaster! No wonder she took her own life when she could not fulfil that.
Moreover, I am a proud university dropout; I dropped out of UCC to start a writing firm. So I find it weird that a KNUST student ended her life, probably because she failed an exam.
Why should a beautiful girl with a beautiful future commit suicide, simply because she failed an exam — which is even useless?
She did not know that exams only tested and would reward her memory. And she did not know that the degree she was dying to get is practically valueless, and would only prove that she is good at exams.
Also, it could be that she had no affinity for her programme of study, and her parents probably pressured her to read it.
What was Adwoa's inalienable passion? She may have sought to discover it, and even found it, but she lacked the balls to pursue it to the full.
Again, Adwoa was supposedly brainwashed into achieving academic excellence, and not everyday excellence, at all costs. They convinced her that university education is a prerequisite for success in life.
She was probably enslaved by academics. They told her to be the best student, and not the best lady. They advised her to focus on schooling, and not education. They reminded her to please her parents, and not her own spirit.
If young people — especially students — are not empowered to take full control their own destiny, most of them would end up miserable later in life. Some of them could even do what Adwoa has done or even do worse.
That is why I issue a clarion call to relevant stakeholders to rally their support for my book project which is already causing a rare revolution in our country.
I, therefore, posit that Adwoa would not have committed suicide over exam results if she really controlled her own destiny.
Source: sirarticle.blogspot.com
Written by Sir Article, Founder and CEO of Sircle Communications.