The Traffic Jam In Ghana's Capital City: 5 Inspiring Lessons It Has Taught Me About Life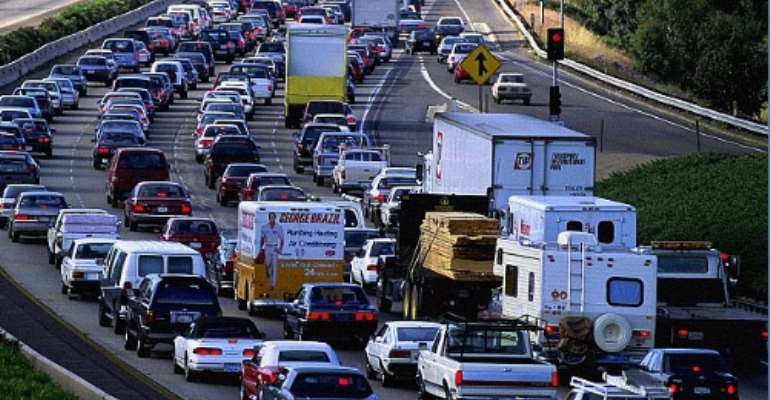 Written by Sir Article, Founder and CEO of Sircle Communications.
Heavy traffic is obviously commonplace in many capital cities around the world, and Ghana's capital city is no exception at all.
It is one of the most annoying problems in Accra, Ghana's capital city. It has always had adverse effects on national productivity, and that is quite difficult to quantify in monetary terms.
But I am not a resident of Accra or any of its environs; satirically speaking, I do not really wish to be one just because of heavy traffic.
I actually live in Sekondi-Takoradi, the most exciting place to be.
Well, as a very young and passionate entrepreneur, I usually make business trips to Accra. Yet one thing that really infuriates me is the traffic congestion in Accra, the capital city of Ghana.
Surprisingly, it nearly cost me a huge opportunity that is currently projecting my personality into true fame.
Alright, I had a magnanimous appointment at Okay FM — a radio interview on Abeiku Santana's drive time show two days ago. I was told to get there before 3 PM. I tried to beat traffic in Accra, but I inevitably failed.
Why? I got stuck in vehicular traffic when I set off from Tema Community 5 to Abeka Junction in Accra.
I reached the Peace FM building at approximately 2:55 PM; the host and the whole crew were furious with me because I was late, and they almost cancelled my interview. No amount of excuse could suffice to appease them.
Besides, I never cursed the traffic jam that almost ruined my great chance on a well-known Ghanaian radio station.
I actually learnt something profound from my entire experience of the traffic congestion in Accra. My lessons emanate from motivational philosophy and are worth sharing.
Before I delve into the 5 inspiring lessons the traffic jam in Ghana's capital city has profoundly taught me about life, I should enlighten you on the thought-provoking significance of the traffic light.
My ambitious friend in UCC, Henry Amedume, actually first drew my attention to what I am about to assert.
Okay, the red traffic light, in motivational philosophy, teaches people that they would be delayed in their journey towards success, so that other people could move on too.
For example, I have still not launched and sold copies of my motivational book to the general public — it means my red light is still on. Yet know a few young writers who have published, launched and started selling their books.
The yellow traffic light actually tells us to prepare to move on in life as we pursue our aspirations when the red light, i.e. circumstancial delays, is already on.
And the green traffic light really inspires folks to go forward, move on, or make progress when they are working on emerging successful in life. Most importantly, we should expect to get delayed by the red light in this enjoyable process.
So the next time you see the traffic light, you need not think it was an invention by J. P. Knight and Garrett Morgan to regulate road transport. It actually goes beyond its mechanical functions; it also has philosophical functions.
Now back to the lessons.
(1) The traffic jam in Accra has taught me to struggle to survive competition. Traffic congestion in Accra is like the survival of the fittest. As a driver, you ought to fight your way through tens and even hundreds of stuck vehicles to make progress in your journey.
(2) Also, have real patience. Impatient people would always complain about the messy nature of heavy traffic in Ghana's capital city. If you can't wait for several minutes in traffic because the red light is on, you can't wait for years to succeed in life when your success has delayed.
(3) Moreover, be really smart — that is what I have learnt from vehicular traffic in Accra. It is good to struggle to survive competition and also have real patience. But without the application of smartness, you may take much time when you could wisely reduce your time. Smartness in Accra's traffic congestion includes setting off very early to avoid rush-hour traffic, and using approved shorter roads to avoid heavy traffic.
(4) Again, don't rush to stay ahead. This is a very important lesson we should learn from Accra's traffic congestion. Does it make point three void? No, this point actually modifies the preceding point. In fact, life is really not a race though people make it look like a competition. If someone's green light is on and your red light is on, you should not worry or even feel envious. For very soon, the other person would be shown the red light and you would enjoy the green light. Remember, if you overlook the red light and rush to stay ahead, you would cause an accident which could harm you physically.
(5) Focus and always be alert. That is a thoughtful lesson to note. When the yellow light is on, or even when the red light is on, you just have to be alert and focused in order to go forward just in time after the green light shows up. Or else, you would be overtaken by others since you seem to be less serious.
Therefore, whenever you stay in vehicular traffic anywhere in Ghana's capital city, you should simply reflect on the inspiring lessons I have graciously shared today.
Source: sirarticle.blogspot.com