Are You Merely Busy, Or You Are Really Productive?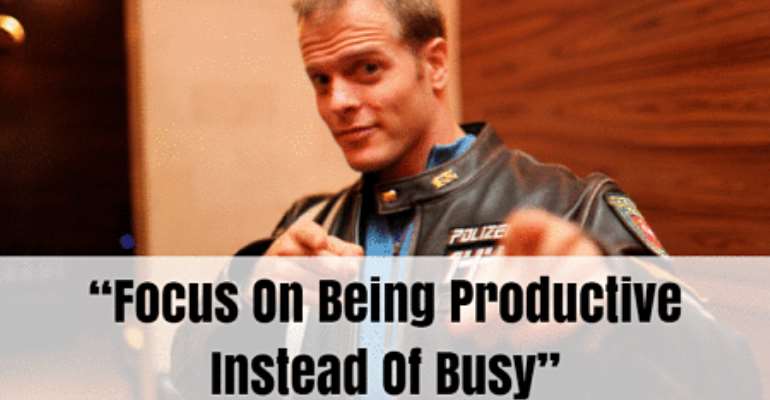 Many folks claim to be busy people — busy with work, schooling, family, religion, and life in general.
Frankly speaking, I hate it when someone tells me he or she is a busy person. Such individual is, to me, not serious at all regardless of his or her social class.
Busy people achieve less, and that is why I always refute any perception of me by my friends as a busy person.
Forget the many, difficult and frequent tasks you are compelled to undertake; it is no excuse for parading as a busy person.
Remember, being busy means busyness and not business as busy people would have us believe.
I usually have a whole lot of tasks to perform on a daily basis as a writing entrepreneur, and they sometimes occupy my time especially. Yet I never seek pleasure in the world of busyness just to spite others.
Recently, I have been travelling to places far and near, all in the name of Sircle Communications, and I study many topics every day.
These things mostly freak me out due to the complexity of my schedule. But I find time to attend to non-business affairs like relaxing, watching movies, visiting family and friends etc. without proclaiming to be busy with business.
Why? I believe in being really productive instead of being merely busy — for it is simply priceless.
Moreover, when anyone gives you an excuse like "I'm busy," you should note that person does not cherish you or priotise the relationship.
Indeed, the following axiom proves it all, "No one is busy in this world. It's all about priorities."
For if someone truly cherishes, loves, cares about you, he or she would always prioritise you by making some time for you even if he or she is seemingly busy.
Alright, let me now draw a clear distinction between being busy and being productive.
First off, to be busy means to be preoccupied, and to be productive means to be results oriented.
Also, busy folks have many and messy priorities, but productive folks have fewer and planned priorities.
Conor Neill once wrote, "Life is a question of priorities. If you have 3 priorities, you have priorities. If you have 25 priorities, you have a mess."
Well, busy people focus on efforts; productive people focus on results. This is self-explanatory! Any student who busies himself or herself with academics, but he or she eventually makes poor or mediocre grades is unproductive.
Besides, busy people are always complaining about how busy they are. Productive people are always demonstrating how effective they are.
Interestingly, busyness has everything to do with multitasking; productivity is all about focus. Multitasking is quite good in some cases, but it only makes you busy and less productive.
I could have stayed in university and combined my academic studies with my business. That would have forced me to be entirely busy but not really productive. So I dropped out to focus only on my business in order to be productive, and I am now effective and efficient.
Again, busy individuals think and say they have very little time, and therefore juggle a variety of activities. Productive individuals make and also sacrifice time for other things — whether they are more important or less important.
And busy people strive to influence others to be busy; productive people strive to influence others to be results oriented or effective.
Now I ask you, "Are you merely busy, or you are really productive?"
Lastly, learn from the aforementioned lessons and faithfully apply them in your own life.
Source: sirarticle.blogspot.com