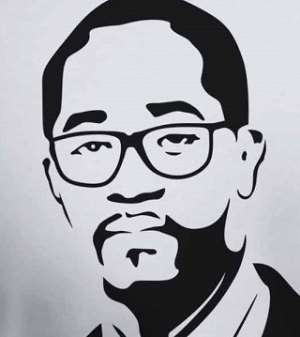 (By Marricke Kofi Gane)
So, we have a vetting process going for the Designate Ministers. Some have been interesting and some have been downright either shameful, lacklustre or as some of my friends will say, SLOW.
For me and am sure many others, two fundamental questions remain that underlie whether or not this exercise is delivering any value or indeed is relevant - knowing how "OUR" politics works:
What exactly is the criteria to determine whether a minister designate has passed his/her vetting well enough to be approved as a Substantive Minister and
If a minister has "OBVIOUSLY" performed lacklustre, what happens next? Or this is just a formality anyway?
That all said, maybe I should have been a bit quicker as a Citizen and NOT a Spectator. That notwithstanding, better late it is than never - so here are some of the questions I would have asked instead of being paid by the taxpayer money to ask "JOKING" questions about candidates' personal lives and CVs. I could ask 3 questions each but for lack of space, I limit that to 1 each:
FISHERIES:
Our local fishermen are constantly under threat from international commercial fishing vessels - how will you use your office to protect their economic interests and the overfishing in our territorial waters?
CHIEFTAINCY and RELIGION:
Do you think there are many churches around whose activities are indiscriminately affecting the productivity and social welfare of citizens (e.g. noise pollution) - how do you intend to deal with this?
INNER CITIES and ZONGO:
The problems of low economic and social welfares of the Zongo and inner cities can be distinctly traced to levels of education, attitudes and cultural practices - what do you intend to do that cannot be dealt with under the Ministries of Education, Social Welfare, Health and Sanitation?
BUSINESS DEVELOPMENT:
Do you know about the WB's "Ease of Doing Business Index?" What are the components Ghana is not performing well on, and how do you intend improving on them? What in your view is Entrepreneurship?
PARLIAMENTARY AFFAIRS:
Should parliamentarians debate issues based on their party affiliations or based on their constituency priorities even if it conflicts with party positions? How can parliament ensure constituency priorities always stand above party affiliations?
INFORMATION:
TV and Radio media in many forward facing countries are deployed to drive national consent and internatiomal insight, but it appears in Ghana they are largely used to display insulting abilities and dissent - how will you deploy traditional and modern social media to rebuild Ghana's image regionally and internationally?
ROADS & HIGHWAYS:
Ghana constructs a lot of roads every 4 years, some substandard and others not even needed - how will you ensure going forward that roads or highways approved for construction are only those that deliver the highest optimal value for money collectively?
RAILWAY DEVELOPMENT:
Ghana has no railway industry. In the short term, the personnel, equipment and infrastructure needed to build a railway system will all be imported - how do you intend to make this railway network locally reliant in the medium to long term?
GENDER, CHILDREN, SOCIAL:
What do you understand by gender sensitivity and how do you intend to mainstream it into nationwide activities?
EMPLOYMENT & LABOUR:
Labour disputes are a very common leverage for unions in Ghana. What will you do to ensure that labour disputes in the future are equally backed by productivity growth?
TRANSPORT:
What is your vision of public transport in Ghana.over the next 4 to 8 years?
LANDS & NATURAL RESOURCES:
It is said he whom owns the land owns the people of the land, their economy and their fate - how much of Ghana's lands are in foreign hands and do you have a vision to correct any imbalance noted?
MONITORING & EVALUATION:
Monitoring and Evaluation largely depends on data gathering and information mining - as this is a new portfolio which had no input in how data is captured in respective ministries, how will you now ensure the data structures at the various ministries can deliver the data types needed for Monitoring and Evaluation work of your portfolio?
SENIOR MINISTER:
Your role is to supervise all other Ministers and ensure discipline at all levels - some argue that at such substantive levels, ministers do not need additional supervision over them. Was there another layer of supervision above you before the President when you last served as a Minister of Finance? Why now?
FINANCE:
Ghana has enormous debts. It is argued we have tried solving it by raising taxes and further borrowing but hardly through cost-cuts. Will there be cost cuts and what 3 spending classes will be most affected?
ENVIRON, SCIENCE, TECHNOLOGY:
Technology is allowing countries with no natural resources to become global economic forces - how do you envisage employing technology to create a new economy for Ghana?
TRADE and INDUSTRY:
Ghana does more trade with countries outside Africa than it does with its African neighbours - is that a good thing and why?
FOOD and AGRICULTURE:
Most of Ghana's cocoa farmers are averagely above retirement age, youth are not interested in farming and our cocoa yields are lower than plantations in South America - what plans do you have for our Cocoa?
NATIONAL SECURITY:
In what areas do you see your ministry's work overlapping with the Ministries of Interior, Foreign Affairs and Defence?
FOREIGN AFFAIRS:
What are or what should be our Foreign policies on (i) immigration leves (ii) Terrorism and (iii) Joint Military actions against neighbour countries?
YOUTH and SPORTS:
What has sports got to offer the youth of Ghana and what do youth of Ghana have to offer sports?
ENERGY:
What is the Critical Success Factor for a sustainable energy supply in Ghana for the next 20 years?
DEFENCE:
What would you say are the three biggest defense threats to Ghana and how would you erase the notion the military is the last resort for persons with low academic abilities?
INTERIOR:
Do you see a relationships between the Freedom of Information bill and Citizens' security? If so what relationship do you see?
ATTORNEY GENERAL & JUSTICE:
What plans do you have to ensure the saga of the corrupt judges never happens again? And what is your view on Ghana accepting GITMO prisoners?
LOCAL GOVT & RURAL DEVPT:
Do you believe each region has its strengths - if so can you give an example of how you intend leveraging these for individual regional development as well as national integration of regions?
EDUCATION:
Where has global education today reached, and how can we position our graduates in it?
HEALTH:
The previous administration built many hospitals and health facilities. However, public sector personnel costs and therefor staff levels cannot rise above current levels - how do you intend to deploy these facilities to deliver value for money?
WORKS and HOUSING:
There are currently issues around city congestion, siting of houses without permits and lack of space. Do you think creation of communal spaces in our cities is necessary - if so, how do you intend creating them - if not, why?
SANITATION & WATER RESOURCES:
Can sanitation indiscipline in Ghana be monetized - if so how? Will issues around global warming affect how we manage our water resources? If so, how?
REGIONAL REORGANIZATION:
It is indicated some regions are likely to be split. Some are concerned the real reasons for Regional areas demanding splits is lack of development - why cant the resources to be used for splitting and setting up new regional administrations be used for the developments craved?
TOURISM, CULTURE, ARTS:
How can Ghana's rich and diverse culture be deployed to become it's high-earning export?
SPECIAL DEVPT INITIATIVE:
What makes developments under your ministry Special?