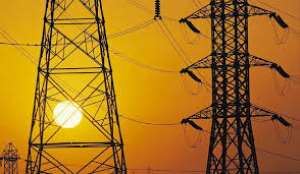 File Photo
..I had watched attentively albeit a bit disoriented, a tv programme hosted by two nigerians in which, somehow, the two implied that due to 'constant' electric power supply in Ghana, Ghana would have been 'El Dorado' for them and would care less when it should come to footing electricity utility bills..
In part -1 of these opinion series, l brought to bear how just one American owned company, VALCO is entitled to 80% of total 1020 megawatts of hydroelectric power generated by Akosombo or Volta dam
Ghana, Togo and Republic of Benin will have to console themselves with the rest 20%. which is 200 or so megawatts. Which caters for a little more than 60% of Ghanaian domestic utility needs hence we must have other alternatives to fill the gap
Well, this is not a constant electric power supply, but we have also to make effort to understand the erratic electric power supply or rationing in Nigeria is worse the number of times than that of Ghana
Hence, the nationals of de facto giant of Africa are drawing conclusions from the excess amount of money that they spend on generators kept as backup in times of power outages and its circumspect comparison to that of Ghana
Definitely the electric power supply in Ghana is a bit improved than that of the Ecowas neighbor but far from being standard and acceptable of any developing country with hindsight of attracting foreign investors to boost economic progress and prosperity
In bid to meet with domestic utility electric power needs and have reserve to attract foreign investors, most African countries, despite having hydroelectric power source, have started capital intensive renewable sources to generate electric power
Most developing countries have used nuclear fission reactors to produce steam to heat recirculating water system to turn turbine to generate electric power as cost-effective.
African country like Uganda has extensively invested photovoltaic electric power generation, where some governments are considering 'sun tax' for solar or 'wind tax' for wind mills that are fixed with turbine to generate electric power
I was about to suggest underground canalisation targeting perennially flood prone areas connecting to Akosombo dam to boost the level of the water during the raining season but hydroelectric power generation proves to be fallible with strain like drought
if Ghana, wants to be energy efficient and sufficient we must concentrate drastically on sources other than hydroelectric, and thermal source is not sustainable because of high cost natural gas
Most countries in Europe, US, Japan, China, India etc. Nuclear power production forms more than 65% - amounting to thousands of megawatts - on the energy prospective countries' national grids while thermal and renewable serve as supplementary sources
Latest in Africa is geothermal source, which consists of drilling wells in steam fields and connecting the wells with water recirculating system to turn turbine which generates electric power, and Kenya is the driving force and pioneer in Africa
Geothermal is the cheapest and efficient way to generate electric power and according Oserian Development Company in Kenya, with just 3 megawatts to power rose farm facilities, the company is now saving close to a $1M every year
According to CNN, just one field, olkaria steam field has capacity of 1000 megawatts, and if l should have my information correct, Kenya has discovered more four of such fields so far. Curiously, a well costs just $6M to drill. Just a fraction of Turkey barges deal
This in no means to suggest that the geothermal is only source of electric power production in Kenya, they also have hydroelectric(dam), thermal(gas), Solar etc
So imagine the megawatts on Kenyan national grid after all the geothermal fields, hydroelectric, photovoltaic, etc. are operational, the total megawatts will be nothing compared to 200 megawatts of Ghana or more than 200 megawatts of Nigerian
Finally my nigerian tv hosts judgement should be based on standardized possibilities of thriving developing countries, rather not on two deficient power generating countries, Ghana and Nigerian
And if we have to go by the general wisdom of to whom more is given much is expected, Ghana and Nigerian are by far behind expectations in terms electric power generation
Because both countries are generously endowed in both mineral and human resources more than a country like Kenya for example
Comment: Power is amount of energy generated or consumed and megawatts in heat energy is not the same as megawatts in electric power but above all else, my concern is how to solve what has become known in Ghana as dumsor
Agobodzo, Richard
Contact Email; [email protected] or,
www.facebook.con/Agobodzo Richard