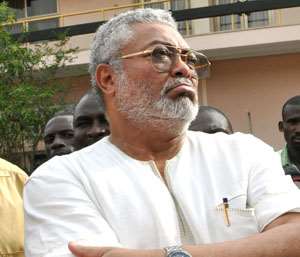 It has been widely speculated since 2010 that JJ has been trying to take back his party from people he called "greedy bastards". For a while the great Papa J came to a certain reality that it required a different strategy to undo a sitting Democratic president. He who wields the gun has the power. Despite all his machinations, despite being a master tactician in toppling regimes, with Prof Mills having the state apparatus and all the state resources at his disposal, it was impossible for JJ to succeed at removing him in any internal NDC elections.
Mahama's sudden ascension to power after Prof Mills death in office in July 2012 finally diminished JJ's chances of taking back " his party''. Despite Konadu's failure to oust Prof Mills in Sunyani Congress, the great Papa J had hoped that NDC lost the 2012 election. It was Mahama and the NDC who had the last laugh.
ANYTHING DIFFERENT IN 2017 GOING? THAT'S THE MILLION DOLLAR QUESTION!!! NDC's unexpected defeat in the just ended 2016 polls has given JJ a renewed hope of stamping his HUGE PERSONALITY ON THE VERY SOUL OF THE NDC. JJ has ONE GOAL and ONE VISION: to COMPLETELY DOMINATE THE NDC IN OPPOSITION at any cost.
This will even be easier if Mahama decides not to contest again and sit on the fence. The power vacuum that will be created from 2017 to probably end of 2018 is enough period for the great Papa J to completely occupy the power gap which has been created.
It won't be too difficult because with the NDC in opposition, there will be less resources. Those with greater resources are the ones who will be wielding the gun and JJ is without that one person holding a 'bazooka' of resources scary enough to deter any perceived enemy.
JJ may go to the extent of inciting his supporters to block the national headquarters of the party to eject his perceived enemies. In his own words CERTAIN PERSONS MUST BE KEPT AWAY. According to political observers Asiedu Nketiah is the number one on his radar. With the tacit approval of president Nana Addo Dankwa Akufo Addo, one can trust Ghana police to give all manner of reasons why they couldn't protect lives and property.
It won't be too difficult for him since he has done it again and again and again. With open doors, simplicity of lifestyle, a team that includes one of the MOST HANDSOME AND LIGHTEST SKINNED GHANAIANS (GOOSIE TANOH), a perceived anti corruption crusader (Martin Amidu), disgruntled and alienated youth who cut across the length and breadth of the country, a disgruntled and alienated NDC gurus, founding members and stakeholders, ability to speak the language understood by the masses, bravado and an EXPANDED ELECTORAL COLLEGE it will be unwise and strategically suicidal for anybody to underestimate the venom and the fire which JJ is coming with.
JJ's success or failure will depend on two factors: 1.John Mahama: Whether he will contest again or not. How soon he will make his intentions known. 2. How soon Congress will happen. The person who will emerge as the next flagbearer of the NDC. How strong will the flagbearer be? ... Etc etc
The final revolution is just beginning. It's end depend on every single NDC sympathizer. Our will to stick together. The forces of Rawlings will make a final attempt at capturing the very soul of the NDC by doing all they can to purge the party of dissenters by ANY MEANS NECESSARY. This time around the odds seem to be in the old man's favour.