NDC Fights Amidu's Effort To Retrieve Ghc51m Woyome Cash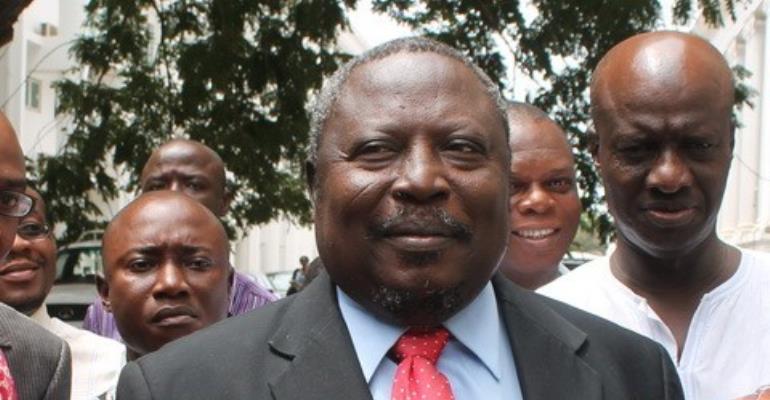 The Mahama-led National Democratic Congress government has mounted a spirited resistance at the Supreme Court to the efforts being made by Martin Amidu to retrieve the sum of GHC51 million fraudulently paid to Alfred Woyome.
A comment on the facebook wall of Ace Kojo Anan Ankomah, a renowned private legal practitioner, appears to capture the feelings of many Ghanaians about this development:
"I sat in court today (yesterday) and listened to the Republic of Ghana argue (in agreement with Woyome's lawyers) that Martin Amidu (the plaintiff who won us the judgment) should not be allowed to help reveal where Woyome's assets are, so that the Republic of Ghana can get paid. Let's see what the court will say on 15th November 2016 when a ruling will be delivered."
Mr Amidu last week filed an application at the Supreme Court, seeking to examine Mr Woyome in the controversial GHc51 million judgment debt paid to him, following the decision by the Attorney-General to discontinue an oral examination of the the embattled an NDC financier.
In court yesterday, the A-G argued that Mr Amidu's attempt to retrieve the GHc 51 million judgement debt was unconstitutional.
Marietta Brew Appiah-Oppong, represented by her deputy, Dominic Ayeni, said Mr Amidu was violating the constitution by coming to court to retrieve the money, arguing that it was only the AG's office that was mandated by law to do so.
Mr Ayeni also prayed the court to expunge certain parts of Mr. Amidu's affidavit alleging that President John Mahama ordered the AG to discontinue the suit, which also sought to examine Mr Woyome over the payment of the amount.
According to Mr Amidu, President John Dramani Mahama personally gave the order for Attorney General to withdraw her application to examine Mr Woyome over the Ghc51 million judgment debt saga.
He stated last week that President Mahama gave the order for fear that the embattled NDC financier would carry out his threats to disclose names of high ranking functionaries of his party and government who financially benefitted from the money fraudulently paid out.
In a statement issued to the media, he argued that the decision by the Mahama government to discontinue the case was a cover up, to protect some National Democratic Congress officials who benefited from the GHc51 million paid to Mr Woyome by the state as judgment debt.
He further challenged President Mahama to allow his examination of Mr Woyome to commence if government has nothing to hide.
"Gargantuan crimes were indeed committed as I stated in 2012. Corruption is trying to prevent the public from hearing the whole story from the horse's own mouth. I challenge the honesty and integrity of the President and the Government to allow the examination of its financier, the Judgment Debtor, Alfred Agbesi Woyome, to proceed without hindrance if they have nothing to hide," he charged.
He believes if he is offered the chance to examine Mr Woyome "the good people of Ghana will hear and see the beneficiaries of the unconstitutional judgment debt in the NDC and this Government."