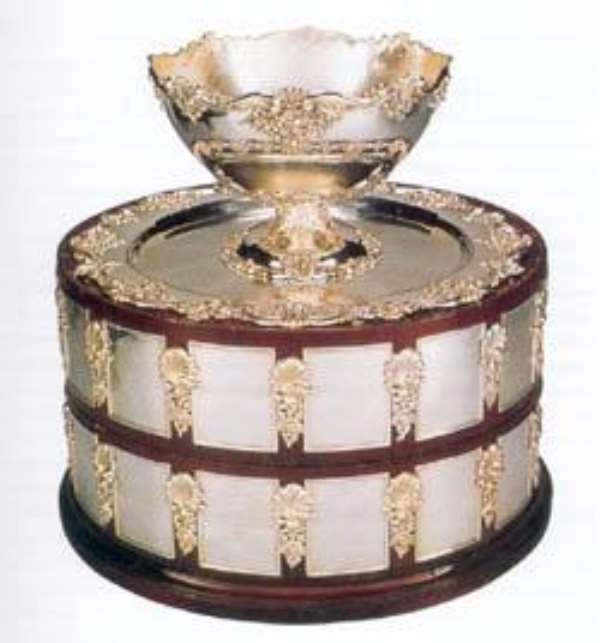 Accra, March 5, GNA - The national tennis team, the Golden Rackets succumbed to their much more experienced counterparts from Finland when they lost the doubles in four sets, 6-3, 6-7 (7-4), 4-6, 7-7 (7-5) on the second day of the Euro-Africa Zone II Davis Cup tie at the Frank Ofori Centre of the Ohene Djan Sports Stadium in Accra.
The win gives the Finns an unassailable 3-0 win in the five-match rubber, hence rendering Sunday's singles rubbers a mere formality.
The Ghanaian pair of number one seed, Henry Adjei-Darko and Gunther Darkey gave the partisan crowd at the court a moment to celebrate in the first set when they played some impressive aggressive tennis that left the Finnish pair of Jarkko Nieminen and Lauri Kiiski short of ideas.
With the momentum in their favour, the Ghanaians romped into a 5-0 lead breaking the Finns twice in the process with some impressive covering work at the net.
But the Finns who were not prepared to go down easily without a fight reorganised themselves and with the experience of Jarkko Nieminen aided by the booming serves of Lauri Kiiski, they won three games on the roll before the Ghanaians quelled any hope of revival to take the first set 6-4.
With the winds seemingly on the back of the Ghanaians, the Finns stepped up their game a notch in the second set and managed to hold their serve, unlike the first set forcing the set into a tie break. The Finns seized the initiative in the tiebreak when the Ghanaians double faulted twice on their serve to win the set 7-4.
The third set followed a similar pattern as the second as both teams held onto their serves till the eighth game when the Finns broke on the serve of Gunther who was by then having problems with his shoulder injury that caused him to pull out of Friday's reverse singles. After the break, the Finns did not look back as they held their serve in the remaining two games to win the third set 6-4.
In the fourth set, the Ghanaians gave an early indication of recovery when they broke the Finns in the second game when Kiiski foot-faulted to concede.
The Ghanaians however surprisingly allowed the advantage to slip their way in the next game when the Finns broke back on Adjie-Darko's to level up proceedings.
From the early trade of breaks, the game then travelled from serve to the tiebreak and it was during the tiebreak that the Ghanaians lost their nerves as Gunther could not maintain his composure to hit an easy shot into the net to end the encounter 7-4.
Even though the Finns have won the five-match rubber, the Davis Cup continues on Sunday with the singles.