From time immemorial, mob justice or 'instant justice' has been a common practice of punishing crime suspects in Ghana. In spite of concerted efforts aimed at promoting human rights worldwide, this inhumane act is still prevalent in most developing countries.
Admittedly, the spate of mob action leaves much to be desired as far as our democracy, human rights, and the rule of law are concerned. Not a single week passes without incidence of mob justice making the headlines in the media.
Mob justice, popularly referred to as instant justice, is when ordinary citizens take the law into their own hands to punish alleged criminals. This is an unlawful process of punishing suspects, and a violation of their fundamental human rights and dignity.
The modus operandi of 'street' justice can take the form of flogging or hacking suspects to death, slashing, lynching, and stoning. Sometimes female suspects are stripped publicly, pounding victims with bricks, setting people ablaze, and many more.
Quite recently, a 16-year-old boy was brutally tortured by a group of soldiers in the Northern Region. The victim, Christopher Bama, was accused of stealing a mobile phone belonging to one of the soldiers.
Subsequently, the soldiers chained the helpless boy to a mango tree and assaulted him ruthlessly until he fell unconscious. The action of the security personnel was unfortunate, and must be condemned in all uncertain terms.
Causes
Instant justice has gained grounds in the Ghanaian society as a result of lack of confidence in the police and the judiciary. It is unimaginable that majority of the citizenry including well-informed persons encourage such disheartening act.
Few weeks ago, I chanced upon a horrifying video about the incidence of mob action on social media. In that amateur footage, two young men were subjected to severe beatings by an aggressive mob for allegedly stealing electric wires and car batteries in Tema.
The bloody scene was so disgusting! The crowd repeatedly struck the suspects with their bare hands, clubs, bathroom slippers and all kinds of objects. I overheard the voice of a woman urging the charged mob to carry on with the beatings.
The video caught the attention of many. Of the total 1,215 people who watched footage, more than 500 posted their comments on Facebook. However, most of the comments went in favour of instant justice with just a few condemning the act.
One Jasmine recounted how her cousin was killed in 2014 through mob action when he went out to see his girlfriend off. Unfortunately, he was mistaken for a suspected thief on the run, so the crowd lynched him on the spot.
Actually, there have been several instances where innocent people lost their lives as a result of mistaken identity. During such circumstances, suspects are not given any chance to speak or explain themselves.
Another factor that accounts for mob justice is the excessive delay in justice delivery and the purported corruption among the elements of the Criminal Administrative System. After all 'Justice delayed is justice denied.
Inasmuch as the perpetrators of mob justice go unpunished, this gruesome practice is not likely cease in our communities.
Abuse of rights
The 1992 Constitution of Ghana guarantees that the dignity of all persons shall be inviolable, and that no one shall be subjected to torture or other cruel, inhuman or degrading treatment or punishment.
The Universal Declaration of Human Rights also admonishes the right to a fair trial, and the right to stand innocent of a crime until proven guilty.
Regrettably, the rights and freedoms of alleged criminals have, for too long, been trampled upon with impunity in Ghana. The enthusiasm to opt for instant justice is widely practiced across the country.
Mob action is as an affront to humanity, and must be condemned vehemently. This deadly practice is inhumane and intolerable in a democratic country like Ghana. The fundamental human right of every Ghanaian must be respected.
The rule of law
The escalating cases of mob justice in Ghana are alarming. This is a sign of moral decadence which exposes some weaknesses in the rule of law and the Criminal Justice System.
The recent exposé of investigative journalist, Anas Aremeyaw Anas, on corruption in the judiciary is not a case in isolation.
Mob action affects the laid down process of punishment for criminal offences, since the rule of law is not strictly adhered to and sometimes compromised.
The Code of Criminal Procedure spells out specific punishment for every offence, but this is sometimes compromised by corrupt officers.
For instance, in January 2015, a suspect was set ablaze for allegedly stealing a wallet in Accra. Of course, the punishment was too harsh for this minor offence. Street justice is a criminal method of punishing suspects.
It is a fact that the practice of mob justice has not reduced crime rate in any way. This has rather toughened most criminals who operate with the 'do-and-die' mentality; raping and killing their victims without any provocation.
The culture of social justice on the spot must cease in order for the rule of law to take its full course.
Public education
The Human Rights and Administrative Justice (CHRAJ) should treat mob justice with the urgency it deserves by teaming up with the National Commission for Civic Education (NCCE) and educate the public to refrain from this unlawful act.
The fight against instant justice should not be left to CHRAJ alone. It is, therefore, incumbent on the security agencies, human rights' activists, journalists, religious leaders, traditional leaders, and opinion leaders to play advocacy roles for fair justice.
In the 21st Century, the menace of instant justice is unjustified in Ghana, which is reputed as a beacon of democracy in Africa. This appalling act has negative implications on the image of Ghana.
Anyone found culpable of the crime should be prosecuted to serve as deterrent to others.
ASP James Annan
Public Relations Unit
Prisons Headquarters
[email protected]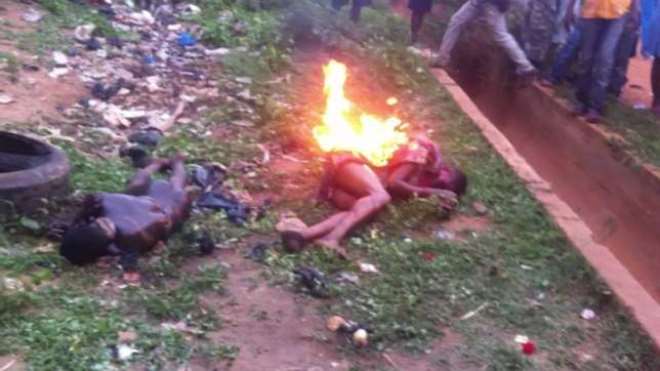 2. TWO ALLEGED ROBBERS LYNCHED AND SET ABLAZED IN KUMASI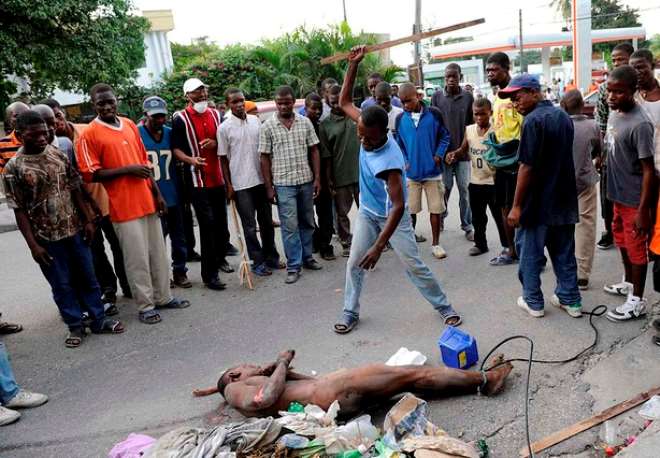 3. A SUSPECTED THIEF HALF-WAY DEAD AFTER SEVERELY ASSAULTED.JPEG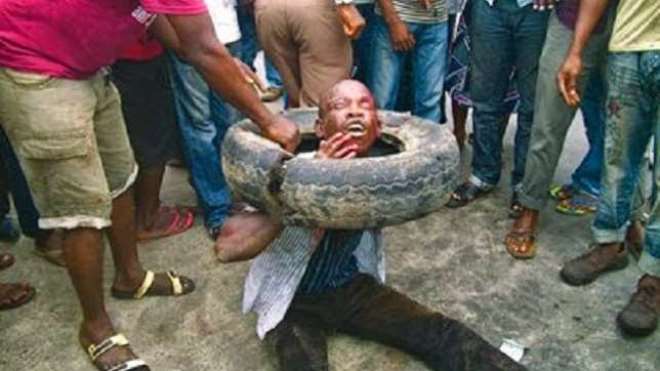 4. A MOB SETTING A YOUNG MAN ON FIRE FOR ALLEGEDLY STEALING A WALLET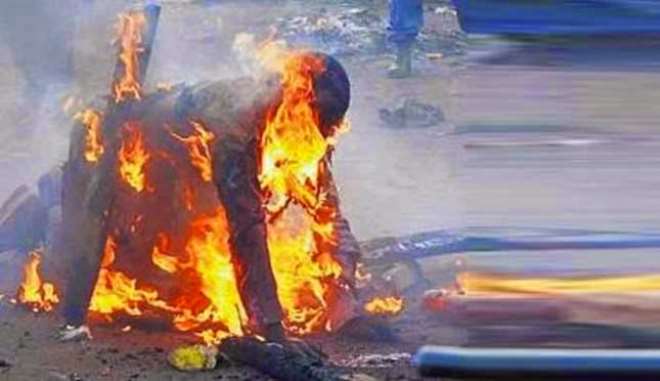 5. A SUSPECTED THIEF SET ABLAZE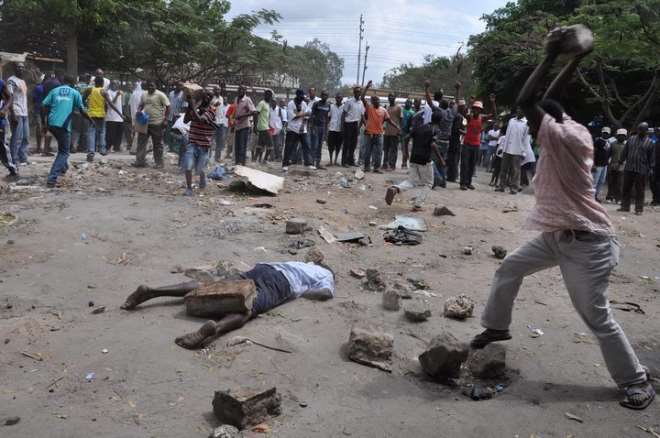 6. ANGRY RESIDENTS POUNDING A SUSPECT WITH BRICKS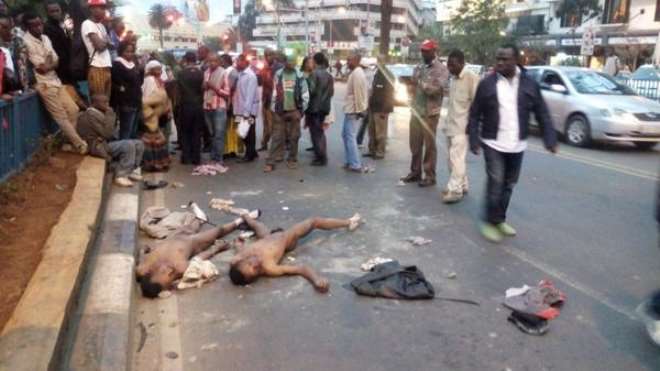 7. SUSPECTED ROBBERS STRIPPED NAKED AFTER BEING LYNCHED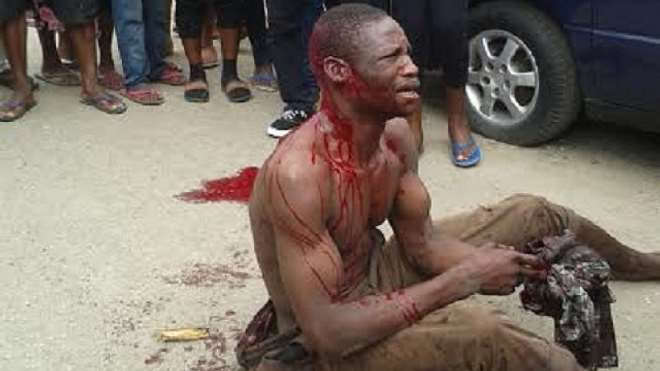 8. AN ASSAULTED CRIME SUSPECT BEGGING FOR MERCY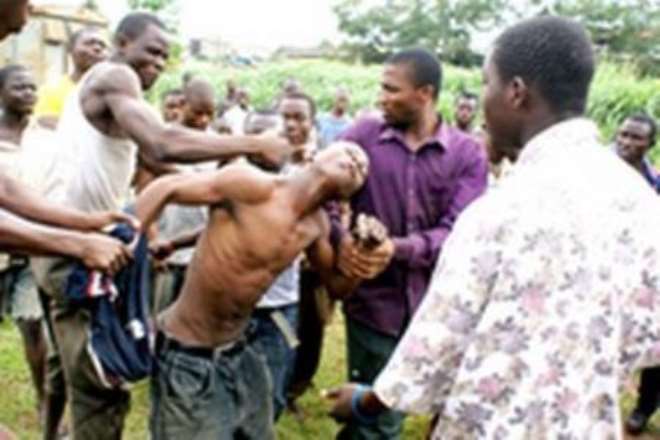 9. AN ALLEGED PICK-POCKET BEING SUBJECTED TO SEVERE BEATINGS