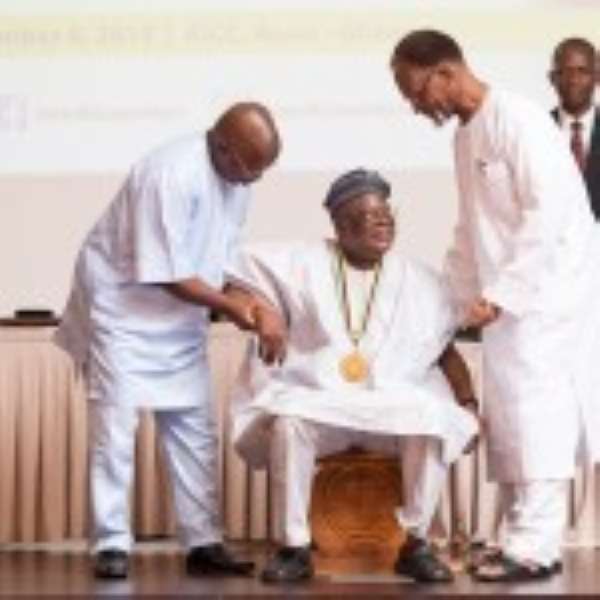 Emeritus Prof. Osofisan is being placed on the PAWA stool of Royalty by Dr. Ike Achebe and Prof. Atukwei Okai
The Pan African Writers Association (PAWA) has congratulated Prof Femi Osofisan, an internationally acclaimed Nigerian playwright on winning the Thalia Prize, awarded by the International Association of Theatre Critics, a UNESCO Statue B. Partner in theatre criticism.
As the first African to win the Thalia Prize, Prof Osofisan is in a luminous class with UK-born critic Eric Bentley (2006), Jean-Pierre Sarrazac (2008), Richard Schechner (2010), Kapila Vatsyayan (2012) and Eugenio Barber (2014).
A statement issued yesterday in Accra and signed by Prof Atukwei Okine, Secretary General of PAWA, said the celebration of Prof Osofisan's contribution to threatre through critical writing was testimony to his multi-dimensional devotion to the drama and the stage.
"As the first African and the first black to win the Thalia Prize, Osofisan has not only made a mark in his field; he has also shown the strength of Nigerian critical practice.
"The Thalia Prize is meant to highlight the work of those who have helped critics around the globe to understand new ways of seeing and appreciating the performing arts worldwide."
Prof Osofisan, who is also a director, actor, critic, poet, novelist, editor and newspaper columnist, is the Vice President (West Africa) of PAWA.
Last November, he received PAWA's Membership Honorary Award at the International African Writers' Day in Accra which is dedicated to the life and work of Prof Chinua Achebe.